Demag Chain Hoists
Demag Cranes offers chain hoists that perform with great precision. No matter what your facility needs, our hoists can help you meet your goals. We provide highly reliable products with outstanding performance quality and operating safety. 
Certified by the Hoist Manufacturers Institute, our Demag DC-Pro chain hoists are innovative equipment that are featured as standard. In our industrial chain hoist line, our units are finely graded in load capacities from 275 lbs. to 11,000 lbs. (125 kg to 5,000 kg).
Our wide variety of products ensures that our customers get the hoist to fit their needs. Demag Cranes is dedicated to finding the right electric chain hoist for you.
Our Electric Chain Hoist Products
DC-Pro Chain Hoist

 – 

The DC-Pro chain hoist comes standard with features that are extras on other electric chain hoists. With long service life and operating reliability, this 2-speed chain hoist is ergonomic for your workforce and easy to service.


 

DCS-Pro Chain Hoist 

– With precise positioning, 

exceptional infinite variable speed control 

and a load capacity up to 5,500 lbs., the DCS-Pro chain hoist 

enables reliable, quick, and efficient load motions.
DCBS Chain Hoist with Balancer 

– Efficient and easy load handling. The DCBS allows the load to be guided and precisely positioned with ease by its balancer function. 
DC-Com Chain Hoist 

– Our DC-Com chain hoist is perfect for your everyday needs. This unit features ergonomic handling, 24 V contactor control, two hoist speeds, interface for electric travel, and simple commissioning.
 

DCM-Pro Manulift 

– This chain hoist's convenient operation allows you to quickly and safely handle loads. 

Replace manual lifting and reap the benefits 

of two-speed control, smooth starting and exact positioning, a motor temperature monitoring device, and much more.
DCMS-Pro Manulift 

– The single-handed operation of this electric chain hoist model is simple and provides quick and reliable load handling. 

Smooth, infinite speed and ergonomic lifting will replace manual lifting in your processes.


 

DC-Wind Chain Hoist 

– Our chain hoist is the optimum solution for wind turbine maintenance. It provides for fast main lifting speed, has transports for loads up to 3,300 lbs., hooks paths up to 590 feet, and features an ergonomic control pendant.
 

Trolleys for DC Chain Hoists 

– 

Compliment Demag chain hoists with push trolleys on I-beam girders or Demag KBK modular crane systems. Trolleys are simple with click-fit installation and are available with features like manual or electric travel, low head room, and synchronized lifting.


 
We're Certified
Demag DC Chain Hoists are Hoist Manufacturer Institute certified. This means we are one of the industry's leading suppliers of hoist equipment. We are reliable and deliver exceptional value.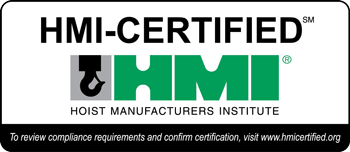 Need Technical Resources? We Can Help!
Our company puts an emphasis on providing our customers with high quality service for all our electric chain hoists and other products. We are committed to keeping your equipment in safe and reliable conditions. 
Want to learn more about our technical resources? Our technical department's mission is to find the best method for teaching the skills and knowledge for the job. Check out more information on our resources! 
Reach Out to Us for Industrial Chain Hoists
Demag Cranes is dedicated to meeting your needs for chain hoists and more. Be sure to contact us today with any questions! 
DC chain hoists - special solutions
Interested? Please, contact us. We respond fast and are ready to help you.
We are always up to something new! Check out our case studies to see how our solutions have helped our clients achieve their goals.