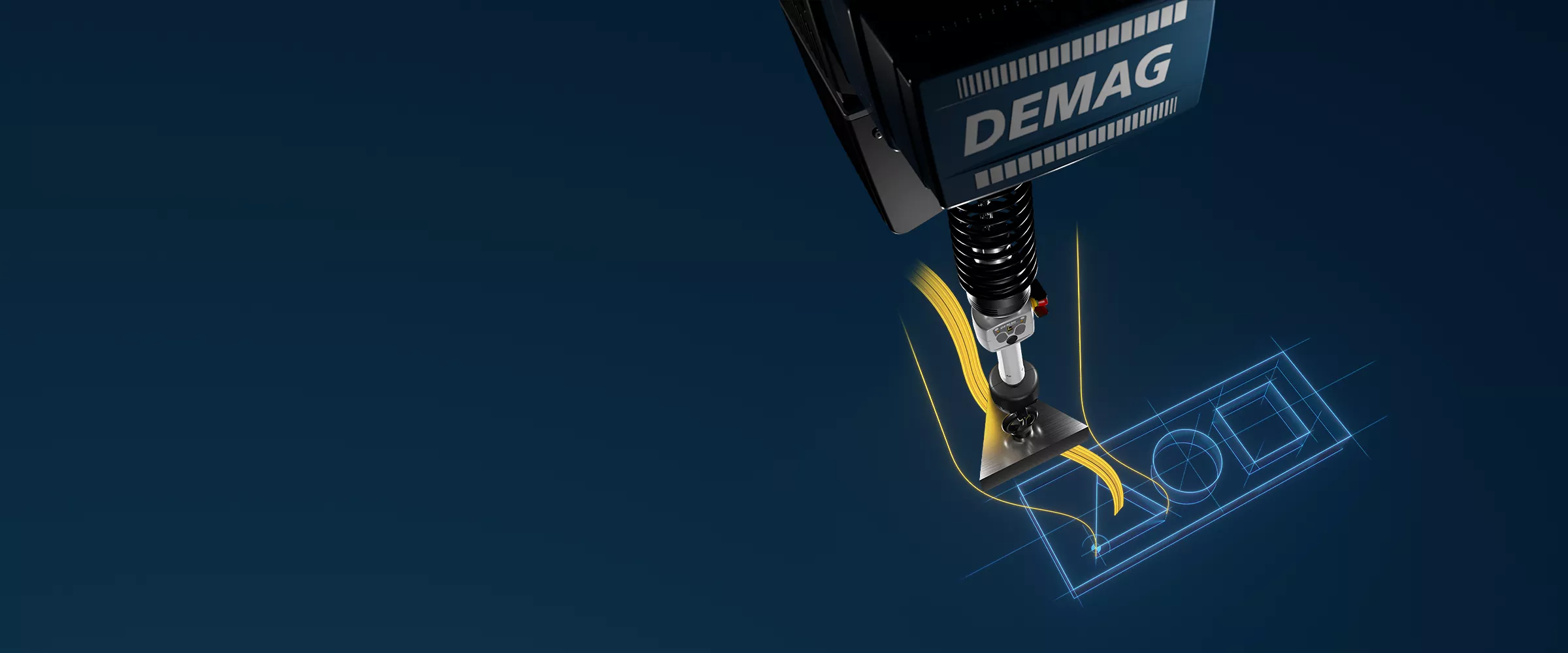 DCBS Chain Hoist - Electric Balancer
Intuitive Control. Precise Positioning.
Our Demag Electric Balancer Makes Loads Easy to Guide
Intuitive Load Handling for Greater Efficiency
Intuitive load handling has never been so easy and, at the same time, efficient. Based on our DC chain hoist range, the Demag Cranes DCBS includes balancer function that allows loads be guided and precisely positioned with ease, making them vital lift assist devices for your operations.

Our chain hoist balancer DCBS units are available in three sizes with load capacities up to 550 pounds. Additionally, these electric balancers are compatible with our comprehensive Demag KBK light crane system. DCBS units can easily travel on KBK profile section rails: on single-girder suspension cranes, suspension monorail systems or on jib cranes. This gives you a range of application options to use your electric balancer. If you want to implement an application with lifting masts, manipulators or your own load-handling attachments, the remote handle controller sensors can be installed in the load-bearing arrangement.
Read on to learn more about these intelligent lifting devices and to discover all of their key product specs. Be sure to reach out with any questions.
High Safety and Reliability
Core functions of our DCBS electric balancer include:
Lifting and lowering by manual force on the control handle
Manipulating loads
Protection against slack chain
Protection against snatching loads
Movements can be stopped if loads fluctuate widely
Monitoring/reducing load capacity
Our ergonomic lifting devices have been designed with safety in mind and feature the following aspects to help your facility and its operators:
Low-wear brake thanks to regenerative braking

No need to adjust the brake

Brake arranged before slipping clutch in the drive arrangement

to eliminate load slipping

Automatic braking if a malfunction occurs

Slipping clutch with automatic cut-out by means of speed monitoring

for no continuous slipping

Gearbox, slipping clutch and brake maintenance-free for up to 10 years

Safety-related functions satisfy at least

Performance Level C and Category 2 to EN ISO 13849-1

Demag DC Chain Hoists are Hoist Manufacturer Institute certified. This means we are one of the industry's leading suppliers of hoist equipment.
Features of the DCBS Electric Balancer
Along with everything listed above for our DCBS chain hoists, they can additionally provide:
Operating limit switches (upper/lower)
Elapsed operating time counter
Installation transparency thanks to operating data interface (IDAPSY)
External remote handle sensor in the load-bearing arrangement

Applications:

lifting masts,
manipulators,
customer-specific load attachments
Simple Installation
"Plug

and Play

" electric connections
Grip Control
Easily

control the load with

the D-Grip Servo control handle

as part of our

electric balancer
Load Positioning
By switching over to "load positioning

mode," the

operator can grasp and guide the load

with the hands to

directly

move

with light

pressure
Assembly Mode
Oscillation and uncontrolled load movements are

suppressed in "assembly mode" to be ergonomic and provide for precise motions in your processes
Load Pick-Up Mode
Load handling attachments

will be lifted to a pre-tensioned height

Load can be removed without dropping or sudden upward pull

to protect jigs

and

machinery, as the

balancer only lifts until a preset force is

reached
Contact Us About Our Chain Hoist Balancer Units
Have questions about our intelligent lifting devices and everything they can supply for your facility's operations? Reach out to our team today and we'll answer any questions you may have. We look forward to hearing from you.