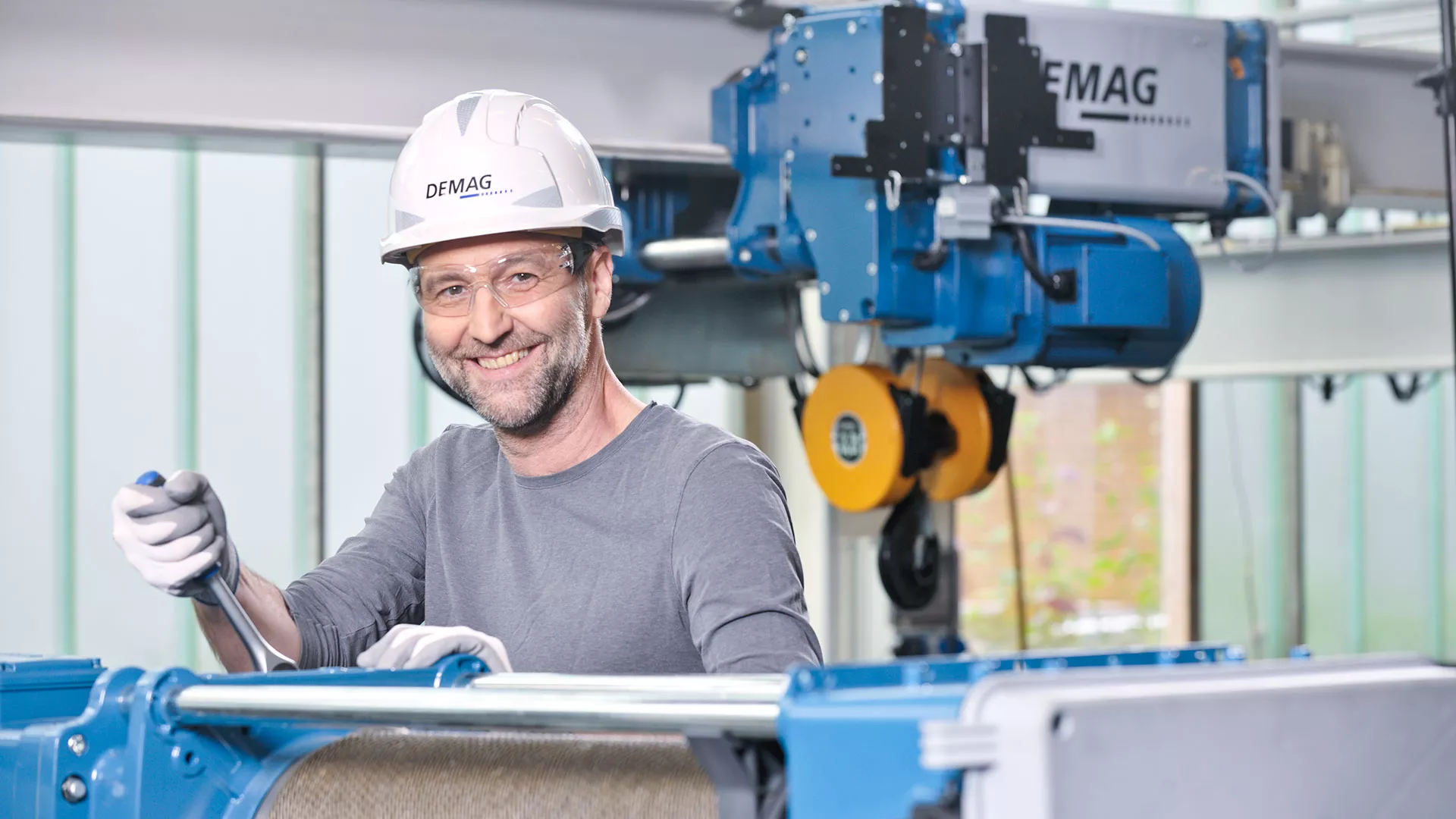 Service Training in Cleveland, Ohio
Demag Service & Maintenance Training
Our mission in the Demag Training Department is to create and deliver relevant training that imparts the necessary skills and knowledge required to do a job. Our team of instructors includes subject matter experts, product specialists, industry professionals and consultants. This ensures the quality instruction our customers expect and deserve. We welcome all levels of experience from the beginner to the advanced. Seminars consist of both lecture and hands-on sessions. In addition to technicians, many production and maintenance managers, safety professionals, crane inspectors and plant engineers have found the seminars of profound benefit. Training in our lab is conducted in a controlled environment that is optimized for safety, noise and access to the equipment as needed. See our current offerings below.
Please reach out using the form below to inquire about our future training schedule.
Demag Crane Service Seminar (DCSS) (4 days)
This is an all-inclusive seminar that covers all models of the hoists, motor types and crane components supplied to the USA market. This is a practical hands-on seminar integrated with lectures about the product and service considerations. Proper service is emphasized for both wire rope and chain hoists. The latest and previously available hoist models are covered, making this seminar ideal for service technicians who routinely see all types and eras of Demag equipment.      
Rope hoists covered: DMR, DR Pro, DR Bas, DR COM, DH, and P
Chain hoists covered: DC, DK, and PK
Motors covered: ZBV, ZBR, KB, KM, KD, and K
Other topics covered:  Basic IDAPSY Software, DE Drive inverter troubleshooting, and new products as they are introduced. 
The Demag Crane Service Seminar is a pre-requisite for the Demag Crane Inspection Seminar.   It is also the pre-requisite training necessary for purchasing a Basic IDAPSY software license.
Demag Crane Inspection Seminar  (DCIS) (3 days with exam)
This seminar focuses on proper inspection methods for Demag cranes. The class provides inspectors with a practical understanding of OSHA, ANSI, ASME, and CMAA crane codes with an emphasis on how to apply them to Demag cranes. Demag requirements and criteria are also covered. Inspectors receive a set of standards to apply to their inspection method. The Demag Crane Inspection Seminar emphasizes understanding and implementing compliance requirements. There is a time allotted for hands-on training and practice with real world inspection findings.
Service and maintenance technicians required to perform inspections should attend this seminar. Familiarity with the mechanical and electrical aspects of Demag equipment is a prerequisite. Attending the Demag Crane Service Seminar automatically meets this prerequisite. It may be waived based on an individual's experience level. Participants must pass a comprehensive written examination on the third day to receive their certificate.
DC Chain Hoist and KBK Service (1 day)
This seminar focuses on proper service and maintenance for Demag chain hoists. Both electrical and mechanical aspects of the DC hoists are covered. Service for the related KBK Track Systems is also covered as one of the several topics.
Please Note:
All scheduled seminar dates shown are conducted at the Demag Training Center located in Solon, Ohio - 20 miles southeast of Cleveland.

We reserve the right to cancel any session at any time.

Attendees are responsible for airfare/ground transportation, hotel and per diem expenses. (Lunches are provided during seminars.)
Interested? Please, contact us. We respond fast and are ready to help you.
Further information
Service & Maintenance Training Schedule
Seminar
Feb
Mar
Apr
May
Jun
Jul
Aug
Sep
Oct
Nov
Dec
Demag Crane Service
Seminar- 4 Days
 
 
 
 
 
 
 
 
 
 
 
Demag Crane Inspection
Seminar- 3 Days
 
 
 
 
 
 
 
 
 
 
 

Demag DC Chain Hoist
& KBK Service Seminar-
1 Day