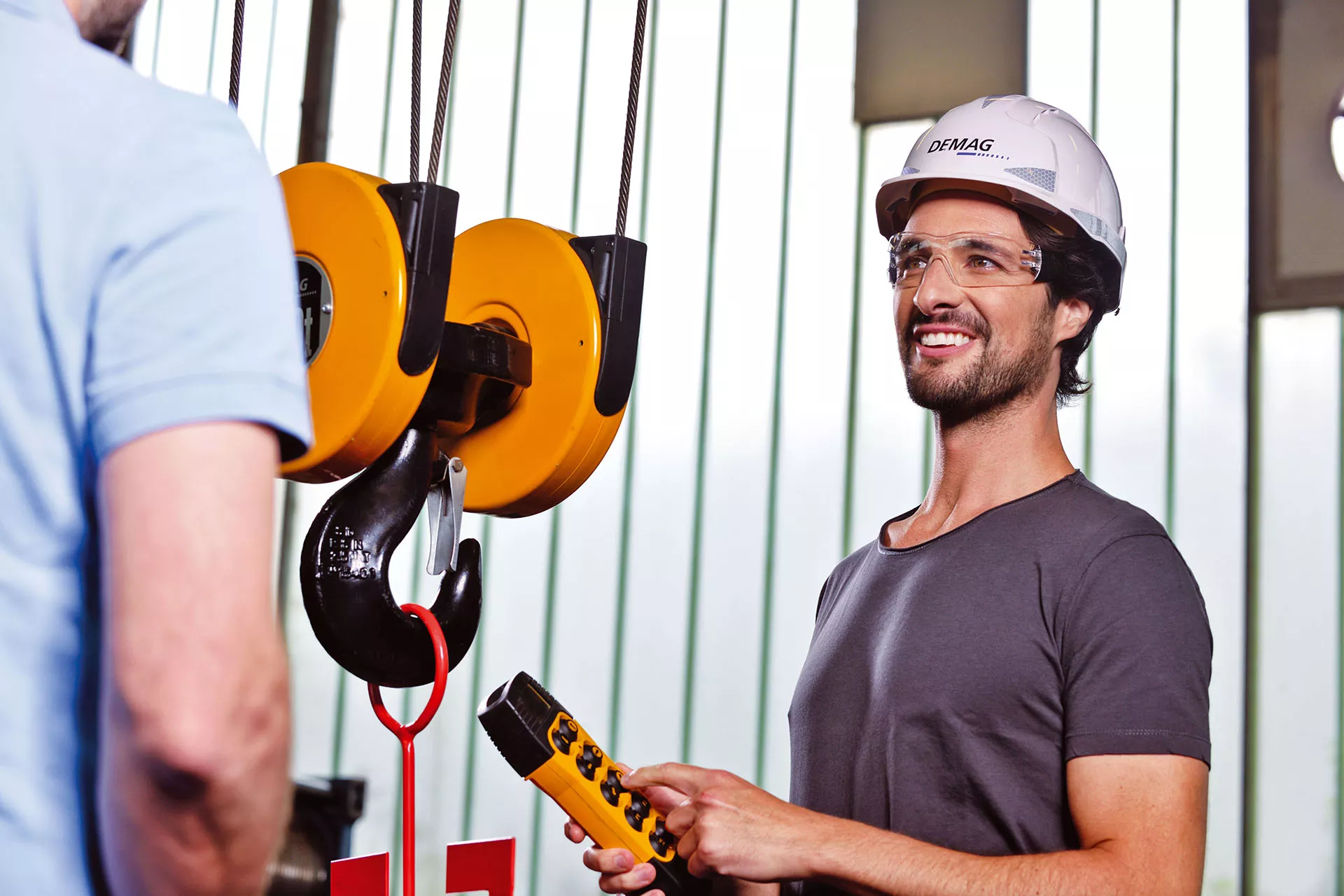 Develop your staff through our training courses
With our comprehensive range of training courses, we help you to exploit the full potential of your equipment and boost your productivity. Only with well qualified staff you can enjoy the full benefits of the valuable, long-term investment that you have made with high-quality Demag products.
Hands-on training programmes
We offer you a comprehensive range of training courses that qualify your staff in the safe and efficient operation and maintenance of our industrial cranes and their components. You benefit from our many years of experience. We continuously develop our training courses on the basis of intensive customer interaction and local expertise. With practical work carried out on cranes and hoists, we ensure that participants achieve all of their course objectives.
We document the participant's successful completion of the course with our training certificates, which are recognised by the industry.
The most important benefits
Modular, hands-on training programme
Highly qualified instructors and state-of-the-art equipment
Recognised training certificate on successful completion of the course
Company-specific training courses
We can adapt our training courses to meet your individual needs.
Our experienced and highly qualified training team would be pleased to provide any further information.
Process Crane Operator Training
Process Crane Operator Training is designed for crane operators and the supervisory personnel responsible for the daily operation and safe performance of cranes. The training provides participants with the working knowledge to assist in reducing operation errors that may lead to unnecessary downtime. Process crane operator training can provide additional knowledge to help avoid possible serious injury to personnel caused by improper crane operation. Participants will learn the requirements of local regulations for crane operation.
Scope
Typically Covers
Function of all major crane components and assemblies
Minimum qualifications and requirements of a crane operator
Daily crane inspection procedure required by local governing bodies
Four rules of safe and proficient crane operation
Precise spotting of loads and making precision lifts
Proper techniques to minimize load swing
Recommended hand signals
Basic rigging procedures to attach the load to the hook
Deliverables
Certificate of Completion for students successfully completing the course
Operator Handbook
Benefits
Can improve operator knowledge and performance, reducing the risk of human-error downtime
Can keep personnel updated on technology and process changes to minimize the impact of operation changes and employee turnover
Beginner course
Designed for first time users of the cranes: Duration 1 day
Advanced course
Designed for Experienced Crane Operators: Duration 2 days
Refresher course
Designed for Operators who had their last training more than a year back: Duration 0.5 day
Beginner Course
Untrained and poorly trained operators cause more crane accidents and millions rupees in damage each year. Our overhead crane operator beginner training program is designed to provide your operators with the basic information they need to help prevent accidents and product damage while increasing productivity. Beginners Course is designed for the first time users of the cranes.
Objectives of the course are
Identify all major crane components
Explain the function of major components
Explain and use recommended hand signals
Understand crane control operation
Explain and apply all recommended safety procedures
Perform all recommended operating procedures
Correctly make precision lifts
Advanced course
Many a times crane operators are considered to be skilled if they have years of experiences, but do they really know the correct operating procedures, do they know what are the rules of safe lifting, do they know what are the preoperational checks to be done by operators daily & its importance in Productivity & safety? Our Crane Operator Advanced course has an answer to this, designed specifically for experienced operators who did not have formal operator training.
Objectives of the course are
Daily Pre operational checks
Explain and use recommended hand signals
Explain and apply all recommended safety procedures
Correctly make precision lifts
Learn to control load swing
Basic rigging practices
Correctly make tilting operation
Emergency Shut down procedure, LOTOTO (Lock Out Tag Out Try Out)
Refresher course
When was it last time that your operator had a formal operator training? If you do not recall then probably you should look at our Crane Operator Refresher Course.
The course covers
Review of beginners & Advanced course
Practical Training & Assessment
Interested? Please, contact us. We respond fast and are ready to help you.