Whether you operate Demag or any other manufacturer's cranes, hoists, or load handling attachments, we deliver comprehensive and innovative services to support the life cycle of your lifting equipment.
Our aim is to enable you to concentrate fully on your core business by giving you the certainty that your equipment operates with maximum reliability and efficiency.
Our objectives are
Maximum safety
High reliability and availability of your equipment
Cost-effective operation
Efficient utilization
Sustainable maintenance of your investment
Highly qualified and trained staff for maximum service quality.
Our service consultants support you with a wide range of industry-specific expertise to create a service strategy individually tailored to your business needs. Our service engineers are extensively trained and receive continuous development to maintain their professional edge. The result is extremely high-quality service support from a single source.
Local presence all over the world
Our company is one of the world's leading suppliers of industrial cranes, crane components and complementary services under the Demag brand. We leverage the expertise of more than 2,300 service engineers and a highly reliable spare parts logistics system to provide customers a complete solution.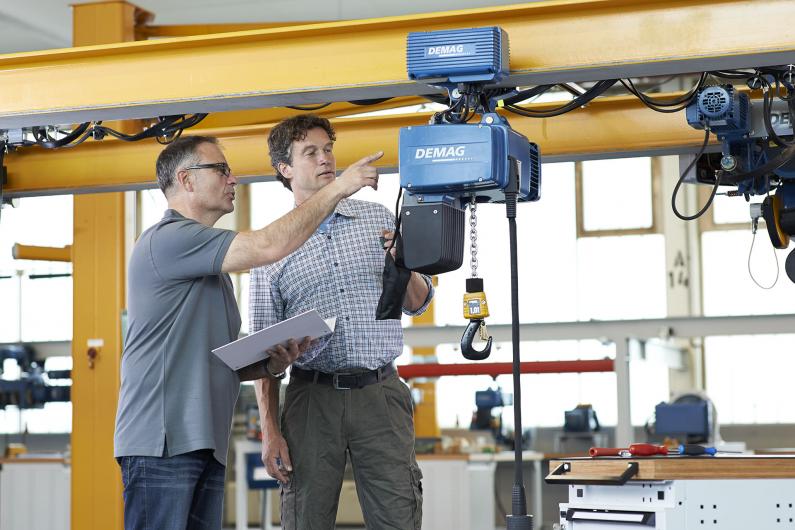 Service portfolio
Training
We offer a comprehensive range of training courses that qualify your staff in proper operation, service and inspection of our industrial cranes and their components.
Spare Parts
Demag spare parts meet the highest quality requirements and are perfectly aligned to fit our customer's needs. Our quick and reliable logistics enable our products to be supplied efficiently and effectively worldwide.
We are always up to something new! Check out our case studies to see how our solutions have helped our clients achieve their goals.