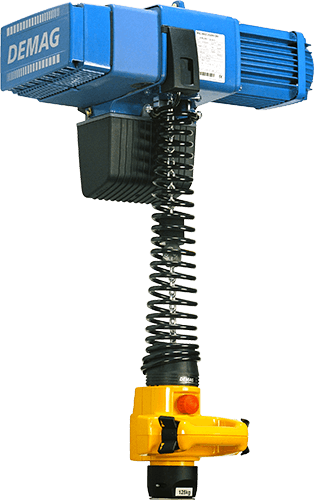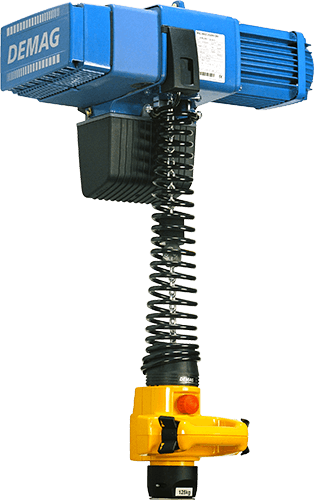 Our DCMS-Pro Manulift combines fast and reliable load handling with variable speed control and one-handed operation. The DCMS-Pro Manulift is based on the lifting unit of our DCS-Pro chain hoist and DSM-CS control unit.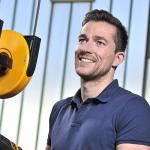 Demag Cranes and Components Corp.
6675 Parkland Blvd., Suite 200
Cleveland, Ohio 44139
United States
Product information
In comparison with the proven DCM-Pro with two lifting speeds, the DCMS-Pro offers additional benefits.
Easily operated
Infinite variable speed control for lifting and lowering motions over the entire load range
Exceptional control at low speed
Smooth starting and exact positioning
Creep lifting speed from 0.50 ft/min (0.15 m/min)
Lifting speed, acceleration and braking ramp can be easily modified via the control unit
Suitable for right-hand and left-hand operation
Versatile performance
The various Manulift load handling attachments can be changed easily
Pro-Hub function for up to 90 percent higher nominal speed for partial load or no-load operations
Automatic switchover to creep lifting speed before the upper/lower limit positions are reached – speed ratio 1:100
High safety and reliability
Motor temperature monitoring device
Acceleration and braking ramps to reduce load sway
DCMS-Pro Manulift (variable lifting speed)
LC *)

in lbs
[kg]

Manulift
type

DCMS-Pro
Lifting speed
at 50/60 HZ
[m/min]

Hook path
[m]

FEM
Reev-
ing
Weight [kg]
for
hook path
VSrated
VS max
2.8m
4.3m
175 [80]
1
0.15-30
30
2.8 and 4.3
4m
1/1
25
27
275 [125]
1
0.15-30
4m
440 [200]
2
0.15-16
3m
550 [250]
2
0.15-16
2m+3)
 *) LC: Load capacity
DCRS-Pro rocker switch (variable lifting speed)
LC *)

in lbs
[kg]

Manulift
type

DCRS-Pro
Lifting speed
at 50/60 HZ
[m/min]

Hook path
[m]

FEM
Reev-
ing
Weight [kg]
for
hook path
VSrated
VS max
2.8m
4.3m
175 [80]
1
0.15-30
30
2.8 and 4.3
4m
1/1
25
27
275 [125]
1
0.15-30
4m
440 [200]
2
0.15-16
3m
550 [250]
2
0.15-16
2m+3)
 *) LC: Load capacity