Variable lifting speeds for load capacities up to 5,500 lbs
An investment with added value
Our DCS-Pro chain hoists ensure maximum precision in gently and safely lifting, lowering and positioning valuable and sensitive parts in assembly operations. Our almost double rated partial load range speed enables lifting motions to be performed more reliably, quickly and efficiently.
Variable speed over the entire load spectrum
Exceptional control at slow speed
Up to 90% higher speeds for smaller loads thanks to its Pro-Hub function
Load capacities up to 5,500 lbs (2,500 kg)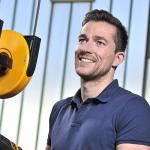 Demag Cranes and Components Corp.
6675 Parkland Blvd., Suite 200
Cleveland, Ohio 44139
United States
Product information
Feature-rich with no need for extras
Many features already included as standard
Convenient operation
Automatic switchover to creep lifting speed before the upper/lower limit positions are reached
Lifting speed, acceleration and braking ramp can be simply modified via the pendant
Infinitely variable speed control for lifting and lowering motions over the entire load range
Variable travel speeds when used with E 11/34 travel drives
High safety and reliability
Gentle starting and precise positioning due to particularly fine control at low speeds
Acceleration and braking ramps to reduce load sway
Motor temperature monitoring enhances safety
Versatile performance
Creep lifting speed from 0.5 ft/min (0.15 m/min) (DCS 1 and 2)
and 0.26 ft/min (0.08 m/min) (DCS 5)
Gentle positioning and fast travel thanks to a 1:100 control ratio
Pro-Hub function for up to 90% higher nominal speed for partial load or no-load operations
Wide voltage range input 380–480 V/50–60 Hz
Optimized safety
Improved safety and reliability thanks to 24 V control voltage and operating limit switches
Cut-off on overload thanks to speed-monitored slipping clutch
Brake/coupling system helps avoid load sinking
Optimized efficiency
Quick installation and commissioning
Fast and ergonomic height adjustment of the control pendant without additional wiring
Quick and easy access to all key plug-and-socket connections, height adjustment of the control pendant and chain lubrication thanks to pivoting service cover
Elapsed operating time counter and diagnosis interface
Interchangeable chain drive can be quickly and easily replaced without the need to remove motor or gearbox parts
High flexibility
Gearbox, brake and slipping clutch are maintenance-free for up to 10 years
Ergonomic operation
Simple commissioning and service due to plug-&-lift and plug-&-drive connections
Fatigue-free operation thanks to ergonomic, plug-in DSC-S control pendant
Two suspension bracket sizes enhances flexibility
Fast and simple installation thanks to infinitely variable trolley and flange width adjustment 
DCS-Pro chain hoist: variable lifting speeds
LC
Chain hoist
type
Reev-
ing
FEM
Lifting speed
at 50/60 Hz
[m/min]
Hook
path [m]
Weight for chain length in kg
lbs [kg]
DCS-Pro
 
 
VSrated
VSmax1)
 
5m
8m
175 [80]
1
1/1
4m
0.15-30
30
5 and 82)
25
27
220 [100]
275 [125]
350 [160]
2
4m
0.15-16
30
25
27
440 [200]
3m
550 [250]
2m+*)
700 [315]
5
4m
0.08-8
15
29
31
10
0.11-12
22
59
63
880 [400]
5
3m
0.08-8
15
29
31
10
4m
0.11-12
22
59
63
1,100 [500]
5
2m+*)
0.08-8
15
29
31
10
4m
0.11-12
22
59
63
1,385 [630]
4m
0.06-6
11
54
58
0.11-12
22
59
63
1,760 [800]
3m
0.06-6
11
54
58
0.11-12
22
59
63
2,200 [1,000]
2m+*)
0.06-6
11
54
58
0.11-12
22
59
63
15
4m
0.08-8
15
4
75
80
2,750 [1,250]
10
1Am
0.04-4
7
5 and 8
54
58
2/1
4m
0.06-6
11
68
72
15
1/1
3m
0.08-8
15
4
75
80
3,520 [1,600]
10
2/1
3m
0.06-6
11
5 and 8
68
72
15
1/1
2m+*)
0.08-8
15
4
75
80
4,400 [2,000]
10
2/1
2m+*)
0.06-6
11
5 and 8
68
72
15
4m
0.04-4
7
4
89
99
5,500 [2,500]
10
1Am
5 and 8
68
72
15
3m
4
89
99
7,716 [3,500]
15
2m+*)
4
89
99
 LC: Load capacity
1) Maximum lifting speed in the partial load range/without load
2) Longer hook paths on request
*) 2m+ corresponds to 1,900 hours at full load