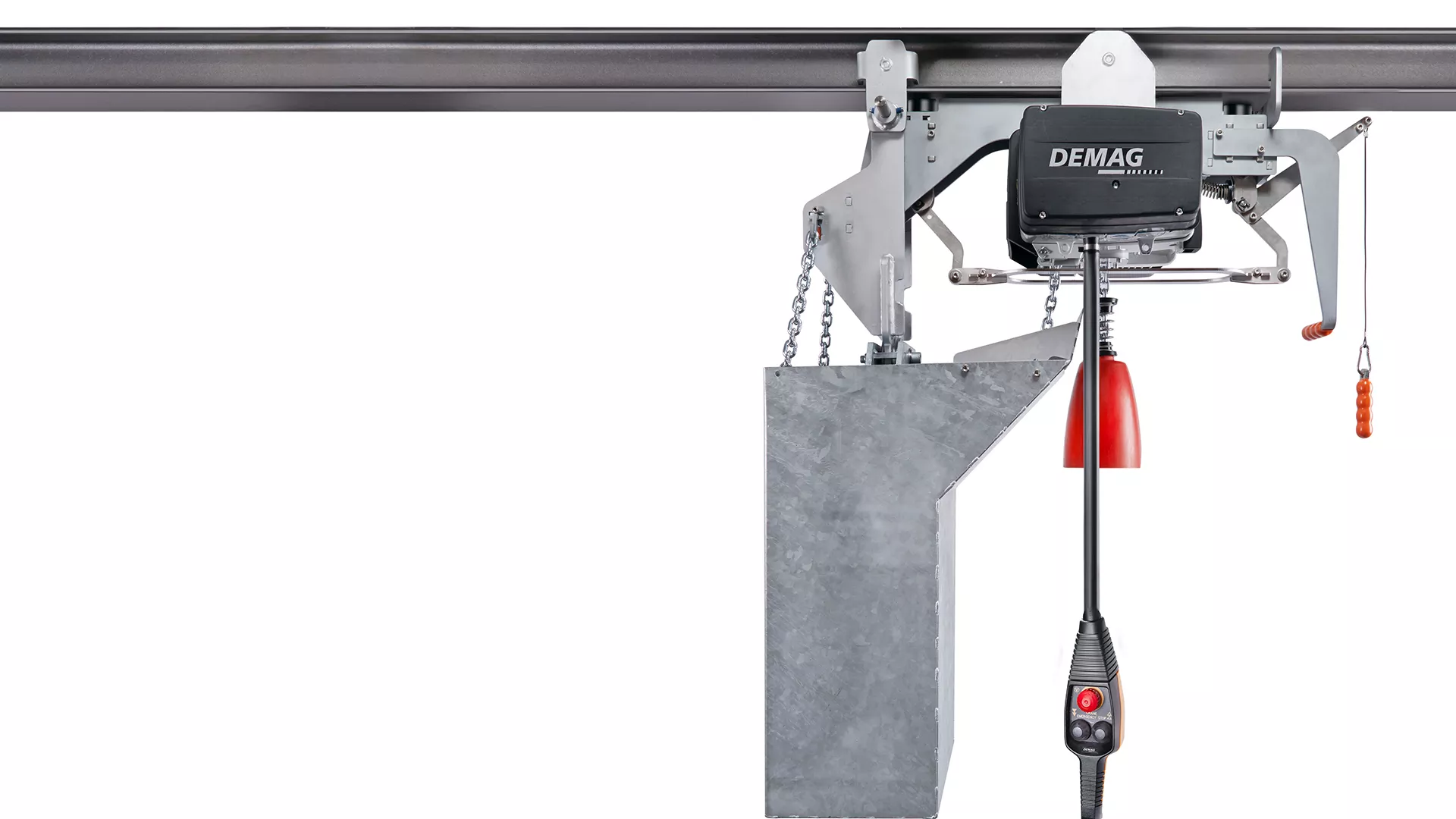 Rugged lifting equipment for onshore and offshore applications
DC-Wind chain hoist: A great hoist for the maintenance of wind turbines
Our DC-Wind Demag chain hoists are used for the maintenance and service of wind turbines all over the world. Both in onshore and offshore applications, DC-Wind units can overcome adverse conditions. They can safely and reliably transport loads and tools weighing up to 3,300 lbs (1,500 kg) to heights of up to 590 feet (180 meters).
Safe. By Demag.
Its high lifting speeds enable it to cut maintenance and downtimes to a minimum – making a valuable contribution towards its high availability and efficient operation. The DC-Wind chain hoist can be conveniently controlled and offers all the benefits of our DC chain hoist range as standard. Its high safety standard with a brake/coupling system and corrosion-protected brake with IP55 enclosure are just two of the benefits to improve workplace safety.
Fast installation, simple maintenance
Our DC chain hoist can be quickly installed and put into service with Plug & Lift plug connectors. Its durable components are designed for reliable operation also under harsh conditions. The gearbox and the slipping clutch are maintenance-free for up to 10 years and we select the right components to meet the needs of different climate zones.
Convenient operation
High safety standard
Simple transport of loads weighing up to to 3,300 lbs (1,500 kg)
Hook paths up to 590 feet (180 meters)
Variable attachment to a slewing arm or a traveling portal arrangement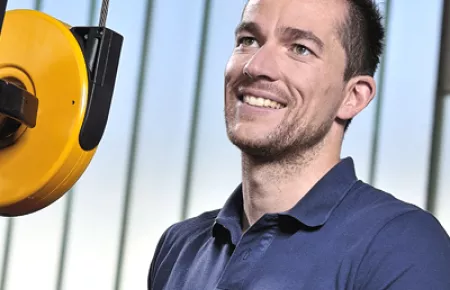 Demag Cranes & Components Corp.
6675 Parkland Blvd., Suite 200
Cleveland, Ohio 44139
United States
Product information
The Demag DC-Wind chain hoist is specially designed to meet the needs of wind turbine manufacturers and operators, which makes it one of the most frequently used hoists in the industry.
High safety standard
Safe and reliable load handling thanks to its brake/coupling system and its corrosion-protected brake featuring IP 55 protection
Can be adapted to meet customer requirements
Specification to suit individual needs, e.g. lifting height and chain collector design
Modification for different climate zones (e.g. cold climate versions), offshore operation and installation sites at great heights
Convenient operation
Fast main lifting speed
Precise positioning at creep lifting speed
Trolley can be simply locked with a handle
Ergonomic control pendant
Fast installation and simple handling
Simple commissioning and convenient service thanks to Plug & Lift connections
Long product service life and extremely low wear due to electrical braking and slip monitoring of the slipping clutch
Gearbox and slipping clutch maintenance-free for up to 10 years
DC-Wind selection table
SWL
[kg]

Type

LS
at 50 Hz
[m/min]

Hook path
H
Max. weight *)
RUDC
[kg]
Station-
ary
[kg]
125
DC-Wind 2
16/4
≤120
28
20
125
DC-Wind 5
24/6
33
26
250
DC-Wind 5
16/4
33
26
250
DC-Wind 10
24/6
≤180
59
45
500
DC-Wind 5
12/3
≤120
43
36
500
DC-Wind 10
12/3
≤120
59
45
500
24/6
≤180
59
45
800
18/4,5
≤150
84
64
1000
18/4,5
≤120
84
64
1000
12/3
≤120
84
64
1200
DC-Wind 15
16/4
≤150
155
125
1500
12/3
≤120
155
125
*) Weight without chain
SWL: safe working load
LS: lifting speed