Easy maintenance and repair
Optimum solution for wind turbine maintenance
The DC-Wind chain hoist is a proven solution to maintaining and servicing wind turbines. DC-Wind's high lifting speeds enable it to minimize maintenance and downtimes which in turn drives availability and efficiency. Additional features and benefits:
Convenient operation
Engineered to a high safety standard
Easily transport loads weighing up to 3,300 lbs (1,500 kg)
Hook paths up to 590 feet (180 meters)
Variable attachment to a slewing arm or a traveling portal arrangement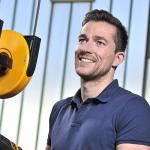 Demag Cranes and Components Corp.
6675 Parkland Blvd., Suite 200
Cleveland, Ohio 44139
United States
Product information
The Demag DC-Wind chain hoist is specially designed to meet the needs of wind turbine manufacturers and operators.
High safety standard
Safe and reliable load handling thanks to its brake/coupling system and its corrosion-protected brake featuring IP 55 protection
Can be adapted to meet specific customer requirements
Specification to suit individual needs, e.g. lifting height and chain collector design
Modification for different climate zones (e.g. cold climate versions), offshore operation and installation sites at great heights
Convenient operation
Fast main lifting speed
Precise positioning at creep lifting speed
Trolley can be easily locked with a handle
Ergonomic control pendant
Fast installation and simple handling
Simple commissioning and convenient service thanks to Plug & Lift connections
Long product service life and extremely low wear due to electrical braking and slip monitoring of the slipping clutch
Gearbox and slipping clutch maintenance-free for up to 10 years
DC-Wind selection table
SWL
lbs [kg]

Type

LS ft/min at 60 Hz
[at 50 Hz
m/min]

Hook path
H 

ft [m]

Trolleys
with frame
Chain
dimensions
Max. weight *)
RUDC
[lbs] kg
Station-
ary
[lbs] [kg]
275[125]
DC-Wind 2
64/16[16/4]
≤393[≤120]
2 x RU 3/2
4.2 x 12.2
[62] 28
[44] 20
275[125]
DC-Wind 5
96/24[24/6]
2 x RU 3/2
4.2 x 12.2
[73] 33
[57] 26
550[250]
DC-Wind 5
64/16[16/4]
2 x RU 3/2
4.2 x 12.2
[73] 33
[57] 26
550[250]
DC-Wind 10
96/24[24/6]
≤590[≤180]
2 x RU 6/2
5.3 x 15.2
[130]59
[99] 45
1,100[500]
DC-Wind 5
48/12[12/3]
≤393[≤120]
2 x RU 3/2
5.3 x 15.2
[95] 43
[79] 36
1,100[500]
DC-Wind 10
48/12[12/3]
≤393[≤120]
2 x RU 6/2
5.3 x 15.2
[130]59
[99] 45
1,100[500]
96/24[24/6]
≤590[≤180]
2 x RU 6/2
5.3 x 15.2
[130]59
[99] 45
1,750[800]
72/18[18/4.5]
≤492[≤150]
2 x U 11
7.4 x 21.2
[185]84
[141] 64
2,200[1000]
72/18[18/4.5]
≤393[≤120]
2 x U 11
7.4 x 21.2
[185]84
[141] 64
2,200[1000]
48/12[12/3]
≤393[≤120]
2 x U 11
7.4 x 21.2
[185]84
[141] 64
2,640[1200]
DC-Wind 15
64/16[16/4]
≤492[≤150]
2 x U 11
8.7 x 24.2
[341]155
[275] 125
3,300[1500]
48/12[12/3]
≤393[≤120]
2 x U 11
8.7 x 24.2
[341]155
[275]125
*) Weight without chain
SWL: safe working load
LS: lifting speed