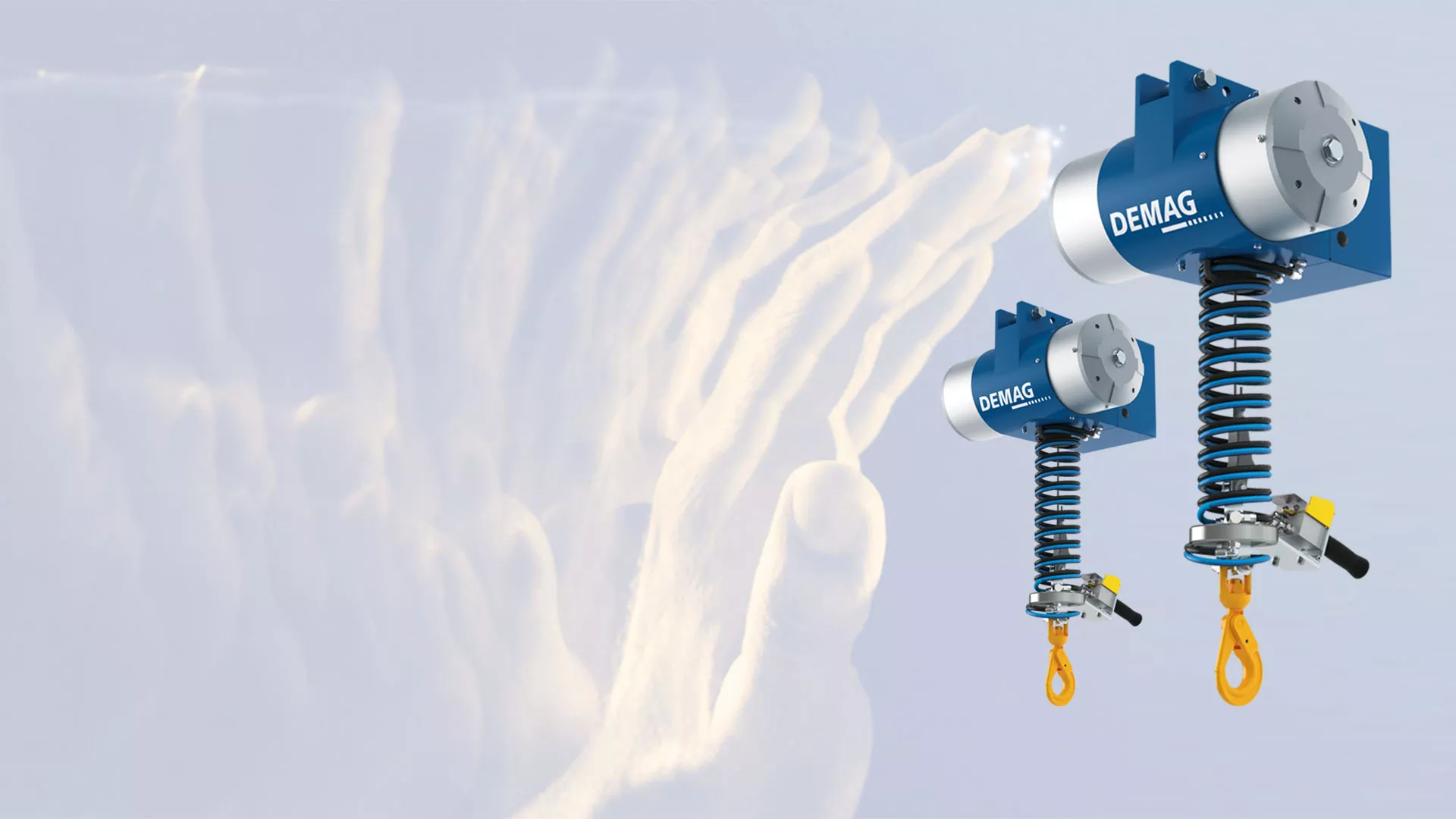 D-BP II Air Balancer from Demag
Our Air Balancer Offers Improved Productivity Through Shorter Cycle Times
Intuitive Load Handling with Pneumatic Balancer
Moving Loads - Almost Weightless
With this air balancer, you can experience pneumatic control when moving loads weighing up to 770 lbs. in an almost weightless way. The Demag D-BP II Air Balancer is ideal for assembly processes, repairs and industrial production tasks in many industries, including the manufacturing and automotive industries. Designed to complement the manual lifting process, the D-BP II Air Balancer moves with the natural lifting motion of the operator.
The D-BP II Air Balancer Makes Load Handling Easy
When using the D-BP II Air Balancer from Demag, lifting and positioning of loads, especially fragile loads, is smooth with jerk-free, continuous three-dimensional movements. Thanks to load balancing, loads of different weights can be lifted at almost identical speeds, and picking up and setting down can be safely controlled. You can choose between pushbutton control or balancing control for loads weighing up to 150 lbs., or you can choose a combination of both.
The D-BP II Air Balancer is an optimal solution for fast pick-and-place operations. The compressed-air drive facilitates low-noise operation with a maximum level of 70 dB(A). In addition, the pneumatic drive has a virtually unlimited service life, with limited maintenance required. Air Balancers do not need an electric power supply, as a clean air supply is the only requirement.
Air Balancers with Industry-Leading Safety 
The D-BP II is equipped with a patented safety brake to block the rope if the lifting motion is too fast and manages uncontrolled motion with the quick and easy brake reset. The overload protection arrangement of the Air Balancer is wear-free.
Optional features can enhance safe load handling. Its interlock function can detect an attached load and can prevent a suspended load from being accidently released if a suitable load handling attachment is used. The additional BaseLoad function keeps the air pressure level in the balancer at a safe level to suspend the weight of the gripper.
Many Suspension Possibilities to Complete Solutions
Whether you need fluid, precise lifting in automotive assembly lines, manufacturing, or industrial production, the D-BP II Air Balancer travels smoothly and efficiently on all ceiling hung Demag KBK light crane systems, freestanding workstations and jib cranes.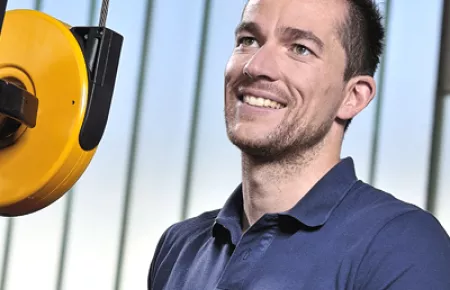 Demag Cranes and Components Corp.
6675 Parkland Blvd., Suite 200
Cleveland, Ohio 44139
United States
D-BP II Air Balancer Product Information
Air Balancer Benefits at a Glance
Technical Features of Our D-BP II Air Balancers
Significantly higher lifting/lowering speeds possible (adjustable up to 6.5 ft./second)
Very silent operation compared to chain hoists, far below 70 dB(A)
Load balancing without the use of buttons for up to 150 lbs. is available as an option
The load weight compensation safety feature is standard for all up/down control systems
No jerky movements during lifting/lowering procedures, and no shock load
No polygon-effect at all
Duty cycle 100%, even with low speeds
Market leading range of options to suit almost any application
Safety Features of the D-BP II Air Balancer
Patented overspeed brake
Load weight compensation for up/down air balancers maintains a safe speed independent of the load being lifted
Interlock function can prevent an accidental release of the load from a suspended gripping device
Baseload function keeps the air pressure at a safe level, enough to balance the weight of the gripper
Economic Features of the D-BP II Air Balancer
Higher speeds result in shorter cycle times and more efficient and cost-effective operation
Wearing-free overload protection
Simple maintenance – rope exchange in less than 15 minutes
Almost unlimited lifetime, with little maintenance required
| | | | |
| --- | --- | --- | --- |
|   | Lifting capacity* | Lifting stroke | Weight ** |
| ATB 70-2000B | 70 kg (150 lbs) | 2000 mm (80 in.) | 27 kg (60 lbs) |
| ATB 120-2000B | 120 kg (265 lbs) | 2000 mm (80 in.) | 35 kg (77 lbs) |
| ATB 120-3000B | 120 kg (265 lbs) | 3000 mm (118 in.) | 40 kg (88 lbs) |
| ATB 160-2000B | 160 kg (350 lbs) | 2000 mm (80 in.) | 40 kg (88 lbs) |
| ATB 225-1800B | 225 kg (495 lbs) | 1800 mm (72 in.) | 42 kg (92 lbs) |
| ATB 350-1200B | 350 kg (770 lbs) | 1200 mm (47 in.) | 40 kg (88 lbs) |
| ATB 350-2000B | 350 kg (770 lbs) | 2000 mm (80 in.) | 45 kg (99 lbs) |
* Lifting capacity depending on supply pressure. Shown values require 7 bar (102 psi) pressure at balancer piston
** Weight without control circuit & carriage