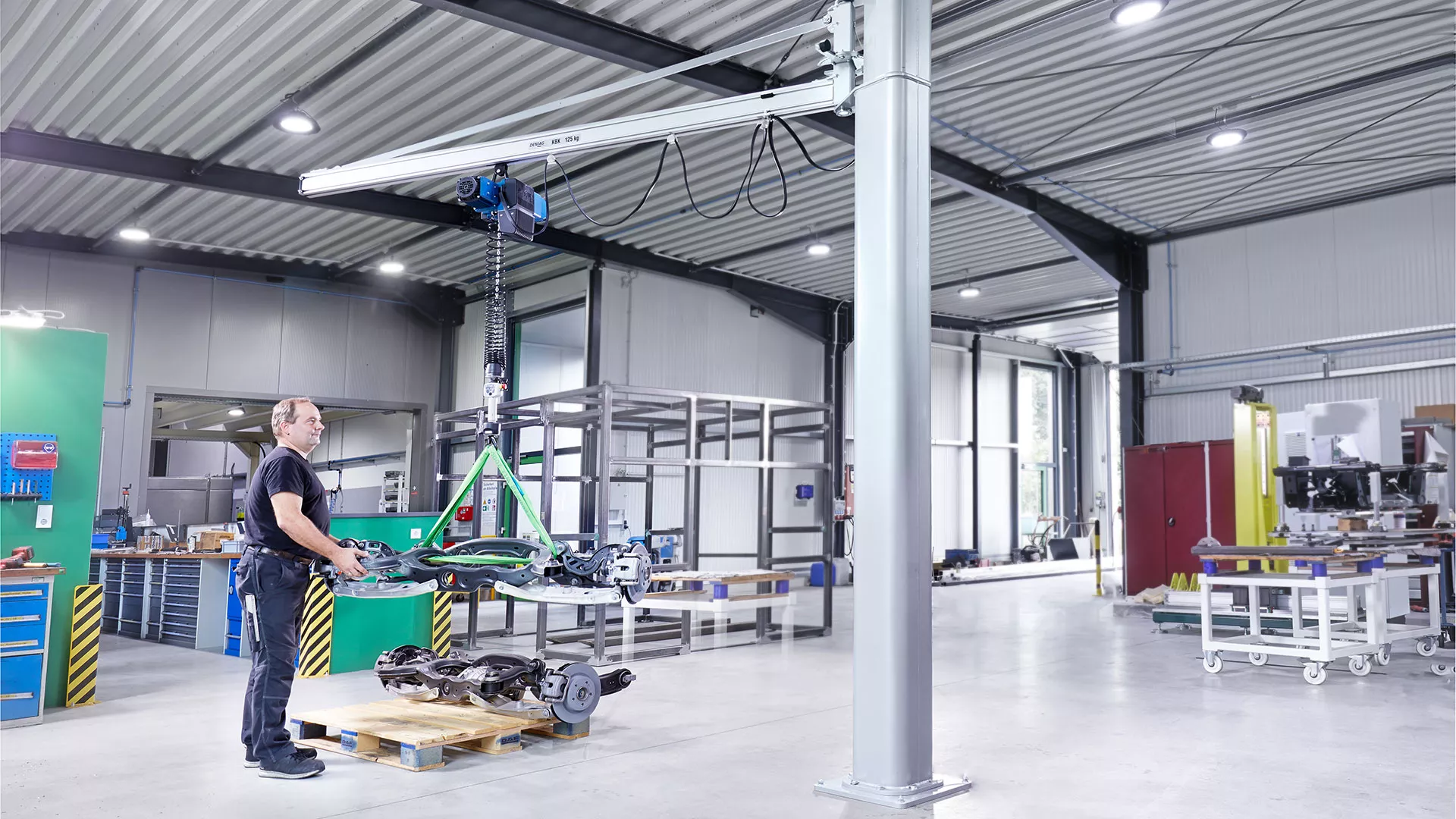 Intuitive control for easier load handling
Special machinery design highlight
Ergonomic workplace design for Saathoff Sondermaschinen
Customer
Saathoff Sondermaschinen has been offering creative engineering at its Bad Iburg site for more than 25 years. Catering to special requirements of customers from the automotive and supplier sector, the company never fails to present new solutions and products. The product portfolio ranges from welded assemblies through tool making to automation. Depending on requirements, the company produces solutions in-house or together with partner firms.
Requirement
Saathoff lets its customers experience application solutions on site. Load handling ergonomics is a key product feature of the reference installation. Saathoff production staff benefits from this as much as the company's customers. It aims to facilitate smooth and fast load lifting, transport and positioning. For its own production, the company needs a slewing jib crane that looks the part.
Saathoff wants to present its custom load pick-up machinery in an attractive design and as a complete solution.
Solution
A pillar-mounted slewing crane from the Demag KBK Aluline crane construction kit enables production staff to move the three-meter-long jib smoothly and easily.
As a hoist unit, the new Demag DCBS chain hoist with balancer function ensures fast and precise component transport in the production process. The Demag D-Grip Servo control allows intuitive load handling. Intuitive positioning with absolute precision is achieved by hand movements for goods weighing up to 125 kg.
The combination of KBK Aluline pillar-mounted slewing crane and DCBS chain hoist provides the ergonomics, functionality and aesthetics envisioned by the customer. With its special white aluminum finish, the pillar-mounted slewing crane integrates into the Saathoff production color concept.
Special features
The operator of the Demag DCBS chain hoist can handle loads intuitively through manual force and hand movements on the controller. The D-Grip Servo and its movement sensors enable the load to be guided and positioned direct by hand. The control system meets or exceeds Performance Level "c" and Category 2 requirements for safety-related control functions according to EN ISO 13849-1.
KBK Aluline pillar-mounted slewing cranes help to improve ergonomic workplace design, weighing up to 45% less than steel profile cranes. Special paint finishes can be selected in Demag Designer to integrate the pillar-mounted slewing crane into the color concept of the production line.