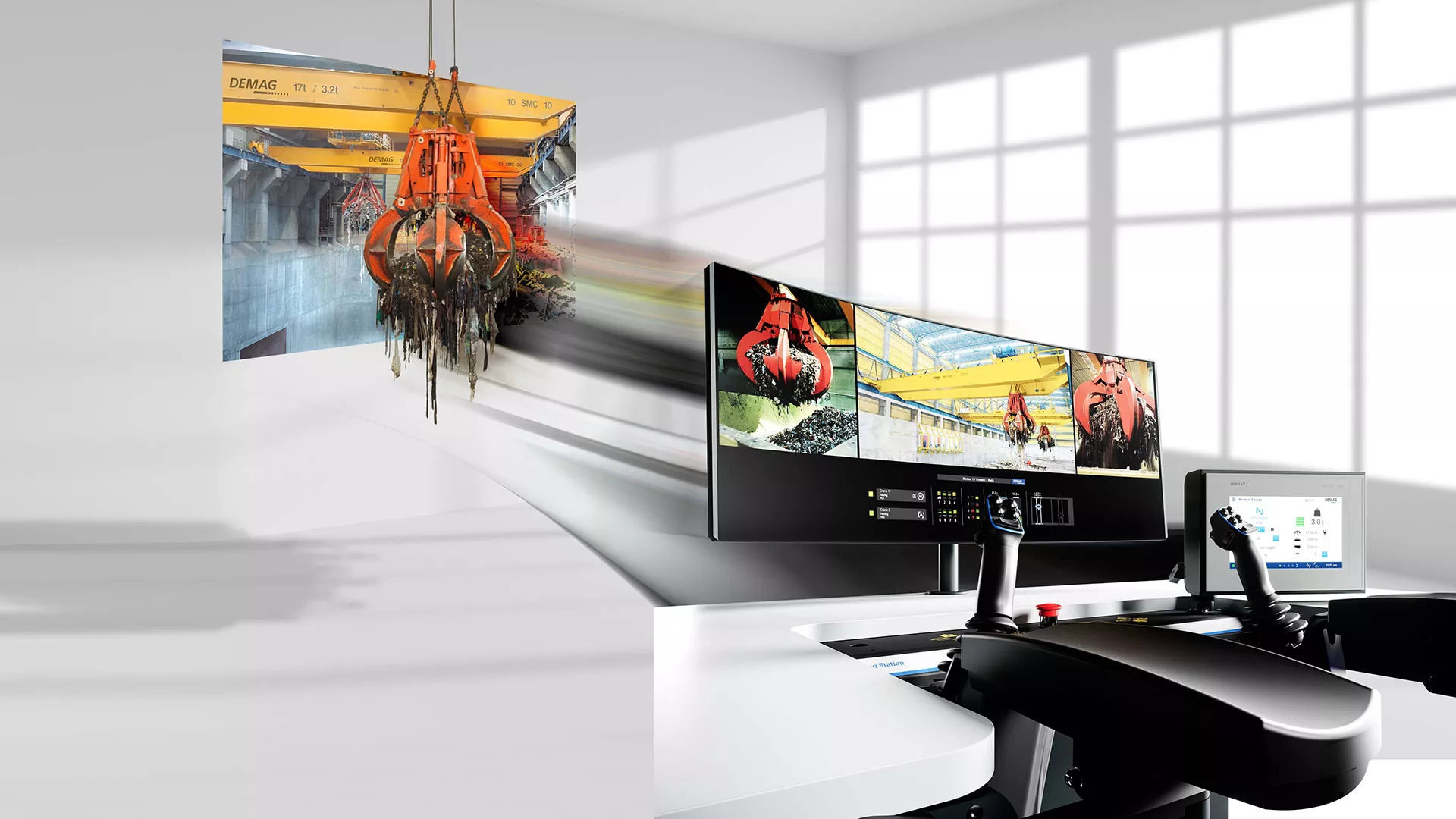 Demag Remote Operating Station (ROS)
Control safely. From a remote location.
The remote control station for process cranes: everything safely in view
Demag Remote Operating Station makes it possible for you to control your process crane from a remote "virtual crane cab". This can be located in a control room or several hundred kilometres away. Whatever the case, the operator can benefit from the best view of the process and a user-friendly workplace.
The virtual crane cab offers the best conditions for concentrating on work. The operator has all the control elements in front of him/her that are normally installed in a crane cab: joysticks with adjustable armrests and a touchpad or tablet as a human-machine interface for the safety-relevant crane systems.
A widescreen monitor provides a view of the process, receiving real-time images from several cameras. The screen layout with up to eight individual images can be configured by the operator as required. A dashboard with process-relevant information can be displayed. Speakers integrated into the monitor make the operating environment even more realistic.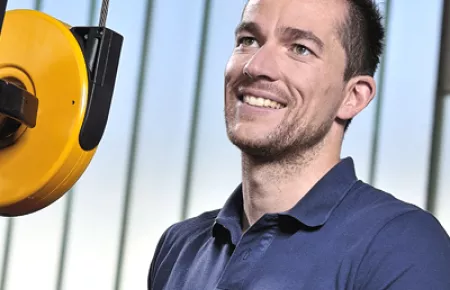 Demag Cranes & Components
Beaumont Road
Banbury OX16 1QZ
United Kingdom
The advantages at a glance
Control from a remote location
If the process crane is working under adverse conditions – for example in metal processing or waste management – control from a remote location with ROS is the optimum solution.
Safety first
All control elements are integrated into a console panel. The crane operator can operate the crane intuitively. And it goes without saying that the control system, including data transmission, complies with all relevant safety regulations.
Better visibility
The cameras can also "look" where the normal field of vision would be restricted. This gives the operator an even better view of the process, which increases safety.
Ergonomic workplace
The height of the console panel with the control elements can be adjusted so that the crane – wherever it is located – can be operated from either a sitting or a standing position. This promotes ergonomic working conditions so that the operator can concentrate on the job.
Training and service are also simplified
The possibility of saving screenshots or videos while the crane is in operation can make staff training easier. Service can be simplified by remote updates.
Reduced costs
With ROS, you can save investment costs, since no cabs (with access) need to be installed on the cranes themselves. If required, several virtual crane cabs can also be operated in a central or remote control room. Or one operator can control several cranes.
Positive experience
Experience has shown that Demag ROS
increases the productivity of a manually operated crane
provides a high safety level
reduces the risk of possible damage
provides a user-friendly workplace
reduces the crane owner's costs.