Welcome to our online seminars, where we focus on our products
Get to know our Demag products: in theory as well as hands-on. Our crane & component experts will present our broad product portfolio to help you find the right products for your solution and show you tips & tricks for your daily work. Expand or consolidate your knowledge of Demag products in our online seminars, eLearnings and tutorials. We are happy to welcome you to our Demag focus on products.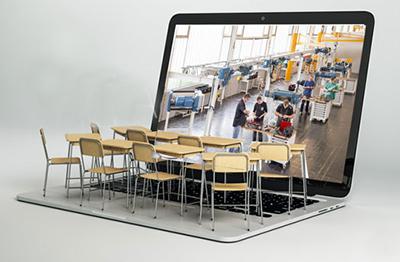 Demag online seminars – your digital classroom
You can attend our online seminars live or on-demand. Either way, you will have the opportunity to contact us to receive answers to any questions you may have.
The presentations take place in our digital classroom and you will be shown applications, simulations, live demonstrations and slides. What you need is a PC, a headset or loudspeakers and internet access. And you can start right away.
Focus on products: DC chain hoists
High performance and reliability in daily operation
Demag DC chain hoists can be used for a wide variety of requirements. It makes no difference whether the well-equipped all-rounder is used in crane applications, as a hoist in our KBK light crane system or a pillar crane or as a stationary hoist. Our DC already offers many options as standard and our speakers will explain the technical and safety-related advantages of our DC product family to you. Our chain hoists help to ensure that facility downtimes are cut to a minimum and to increase efficiency for your requirements.
Focus on products: Demag products for the wind power industry
Convenient operation, high safety standard – for harsh conditions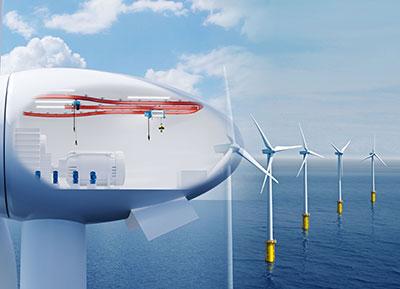 The Demag product portfolio for the wind power industry includes robust solutions for extreme onshore and offshore conditions. Demag cranes and transport trolleys improve material handling in production. In particular, the assistance functions offered by our cranes can relieve crane operators when transporting bulky and/or heavy loads.
The KBK light crane system can be used both in production as well as in wind turbines for smoothly handling loads. Dedicated hoists for the wind power industry ensure fast, convenient and reliable service procedures and minimise the time required to transport material to the wind turbine. Our products help to ensure that facility downtimes are cut to a minimum and to boost the efficiency of these installations.