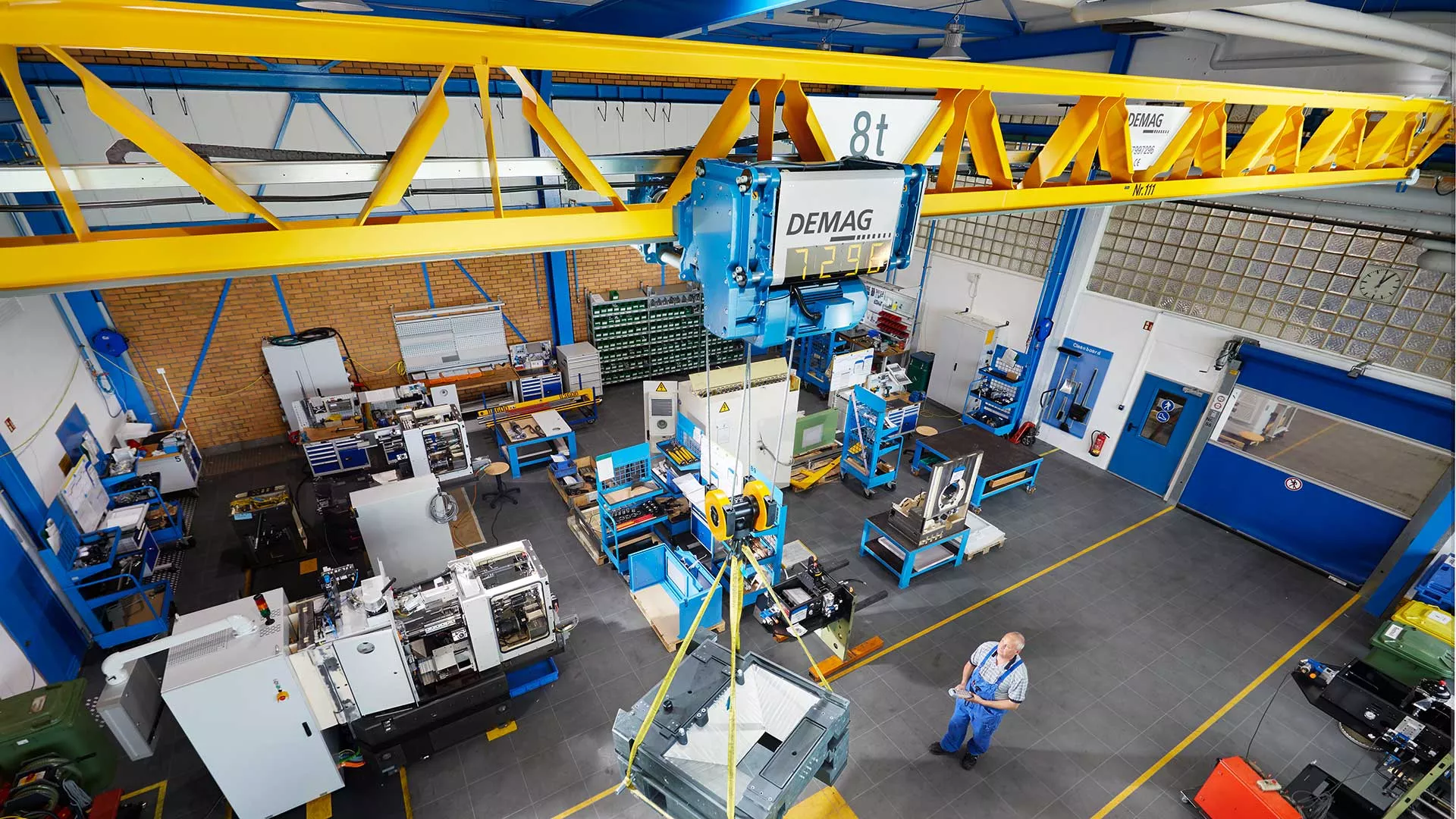 V-type crane with load-sway reduction
Assembly of machine tools: load handling in the millimetre range
Positioning with millimetre accuracy: This is the main task of the new Demag V-type crane operating in an assembly bay of the machine tool manufacturer Schütte. For this reason, the company opted for a crane with load-sway reduction – and has reported on its first practical experience.
Load-sway reduction has improved container crane operations at port terminals for around thirty years. Its cost-improvement benefits can be calculated because the crane can handle X more containers per hour.
For Alfred H. Schütte GmbH & Co. KG in Cologne, this is not a reason for purchasing the crane, however. From the point of view of the company, which is known worldwide for its high-quality multi-spindle automatic lathes, the handling speed plays no role at all in the choice of crane. Nevertheless, Schütte opted for an indoor crane with load-sway reduction – for good reason. Heinz-Josef Weiser, Head of Maintenance: "We always manufacture to tolerances in the µ range. Therefore, the highest precision is also required for assembly of the heavy machine components."
Assembly of the automatic lathes: highest precision required
It was a good coincidence that, at the same time that Schütte was converting its own hardening shop into a new assembly bay, Demag universal cranes with integrated load-sway reduction were launched on the market.
In the extensively refurbished, very bright building, a Demag "EVKE" V-type crane with a load capacity of 8 t and a span of 14 m now ensures efficient material flow with high precision. Heinz-Josef Weiser explains why this is so important with an example: "When the fitters insert the central shaft of the drive unit into the spindle drum, it is work that requires millimetre precision and they have to achieve a highly accurate fit. Otherwise, the automatic lathes will later not be able to produce up to 500,000 parts with one tool change while always maintaining tolerances in the µm range. If the shaft bumps into anything even once, it has to be checked and, if necessary, carefully reworked."
Profile instead of box-section design: clear benefits
Schütte already has experience with the V-type crane. A smaller model is installed in another bay and has impressed the management for several reasons. Heinz-Josef Weiser: "The crane allows much more light into the workshop and we have been able to dispense with local lighting." In addition, retrofit projects that use existing crane runways can benefit from the lighter weight of the crane girder to increase the load capacity. Jörg Wagner, Sales Engineer from Demag Cranes & Components GmbH: "We are currently planning a conversion with Schütte that will reduce the deadweight of the crane from 17.1 to 8.3 t. This means that we can increase the load capacity from 15 t to 20 t and still have some room at the top end."
In addition, Heinz-Josef Weiser is positively thrilled with the crane's design principle: "It represents a good balance of tensile and compressive forces, using as much material as necessary and as little as possible. That's a real winner. If you're interested in statics, it gets your heart racing."
Load-sway reduction: integrated into the control system
The drives for the long and cross-travel motions on V-type cranes that are equipped for load-sway reduction are all variable-speed units – fast compensation as needed would otherwise not be possible. Their low deadweight also contributes towards improved oscillation characteristics, as does the smooth acceleration provided by the inverter-fed drives. However, the main task is performed by Demag's own SafeControl crane control system in combination with a sensor that detects the deflection of the rope at the rope anchorage point (including inclined pull) and actively counteracts it if any sway occurs. The operator, however, does not usually notice this compensation motion. This is how it should be with a good assistance system.
As the load-sway damping system measures the actual load and does not work on the basis of mathematical models, load sway is effectively minimised in every operating situation. And because the Demag development engineers succeeded in integrating the load-sway damping function into the standard crane control system, this function could also be implemented for acceptable extra cost.
Improved safety
For Schütte, load-sway reduction is an important and useful function not only because of the sensitive (and heavy) machine components. The company attaches great importance to health and safety, as evidenced by the fact that all employees working in the production facility are trained crane operators. Heinz-Josef Weiser: "We often move heavy loads. The heaviest part is the machine bed, an extremely torsion-resistant mineral casting weighing up to 2 t. When handling these components, the load-sway damping system minimises the risk of accidents and improves safety."
Goal: optimum interaction between crane and operator
From the Demag point of view, the load-sway damping system is a first step towards crane automation and autonomisation. Further steps will follow, although there is a clear intention not to introduce "unmanned production". Stefan Elspass, Demag Product Manager responsible for crane control systems, HMI and Industry 4.0: "The crane of the future will continue to be controlled by hand. The operator will retain control but will be supported by assistance functions for the crane and handling processes." This is also fully in line with Heinz-Josef Weiser's approach: "Our employees expect one of their colleagues to be holding the control unit when a crane is operating in their vicinity. This level of trust is important. The human operator should and will remain responsible – also for safety reasons." The load-sway reduction function, integrated into the standard crane control system, will meet his needs even better.