Demag FS: fixed suspension for chain hoists
Simple and reliable installation on I-beam girders
Solution from the modular system for purely vertical lifting motions
For DC chain hoists with loads weighing up to 1,250 kg
Even if they are mainly used on cranes, chain hoists are also used for purely lifting functions – without any other travel path. With its FS fixed suspension, Demag now offers an easily installed device to attach DC chain hoists quickly, safely and securely for purely vertical motions.
The impetus for this new Demag development came from a customer enquiry. The customer did not need to attach a chain hoist to a crane bridge or slewing jib crane, but wanted to install it in a fixed position. The requirement was met and Demag has now added the specially developed suspension to its range of series products.
The suspension can be attached to an I-beam girder quickly, easily and securely with the connecting elements (KBK clamps) included with the delivery. Alternatively, it can also be bolted to steel structures or ceilings with suitable fastening materials. All Demag DC chain hoists can be used in sizes DC 1 to DC 10 with load capacities up to 1,250 kg.
This extension to the product range gives industrial users the opportunity to implement a simple and reliable hoist for purely vertical motions – in high quality and with high-grade components from the Demag crane construction kit. Despite its fixed installation, this solution is also versatile, as the chain hoist can be suspended from a different position with little effort, if re-quired. Possible applications for a DC chain hoist with a fixed suspension include the opening and closing of installation components, such as furnace lids, as well as the removal of machine parts for maintenance purposes.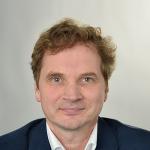 Ruhrstrasse 28
58300 Wetter
Germany