Compact and ergonomic: new control pendant to control two chain hoist motion axes
More compact dimensions
Precise control of chain hoist and cross-travel motion
Ergonomic design, fatigue-free operation
With the new DSC-5 control pendant, users literally have hands-on control of a Demag DC chain hoist. DSC-5, which debuts at LogiMAT 2019, is much more compact than previous control pendants designed for controlling two motion axes (lifting and cross travel). It fits well in the users hand and allows both left and right-handed operators to control the hoist safely, reliably and intuitively, both with and without gloves. Single-handed control also makes it possible for the operator to manipulate the load with a free hand at the same time.
The control pendant is based on the proven DSC-3, which only controls the chain hoist. The slender housing of this control pendant range has been extended to accommodate the two control elements for the cross-travel motion.
The DSC-5 control pendant precisely interprets the operator's travel commands in any situation. Their ergonomic arrangement and the low forces needed to actuate the control elements ensure fatigue-free operation. The sloping position of the control pendant also plays a significant role: the DSC-5 fits comfortably in the operator's hand.
Just as important as its ergonomic design is the control pendant's durability, also for heavy-duty use and operation under arduous conditions. The housing is highly resistant to impacts and has protection against bending and a bumper. The proven plug-and-socket connectors enable the new control pendants to be installed with ease. They are guaranteed to be compatible with the height-adjustable control cable and the integrated strain relief arrangement, which means that users can continue to benefit from this ergonomic design feature.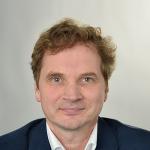 Ruhrstrasse 28
58300 Wetter
Germany