Low deadweight, easy to position
KBK Pillar-Mounted Slewing Jibs
KBK Pillar- and Wall-Mounted Slewing Jibs from Demag Cranes
Switch to Improved Productivity and Ergonomics
As one of the world's leading manufacturers of high-performance and dependable industrial cranes, components, and drives, Demag Cranes and Components is your choice for material flow and logistics needs. In particular, KBK pillar- and wall-mounted slewing jibs from Demag are extremely versatile and reliable. With over 50 years in the KBK modular crane industry, products from Demag jib cranes will meet your application requirements precisely, quickly, and efficiently.
Manually handling or moving relatively light loads is often unsafe, time-consuming and an ergonomic burden for employees. Together with a wide selection of hoist units, Demag slewing jibs and cranes enable loads to be lifted and transported quickly and easily, deposited gently and precisely. In turn, this improves safety and efficiency. Additional features of KBK pillar- and wall-mounted slewing jibs to consider:
Light 

and fast load handling

Ease 

of operation and high operating safety and reliability

Load 

capacities up to 5T

Simple

 installation using fittings included in the system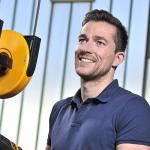 Demag Cranes and Components Corp.
6675 Parkland Blvd., Suite 200
Cleveland, Ohio 44139
United States