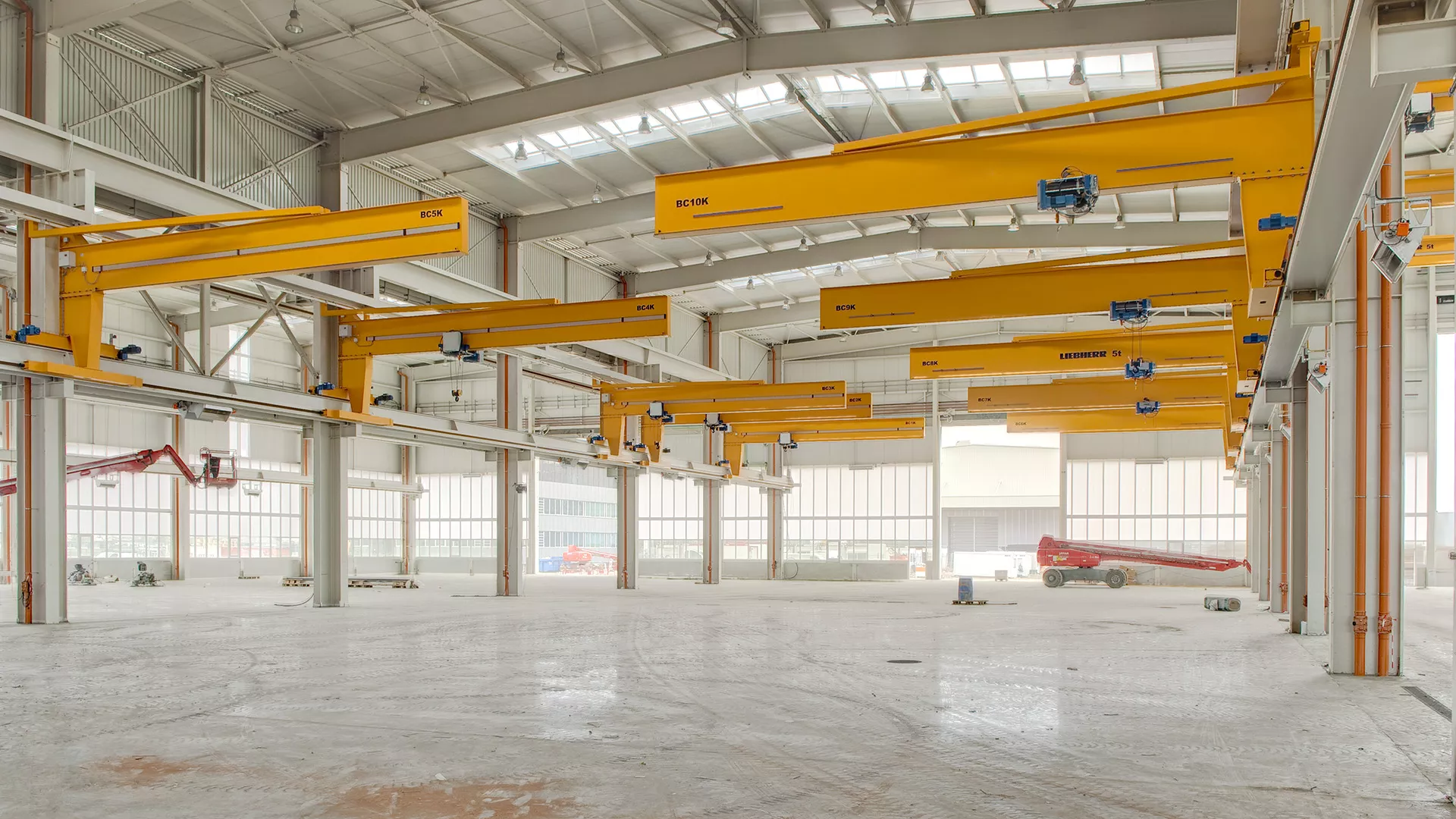 Crane Sets for Wall-Mounted Travelling Cranes
Overhead Cranes Taking Efficiency to a Whole New Level
Superior for workplace processes
As overhead cranes, wall-mounted travelling cranes are the ideal workstation crane for stations behind one another. They transport material to the individual workstations and simultaneously perform positioning tasks at the assembly stations. They travel below the level of overhead cranes on overlapping crane runway rails along the building wall. Demag offers fully configured crane sets for wall-mounted travelling cranes.
Other features of Demag crane sets:
Jib lengths up to 12 m
Load capacities up to 6.3 t
Can be operated either via a wired control switch or wirelessly
Trolleys made of Demag drive components
Travelling hoist optionally with DVR rope hoist or with DC chain hoist on cantilever bracket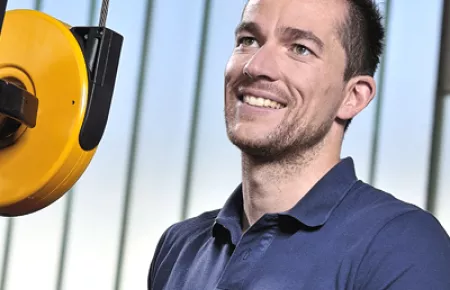 Demag Cranes & Components Corp.
6675 Parkland Blvd., Suite 200
Cleveland, Ohio 44139
United States
Product information
High stability
System strength due to closed box section
Excellent travel characteristics
Even under high loads – thanks to the smallest tolerances for runway errors, misalignment and alignment
Low-vibration operation thanks to horizontal travel units and vertical travel units made of torsionally stiff, closed box section
Vertical travel unit with perfectly coordinated Demag components
Excellent driving dynamics thanks to Demag offset geared motor (pole-changing or variable speed with frequency inverter)
Gentle and radial force-free torque transmission by coupling the drive to the wheel block
Maintenance-free Demag DRS wheel blocks with self-lubricating spheroidal-graphite iron travel wheels for minimal crane runway and travel wheel wear
Travelling hoist with versatile rope hoist
DVR monorail hoist
Optimal use of space and height thanks to compact design (low approach dimensions and large hook path)
Low-swing transport thanks to infinitely variable lifting and travel
Service-friendly thanks to comprehensive monitoring via app
Ergonomic controls
For low-fatigue, safe handling
Optional extras: DRC wireless controls with variable-frequency transmission for undisturbed transmission and reception
Optional tandem operation
For transporting particularly heavy and bulky loads
Master-slave control of both cranes with one transmitter
Synchronized safety cut-off of both cranes
System integration
Integration into overall intralogistics concepts
Modular design
Highest quality and reliability thanks to components from the Demag modular system
| | |
| --- | --- |
| Max. load capacity [t] | 6.3 |
| Max. jib length LKr [m] | 12 |
| Crane travel speeds [m/min] | 60 |
| Max. cross-travel speed [m/min] | 32 |
| Max. lifting speed [m/min] | 12.5 |
Other technical data on request
Load capacity
Outreach [m]
[t]
2
3
4
5
6
7
8
9
10
11
12
0.5
 ■
■
■
■
■
■
■
■
■
■
■
■
1.0
 ■
■
■
■
■
■
■
■
■
■
■
■
1.6
 ■
■
■
■
■
■
■
■
■
■
■
■
2.0
 ■
■
■
■
■
■
■
■
■
■
■
■
2.5
■
■
■
■
■
■
■
■
■
■
■
■
3.2
■
■
■
■
■
■
■
■
■
■
■
■
4.0
■
■
■
■
■
■
■
■
■
■
■
■
5.0
■
■
■
■
■
■
■
■
■
■
■
■
6.3
■
■
■
■
■
■
■