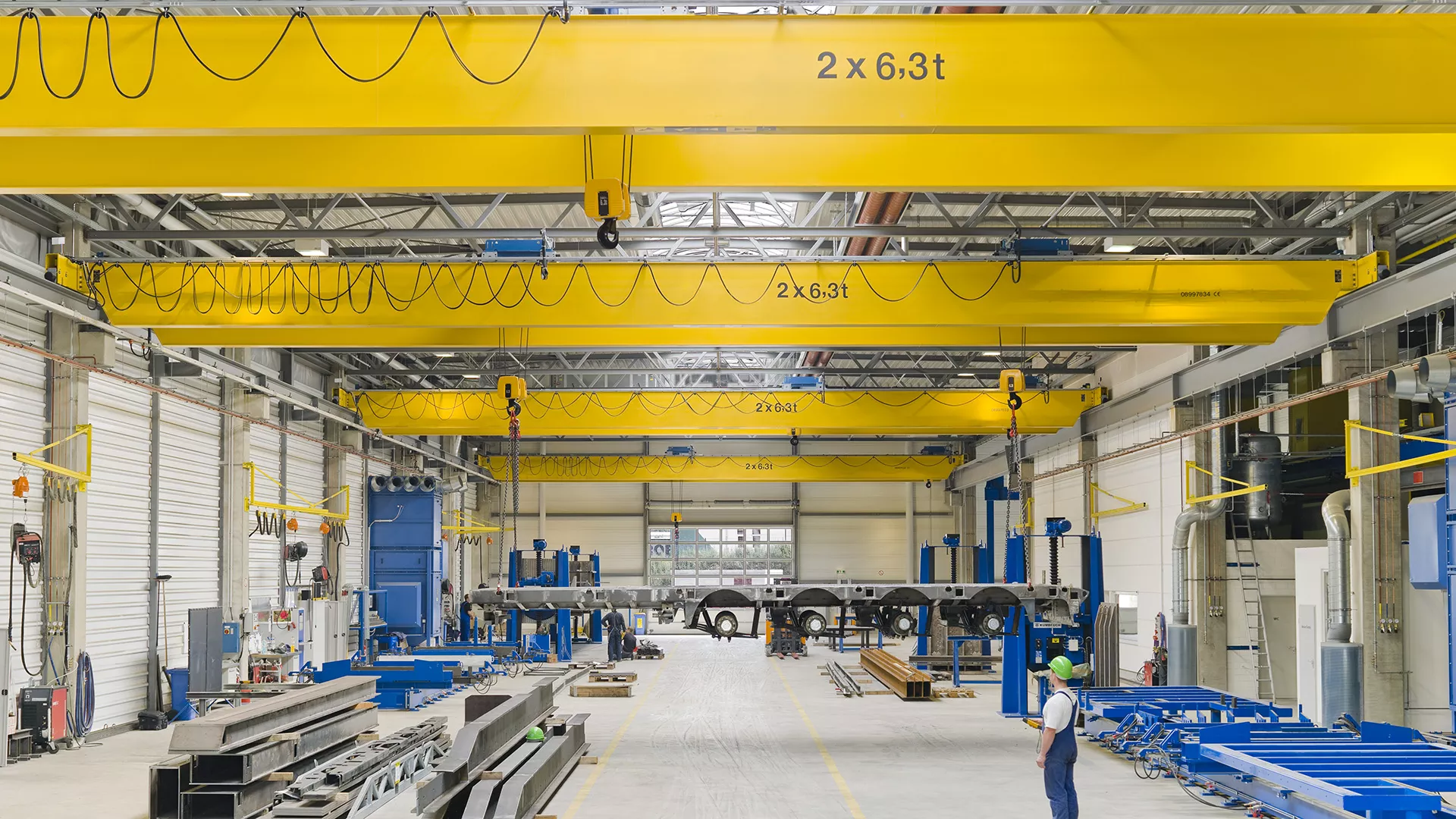 Top Running Crane Sets for Overhead Travelling Cranes
Overhead Cranes with an Optimized Design
Overhead Cranes with an Optimized Design
Single-girder and double-girder overhead travelling cranes offer maximum stability with optimized dead weight. This minimizes the load on the crane runway – and enables a crane to be set up in a cost-effective design. With Demag crane components and pre-configured crane sets, our crane construction partners manufacture cranes that are tailored precisely to your requirements. We also offer a wide range of hoists, chain hoists to 80t wire rope hoists, from the basic variant to the smart high-end solution with intelligent assistance functions. In addition, overhead travelling cranes have excellent crane geometry that ensures excellent travel characteristics, and enables precise adaptation to the contours of the envelope for all-round greater efficiency and ease of use.
What else distinguishes overhead travelling cranes?
Crane girder made of torsionally rigid box-type girder section or sturdy profile-section girder according to DIN standard for optimal load distribution
Crane gantries in torsionally stiff design for top or side connection
Hoists with a wide range of configuration options:

DVR rope hoist up to 80 t
DC chain hoist with up to 5 t

Minimized sway with load movement thanks to stepless cross-travel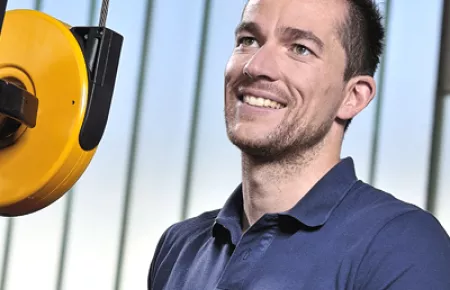 Demag Cranes & Components Corp.
6675 Parkland Blvd., Suite 200
Cleveland, Ohio 44139
United States
Product information
High stability and system strength
Torsionally rigid trolleys optimized for overhead crane applications, optionally with top or side connection

up to wheel size Ø 250 in profile version
from wheel size Ø 320 as welded box-section girder with bulkhead plates

Flange travel wheels designed according to EN1563 GJS 700-2
Optimal travel characteristics with minimal wear on the crane runway and wheels
Extremely cost-effective
Rope hoists with extensive equipment options (e.g. electrical system, assistance functions)
Chain hoists from the DC generation portfolio up to 5 t load capacity
Optimal utilization of the available height and space thanks to compact travelling hoist design with low approach dimensions and large hook path
Reduced construction and operating costs thanks to optimized designs
Accessible travelling hoist for easier maintenance and servicing of hall installations (optional for double-girder cranes)
Efficient performance
Low wear of crane runway and wheels thanks to maintenance-free drives
DEA: Demag Equipment App for system monitoring and parametrization
Power supply to the travelling hoist via highly flexible flat cable with protective conductor
Optional extras: Power chain system for energy and signal transmission
Optional extras: Wireless controls with display
Service-friendly commissioning and parametrization of the inverters via Bluetooth via app
| | |
| --- | --- |
| Load capacity | up to 16 t |
| Load capacity | up to 80 t |
| Runway gauge | up to 35 m |
|  Crane travel speed | up to 60 m/min |
| Cross-travel speed | up to 32 m/min |
| Lifting speed | up to 12.5 m/min |
Overhead crane designs

Designs for optimal adaptation to the hall contour
With a wide range of equipment options, we adapt our hall or overhead cranes to your individual requirements:
Control via wired switch
Control via bi-directional radio control
Frequency-controlled drives help prevent sway
Crane gantries with horizontal guide rollers reduce the skewing forces applied on the crane runway
Operating limit switch or optional slack rope control protects hoist and load from damage
Intelligent assistance functions for safer and more efficient operation
Bypass control prevents collisions with obstacles in the travel range of the travelling hoist
Anti-collision and crane spacing devices enable safe operation of several cranes on one runway
Crane equipment with two travelling hoists helps with long and bulky loads
Extensive range of lifting devices for a wide range of requirements