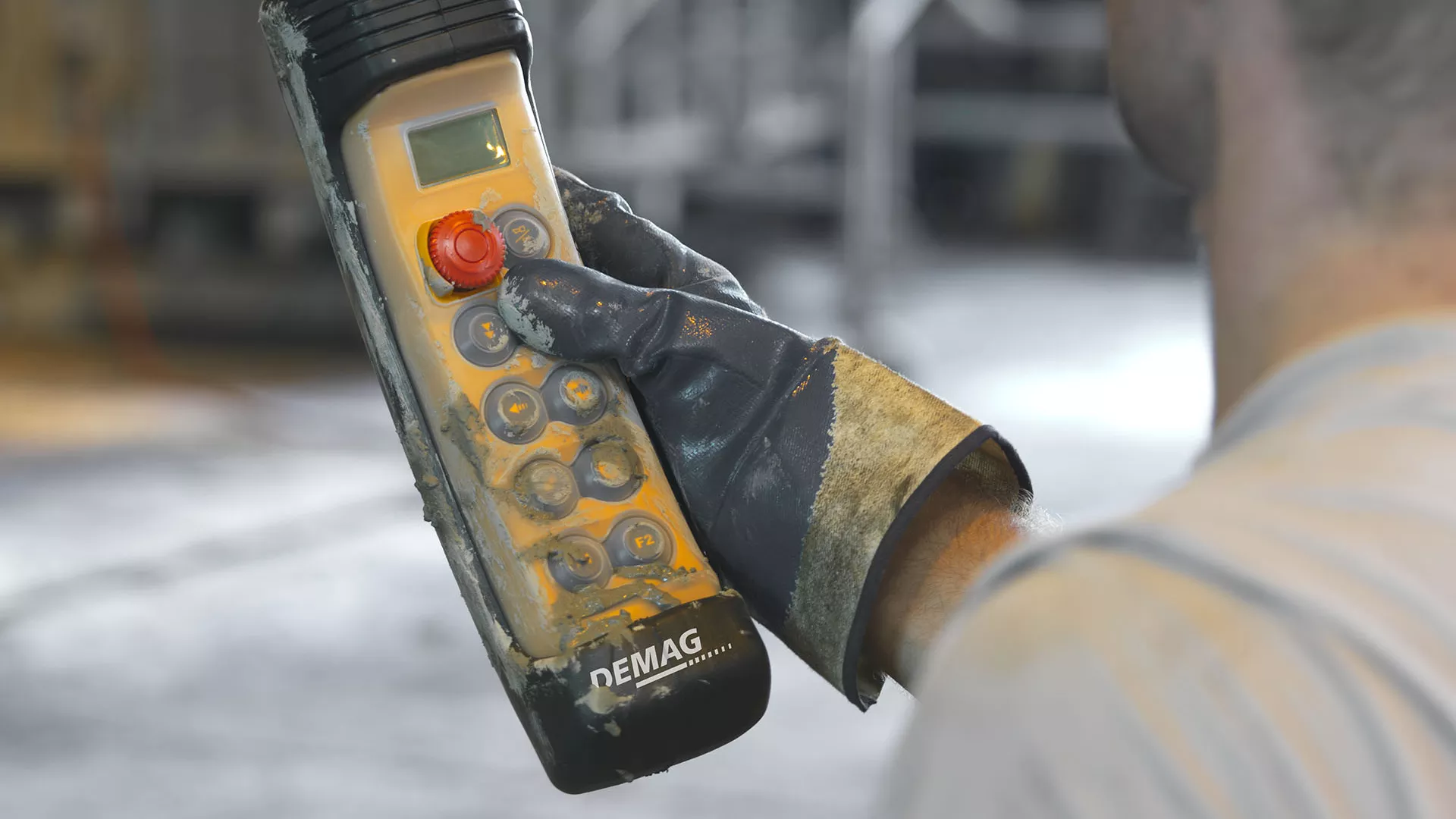 Installation transparency thanks to integrated display
Safely control simply everything
DSE-10 control pendant enables ergonomic control of  hoists and machinery. These wire-connected units are used for controlling DC chain hoists and DR rope hoists in applications with up to three motion axis. To address these needs, we supply DSE-10 control pendants for two different control technologies:
DSE-10C/CS: control pendants to control DC chain hoists, traveling hoists and cranes with an innovative 'triState' interface
Available with 2-stage pushbuttons (C) or with variable pushbuttons (type CS)
DSE-10R: control pendants with a CAN bus interface prepared for safely controlling DMR rope hoists, traveling hoists and DMR cranes that are fitted with CAN bus-based safety control.
Both models offer excellent features, such as:
Ergonomic control pendant designed for safe and easy operation

Housing that is highly resistant to impacts

Comprehensive accessories for operation in harsh environments and protection against fluids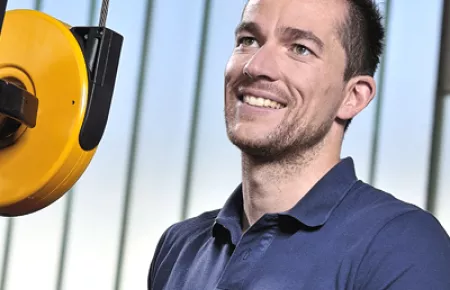 Demag Cranes & Components Corp.
6675 Parkland Blvd., Suite 200
Cleveland, Ohio 44139
United States
Product information
Operators can work in a natural, comfortable posture
Easy, fatigue-free operation thanks to the favorable ergonomic design
Highly impact-resistant housing made of high-quality thermoplastic
Additional improved resistance to impacts thanks to an elastic cover (bumper)
Optional silicone sleeve for protection against abrasive substances and aggressive chemicals
High functional reliability thanks to non-flammable, climate and corrosion-proof housing
Housing material resistant to fuels, salt water, grease, oils and lyes
Various cable types available
Support sleeve with bayonet connection and cable collector for variable adjustment of the cable length
Alternatively: 2TY cable with vulcanized strain relief cords
2-stage pushbuttons or variable pushbuttons for particularly smooth control of variable-speed drive solutions
DSE-10C/CS control pendant
No internal wiring required in the pendant due PCB  which has a central connection (plug connection)
The housing is made of high-quality, thermoplastic which is extremely resistant to impact
Protective insulation to VDE 0100 part 410, section 6.2
Switching distances and forces to DIN 33 401, holding force < 8 N
IP 65 enclosure to DIN VDE 0470 T.1 and EN 60 529 as standard
The housing is non-flammable, climate and corrosion-proof
Resistant to fuels, salt water, grease, oils and alkaline solutions
Optional accessory: close-fitting silicone sheath to protect against moisture and abrasive materials
Complete DSE-10C/CS control pendants with part numbers are provided with pre-defined symbols

Symbols: self-adhesive labels that are resistant to abrasion. Arrow symbols correspond to FEM and ISO 15012
DSE-10R control pendant
To control DR rope hoists via CAN bus interface
Housing characteristics and design as for DSE-10C/CS
DSE-10R variants fitted with 2-stage pushbuttons or variable pushbuttons for precisely controlling inverter-fed drives  
Infrared interface for service work
Integrated display to show operating and service data, e.g.

Load display incl. load-proportional bar display
Load reduction display
Display of switching statuses of universal outputs
Trolley/crane selection display
Service interval
Safety function

Additional comprehensive information menu (e.g. remaining service life, basic hoist data, error memory)