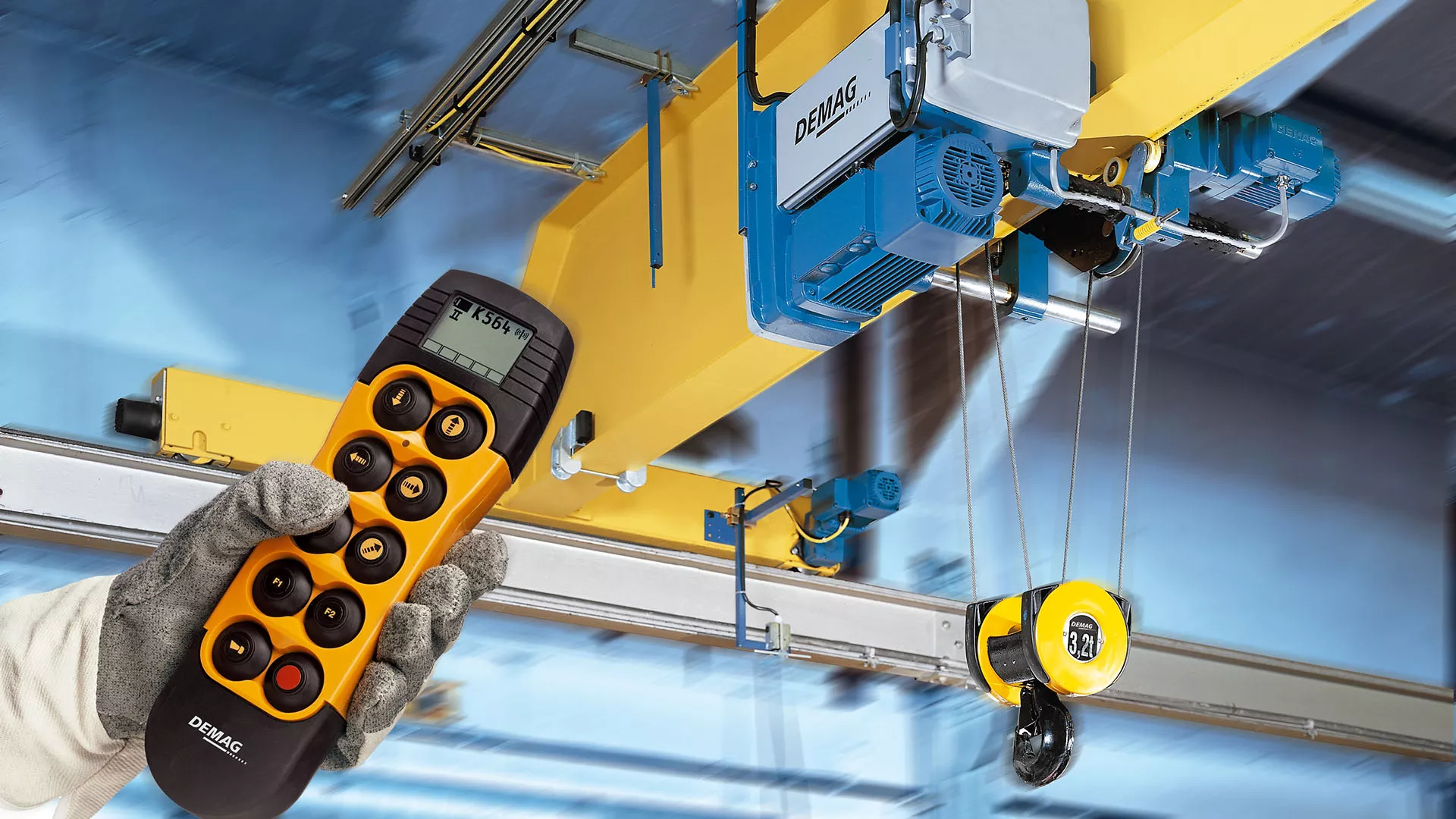 Precise control by joystick or hand-held transmitter
DRC-MP radio control system
Convenient, safe and reliable control
The versatile alternative to wire-connected controls, DRC-MP radio controls are used for reliably controlling cranes, hoists, industrial doors, machinery and installations. You can choose between the DRC-10 key-actuated transmitter and the DRC-J joystick transmitter.
High level of safety due to greater distance from the load
Highly reliable data transmission thanks to frequency hopping
Rugged housing
Ergonomic design
Fast and simple commissioning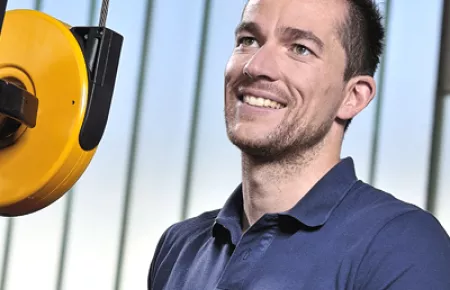 Demag Cranes & Components Corp.
6675 Parkland Blvd., Suite 200
Cleveland, Ohio 44139
United States
Product information
Convenient operation
Simple and fast commissioning via wireless transmitter log-on
Bi-directional signal transmission
Graphic display showing battery capacity and installation status or warning messages
Stop function according to EN 954-1, category 3 PL "d"
Convenient operation for smooth and precise travel
High availability ensured by high-speed transmitter charging; within 2 hours
Emergency operation possible with conventional Mignon AA type batteries (key-actuated transmitter)
High operating reliability
Impact and temperature-resistant housing design
Integrated impact protection on DRC-10 hand-held transmitter
Individual configuration
Available as a complete set for existing universal cranes
Comprehensive accessories available for improved protection against chemicals and abrasive materials
Postal authority approval for operation; no registration or operating fees in many countries
DRC-10 pushbutton transmitter
6 infinitely variable pushbuttons (for infinitely variable or max. 2-stage control of up to three axis)
Horn/limit switch test button
Stop button
2 pushbuttons for special functions
Weight incl. rechargeable battery: 1.1 lbx (500 g)
IP 55 enclosure
Temperature range -4 to +122 °F
DRC-J joystick transmitter
 1 joystick for lifting/lowering axis
1 joystick for two axis (cross and long travel)
1 horn/start button
1 limit switch test button
2 pushbuttons for special functions
Mechanical key-operated switch to turn the transmitter on and off
Weight incl. rechargeable battery: 4 lbs (1,800 g)
IP 55 enclosure
Temperature range -4 to +158 °F
DRC-MP receiver
 Supply voltage 42–240 V AC, +/- 10%, 50–60 Hz
Output relay for 250 V, 8 A, AC11 PWM outputs
3 digital feedback channels
Power consumption 12 VA
IP 65 enclosure
Temperature range -4 to +158 °F
Dimensions: W x H x D: 256 x 183 x 104 mm