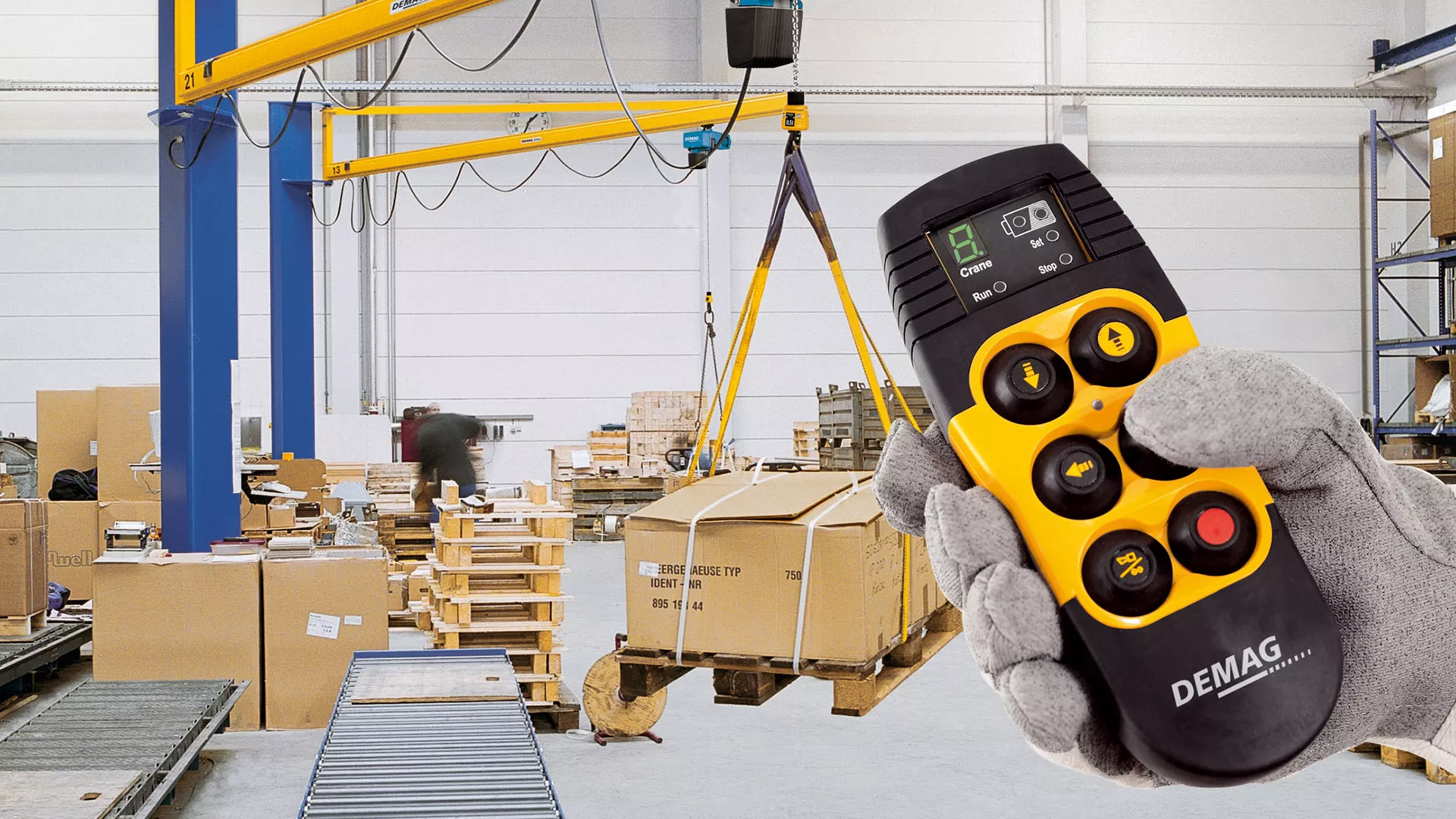 Hand-held transmitters to control up to three motion axes
DRC-DC radio control system
Fast installation. Ergonomic control.
Our DRC-DC radio control system is the ideal solution for optimum ergonomic operation of high-performance DC chain hoists. DRC-DC radio control offers much greater flexibility than cable-connected control systems and ensures that the operator can maintain a safe distance from the load at all times.
Two sizes to control up to two (DRC-DC 6) or three axis (DRC-DC 10), respectively
Strong, tough hand-held transmitter
Reliable radio transmission due to frequency hopping
Ergonomic design
Fast installation and simple operation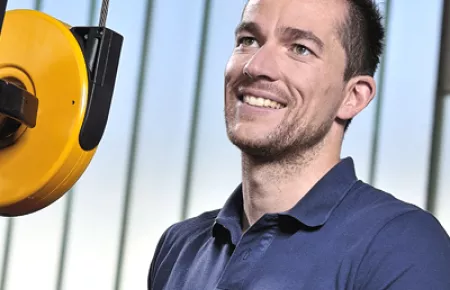 Demag Cranes & Components Corp.
6675 Parkland Blvd., Suite 200
Cleveland, Ohio 44139
United States
Product information
Outstanding performance
Reliable operation due to tough, impact-resistant handheld transmitters
Frequency hopping drives reliable transmission
Display section for operating status and battery capacity
High availability ensured by high-speed transmitter charging; within 2 hours
Emergency operation possible with conventional Mignon AA type batteries
Worldwide postal authority approval for operation; no registration or operating fees
Simple wireless hand-held transmitter log-on
High safety and reliability
Stop function according to EN 954-1, category 3 PL "c"
Impact and temperature-resistant housing design
Integrated impact protection in the hand-held transmitters
Individual configuration
User-friendly solutions can control up to three motion axis

Comprehensive accessories available – e.g. for improved protection against chemicals and abrasive materials
DRC-DC 6 hand-held transmitter
Six buttons for two-stage control of up to two motion axes
Stop button
Horn button
Weight incl. rechargeable battery 0.9 lbs (410 g)
IP 55 enclosure
Temperature range -4 to +122 °F
DRC-DC 10 hand-held transmitter
Ten buttons for two-stage control of up to three motion axis
Stop button
Horn button
2 pushbuttons for special functions
Weight incl. rechargeable battery 1.1 lbs (490 g)
IP 55 enclosure
Temperature range -4 to +122 °F
DRC-DC receiver
Receiver board for installation in DC 16/DC 25 chain hoists
E box receiver for attachment to DC chain hoist sizes DC 1–10
Including adapter plate, installation material and pre-assembled power and control cables