Simultaneous control of several drives
Strong performance up to 560 kW
Our Dedrive Pro frequency inverters are high-performance components ranging from 2.0 to 750 HP (1.5 to 560 kW) for 380 to 690 V systems. They are the solution to satisfy a variety of requirements.
Infinitely variable motions for travel, lifting, turning and slewing applications
Seven range of outputs
Additional applications with supplementary options
Available as complete application modules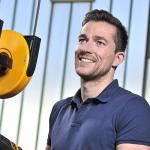 Demag Cranes and Components Corp.
6675 Parkland Blvd., Suite 200
Cleveland, Ohio 44139
United States
Product information
Simultaneous control of several drives
Excellent acceleration and braking characteristics
High level of safety: STO (Safe Torque Off) available as an option for all sizes
Rated output may be temporarily exceeded, if required
Special crane functions
Line reactor and line filter (optional) always integrated
Simple installation and maintenance
Extension options
IP 55 for operation in arduous environments (up to size R6)
Two different applications can be served by switching over parameter sets
Fibre optic technology for fast system communications with several inverters
Integrated speed and torque monitoring
Optional Functions
Communications modules for field bus network
Extension modules to add control inputs and outputs as well as speed encoder evaluation
External PTC thermistor evaluation
Keypad terminal for parameter programming and commissioning
Motor potentionmeter via keypad terminal
DriveWindow PC software for convenient parameter programming and diagnosis as well as visualization
Software
Control of cylindrical and conical-rotor motors
Automatic parameter identification
Direct torque control with or without encoder for fast compensation when loads change
Speed and torque monitoring
Innovative function for smooth acceleration
Two switchable data sets (e.g. control, ramp or motor switchover)
Setpoint memory, setpoint steps (4-stage) and analogue bipolar/unipolar control modes
Programmable joystick characteristics
Load-dependent speed for hoist operation with field weakening
Load spectrum calculation (dependant on speed)
Speed or torque control freely selectable
Master/slave function, electronic gearbox and closed-loop control
Intelligent braking logic system for brake monitoring by evaluation of the corresponding feedback contacts
Comprehensive diagnosis functions
Hardware
Motor outputs from 2.0 to 750 HP  (1.5 to 560 kW)
Rated voltage: 380 – 415 V, 380 – 500 V, 525 – 690 V (+/-10%)
1.5 times overload capability for 60 seconds
Short-circuit/earth-fault resistant motor circuit output
CE, CSA and UL listed
IP 55 enclosure up to size R6 (optional)
Master/slave capable (fibre optic, optional)
Integrated line filter (optional)
Integrated line reactor
Integrated brake chopper
Evaluation of motor temperature detector