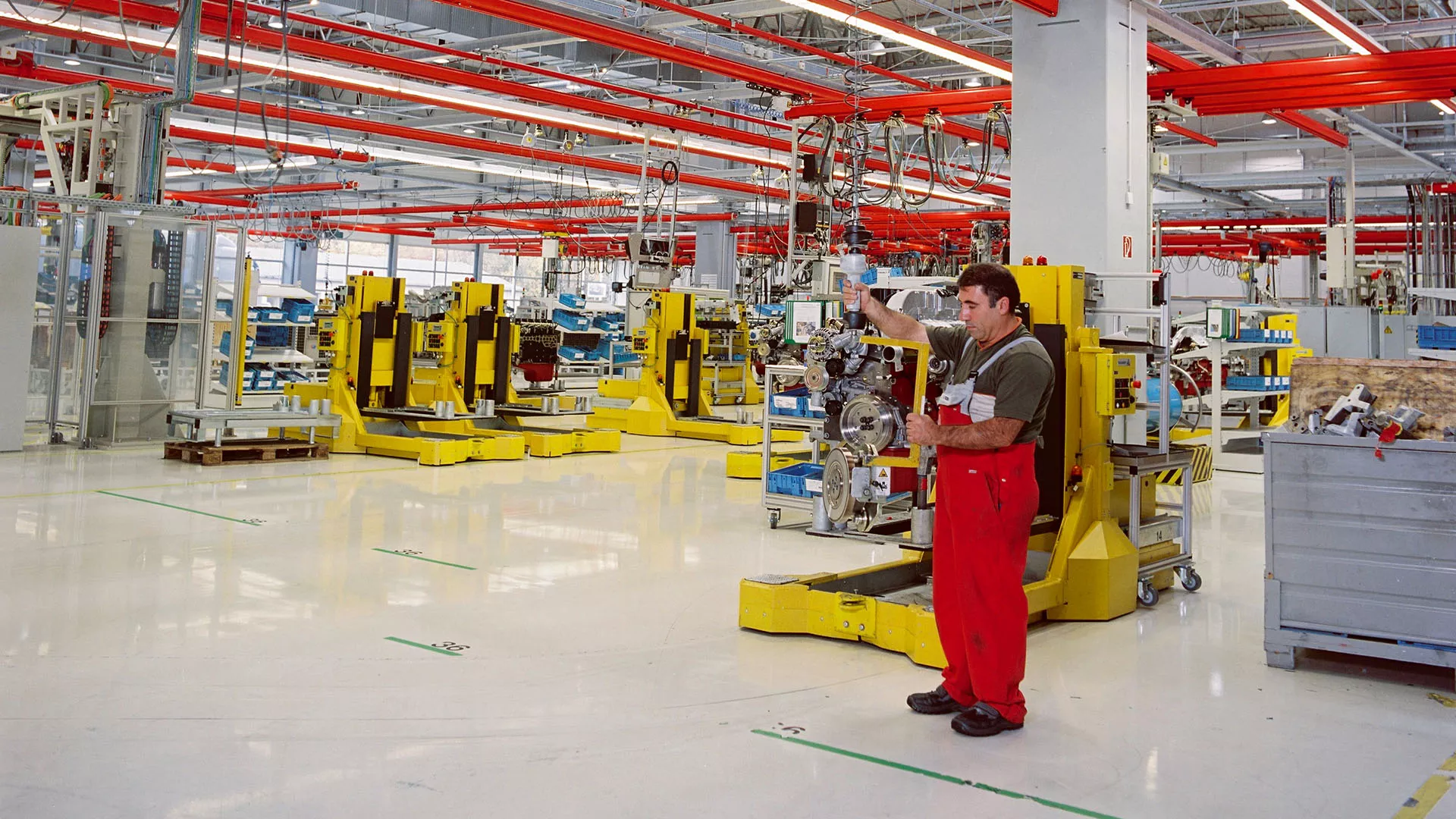 Area-serving modular system
More than 250,000 motors every year
The DEUTZ AG product range includes air, water and oil-cooled engines with outputs up to 500 kW, which are mainly driven by diesel. The engines are used in mobile machinery applications, such as construction equipment, forklifts, airfield and underground vehicles, in commercial vehicles and railcars, in stationary installations, such as generators, pumps and compressors, as well as in tractors and other agricultural machinery. Every year, more than 250,000 engines are produced at the final assembly plant in Köln-Porz alone.
One system for 3,500 delivery variants
The profile-section rails of the Demag KBK light crane system spread across the entire ceiling of the Bay 41 like a red sky. They form the basis for the flexible and ergonomic assembly of the DEUTZ range of water-cooled engines. If the customer-specific variants are added together that have already been assembled since production began, the plant can boast 3,500 different variants that have been shipped. No problem for the highly versatile KBK system.
Simple working efficiency
The system made up of components from the Demag light crane system and installed to serve the entire production area is used to lift heavy engines and, at the same time, supplies energy to the workstations in the form electricity and compressed air. Thanks to this highly versatile system, DEUTZ AG is able to respond quickly to requirements for new engine variants and for increasingly shorter engine life cycles.
DEUTZ AG
Flexibility to drive efficient assembly
Already at an early stage of planning, DEUTZ had decided to have a modular, area-serving transport and handling system installed. In view of the overall size of the system, this was a real challenge for the Demag project engineering and installation teams. The crane system, which is attached to the support superstructure by means of threaded suspension rods, had to be installed and put into service section by section. The bolting systems were gradually added for each individual module to enable DEUTZ to begin with pilot series production. Following a month-long test phase, approval was given for the production process to commence.
Integrated intralogistics solution
We beat tough competition when the contract was awarded. A decisive factor was the integrated solution featuring compact hoist units. Besides the Demag light crane system with its wide variety of profile sections and components, this included variable-speed Demag DCS-Pro chain hoists that are used for positioning heavy oil sumps, as well as Demag balancers that are ideally suited for the installation of cam shafts.
High flexibility required
A walk through the assembly bay will quickly show even a casual observer that DEUTZ uses the KBK system for a wide range of tasks. However, flexibility and modular design are also required to enable the assembly sequences to adapted. For example, in order to respond to shorter engine life cycles due to stricter exhaust fume legislation.
Engine assembly
Rapid adaptability for long-term efficiency
DEUTZ had components from our modular KBK crane construction kit installed beneath the ceiling to serve the entire bay from the order-picking zones to the shipping area. This solution requires no supporting pillars and makes modifications extremely uncomplicated. For example, workstation layouts can be modified or new equipment can be added to the line in just one weekend. Thanks to the defined system grid dimension, cranes from the modular crane construction kit can be quickly and easily transferred to another area.
One system to meet many requirements
The KBK system is not only used by DEUTZ for transport and handling tasks, but also to pick up manipulators, the entire bolting systems, other equipment and jigs as well as measuring systems and scanners. And for a mobile oil filling installation that is used to modify the volume of oil required when engine designs change. Furthermore, all of the bolting systems and station control systems are suspended from the KBK installation to follow the sequences along the continuous assembly line.