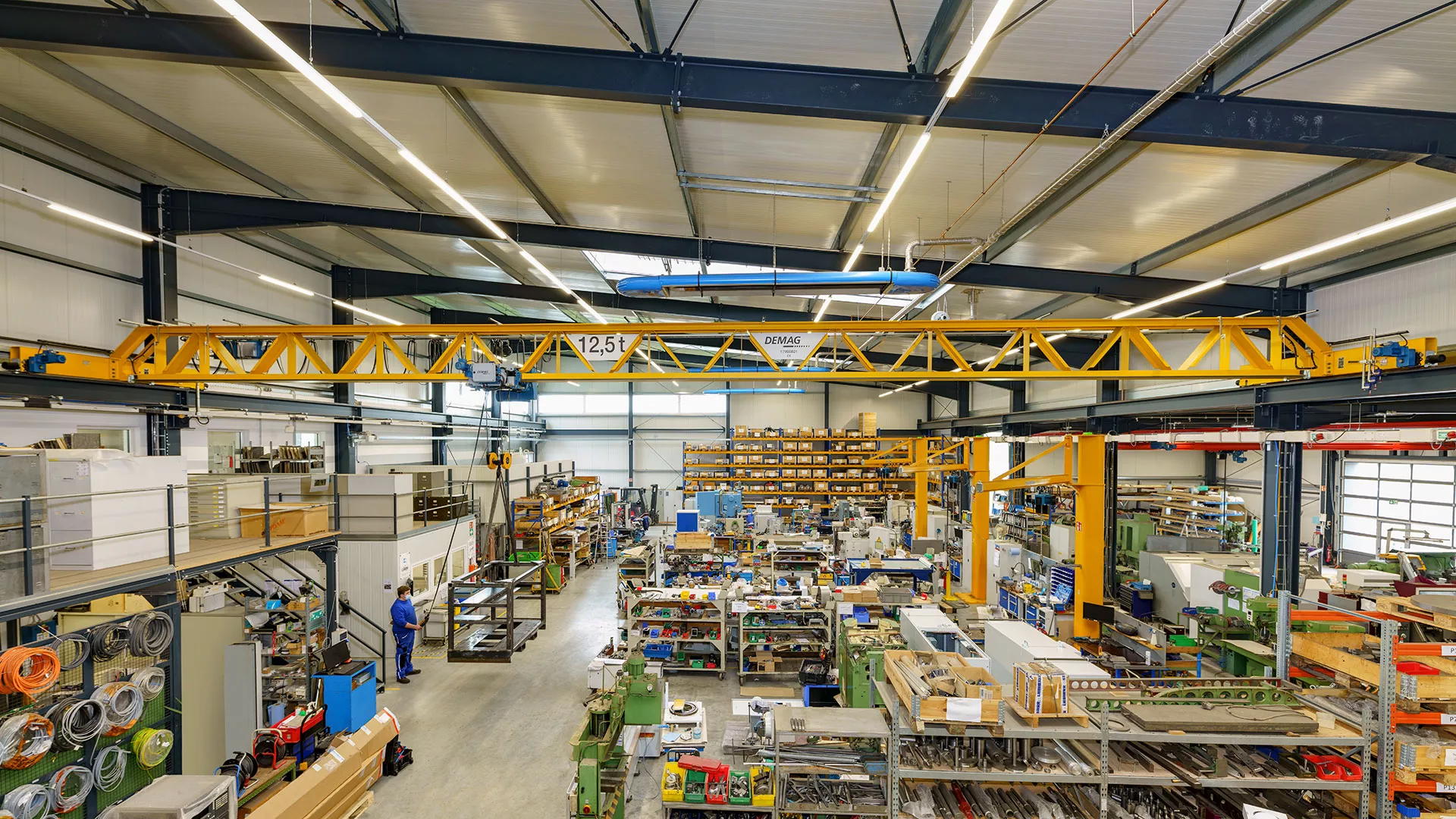 Co-ordinated crane system for special-purpose machine construction
A clever combination: three crane systems in the new production bay at Stork
Customer
For more than 20 years, Stork GmbH in Billigheim, Germany, has focused – competently, professionally and reliably – on the overhaul and modernisation of machine tools as well as special machine construction. In co-operation with a company specialising in control technology, Stork also retrofits and installs high quality CNC controls from renowned manufacturers.
Requirement
When building a new production bay, the company invested time and expertise in planning the "right" material flow technology. A central requirement: achieving flexibility. Since Stork only manufactures customised and not series machines, and since no two retrofit machines are alike, there are very different parts to be handled. In addition to a crane for transporting components up to and including the complete machine, the workplaces also needed to be equipped with an ergonomic handling system. Machine components are refurbished and modernised at individual workbenches. The supply of necessary components and tools was to be facilitated by crane.
Planning generally aimed to achieve a clearly structured, efficient material flow within production and precise positioning of the sometimes heavy loads.
Solution
One overhead travelling crane with V-type girder, three pillar-mounted slewing jib cranes and one KBK suspension crane are in operation in the new bay. The V-type crane with a load capacity of 12.5 t and span of 23.05 m travels a path of 41 m to cover the entire bay. The long and cross-travel drives have infinitely variable speeds and the crane is controlled by a Demag DSE 10-R pendant controller. The innovative V-type girder makes it possible to achieve high load-bearing capacity and – thanks to its low deadweight – minimised load sway. Horizontal guide rollers on the crane drives reduce skewing forces and ensure smooth travel characteristics. Furthermore, the load on the crane runway can be reduced.
The smart SafeControl system ensures safe crane operation and is the basis for the selected by-pass control. Parts of the bay with high structures such as racking can thus be avoided. The entrance to the painting booth is protected to prevent any damage. The position of the painting booth's entry area is indicated on the crane bridge by means of a signal device and an indicator light. Entry into the painting booth can be actively initiated by pressing an enable button and the cross-travel button. To prevent damage to the painting booth caused by unintentional crane long-travel motions, access to the booth is disabled after the load enters it.Three Demag pillar-mounted slewing jib cranes, each with a load capacity of 1 t, make it easy to assemble and disassemble heavier machine components. The pillars are equipped with a 4-m-long jib and Demag DC chain hoists. The selected DC-Com variant boasts an efficient combination of many extras and a long service life.
The pillar-mounted slewing jib cranes can also be manually adjusted to changing conditions in the production area within a slewing range of 0 to 300° by an adjustable slewing limiter.
In the assembly area, a handling system from the Demag KBK II modular construction kit ensures simple handling of the components for work on the machines. The selected double-girder crane with a load capacity of 1 t and a girder length of 12 m travels on a 30-m-long crane runway. Safe and space-saving power transmission is provided by an integrated busbar line in the KBK II-H-R profile. The approach dimensions of the crane are reduced and the risk of collision is minimised. The track suspensions are adjusted with millimetre precision by means of threaded rods. A Demag DC-Com in turn serves as the hoist.
Special features
Precise, light and durable – load handling with Demag V-type cranes. The innovative design featuring tapered diaphragm joints reduces oscillation frequency by 30%, cuts the weight by an average of 17% and doubles the service life to as many as 500,000 changes of load. The girder design offers significantly improved efficiency for handling loads and higher handling rates than conventional box-section girders.
The DC-Com chain hoist is the right choice for everyday needs: designed for applications with normal requirements – offering simplicity and reliability in proven Demag quality. The DC-Com is versatile and can be used in both the KBK light crane system and on pillar-mounted slewing jib cranes for improved material handling at the work-places of the Stork employees.