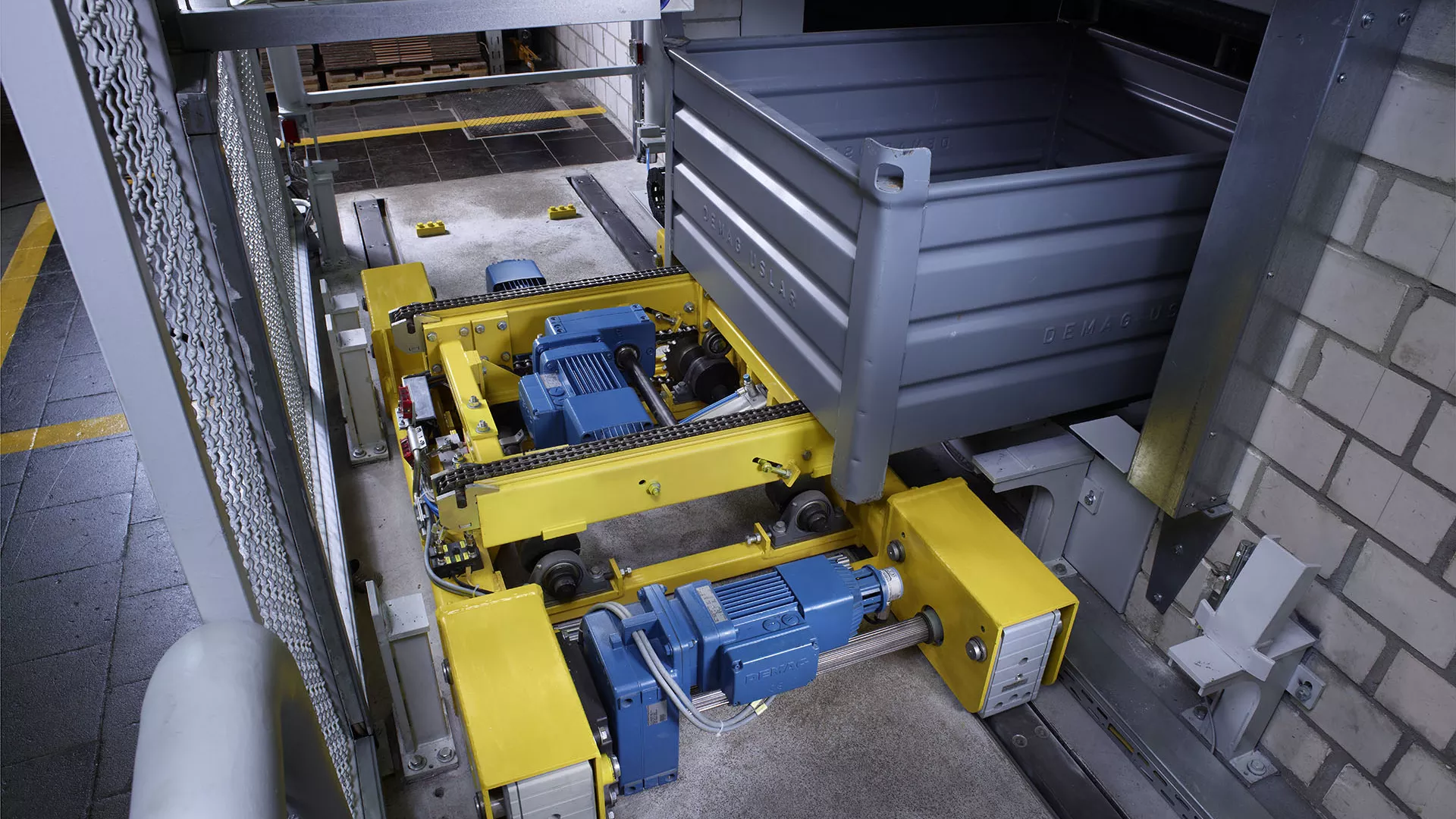 For wheel loads up to 40 tonnes
DRS and DRS-M wheel block systems
DRS and DRS-M wheel block systems: Modular system for tailor-made solutions
  Our DRS wheel block system is a versatile travel wheel system for heavy-load handling applications. With the DRS-M, we have enhanced this system further and added new features to it. Both product ranges can be seamlessly integrated into Demag modular drive systems: Eight finely graded sizes provide the right wheel block for every application:
DRS-M 112 to 200 (load capacity from 2.75 to 10 t)
DRS 250 to 500 (load capacity from 16 to 40 t)
And the large selection of travel wheels and special wheel designs make it possible to adapt them to almost any travel rail or operating conditions. Cost-effective and ready to install. Further strengths:
High performance range and maximum load capacity
Many travel wheel shapes available as standard as well as customer-specific designs
Four variants for connection to the customer's superstructure
High-quality housing with optimum protection for the travel wheels and bearings
High rigidity
Direct connection of optional accessories
Laser alignment system for wheel blocks on multiple travel units
DRS-M wheel blocks also come with additional features:
Prepared for accessories
Flexible planning
Thanks to integrated threaded boreholes, optional accessories such as

guide rollers or
rail sweepers

Can be installed direct on the wheel block – or simply added later, as required
Fixed alignment
The innovative installation connection enables wheel blocks to be replaced quickly without the need for time-consuming readjustment. This fixed alignment element can be attached to the steelwork and ensures that the wheel block remains precisely positioned even after it is replaced.
Mechanical wear measurement
Wheels need to be checked regularly. Besides its flange wear indicator, DRS-M also makes it easy to inspect the travel wheel tread. This mechanical wear indicator can be used to check the current state of wear on the wheel – at standstill and regardless of the wheel position. The result can be easily read on a colour scale.
Exact configuration
Eight sizes with load capacities from 2.75 to 40 tonnes per wheel
Wheels in various shapes and designs – made of spheroidal-graphite cast iron (GGG 70), polyamide, or with Hydropur tyres


A:  Guided on both sides by flanges for rail systems
B:  Wheels without any flanges, optionally fitted with lateral guide rollers, also with concave shape or contour to customer specifications
D:  Wheels guided by a flange on one side for units running at floor level
E:  Larger diameter wheels without a flange for increased ground clearance
S:  Wheels in V, trapezoidal, or concave shape for guided applications
F:  Flangeless travel wheels with Hydropur tyres for high acceleration & quiet running characteristics
C: Flangeless, concave polyamide wheels for quiet operation that is kind to the runway
Many connection options
Prepared mounting surfaces for virtually any connection: from top and end connection arrangements with bolted and welded connection elements, to side and pin connection arrangements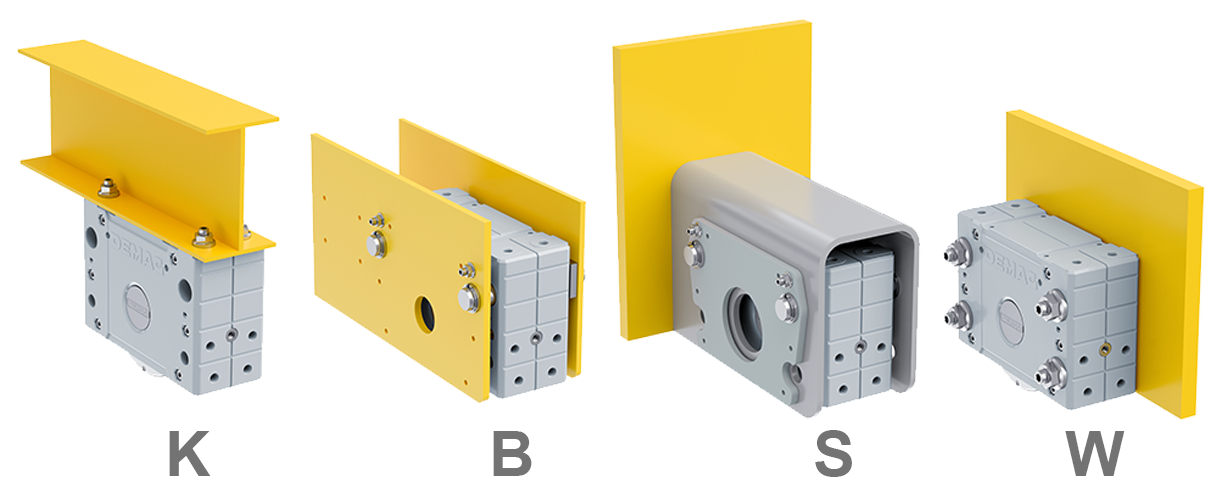 K: Top connection
B: Pin connection
S: End connection
W: Side connection
Custom solutions
Complete travel units with precisely matching geared motors from the Demag modular drive system
High rigidity thanks to special stiffeners
High ground clearance for wheel blocks thanks to compact system design – also for complete drive units with gearboxes designed to match the wheel load
Horizontal guide roller arrangements and buffers in various sizes and designs (optional)
Easy to install
Housings ready for direct connection to superstructures
Easy connection to superstructures thanks to tight housing design and position tolerances and high dimensional accuracy in all planes
Laser alignment system for simple and precise alignment of wheel blocks (DRS)
Fixed alignment (DRS-M)
Simple wheel replacement without the need for re-alignment of top connection thanks to  asymmetrical housing
Wheel blocks can also be moved and aligned laterally after they have been installed in hollow sections and beams (for top, end and pin connection arrangements)
Minimum maintenance
Cast housing enclosed on five sides reliably protects the travel wheels against any mechanical influence
Generously dimensioned grooved ball bearings which are lubricated for life, tapered roller bearings from size DRS 250
Travel wheels made of self-lubricating spheroidal-graphite cast iron (GGG 70) for low friction and high resistance to wear
Integrated wear indicator on wheels with flanges for remote visual diagnosis
Optional travel wheel wear indicator based on colour scale (DRS-M)
Optimal design support
Optimum support for project engineering and design work – e.g. with CAD files in various formats – thanks to our web-based planning tool www.drives.demag-designer.com
Dimensions (DRS with spheroidal-graphite cast iron travel wheel with two flanges)
Size
Max. load capacity
Travel wheel dia.
Weight
Dimensions [mm]
 
[t]
[mm]
[kg]
a1
b1
b2
c1
h1
DRS-M 112
2.75
112
7.3
190
47
80
96
131
DRS-M 125
5
125
9.9
220
60
80
98
147.5
DRS-M 160
7
160
18.3
275
65
89
110
187
DRS-M 200
10
200
35.7
340
65
101
130
238
DRS 250
16
250
62
385
75
110
150
281
DRS 315
22
315
117
470
90
130
180
349.5
DRS 400
30
400
201
580
110
155
210
440
DRS 500
40
500
352
700
110
170
240
566
Torque brackets for connection to offset and angular geared motors
Horizontal guide rollers
Buffers in various sizes and designs
Rail sweeping system
Solutions for high-temperature applications
Hardened travel wheels