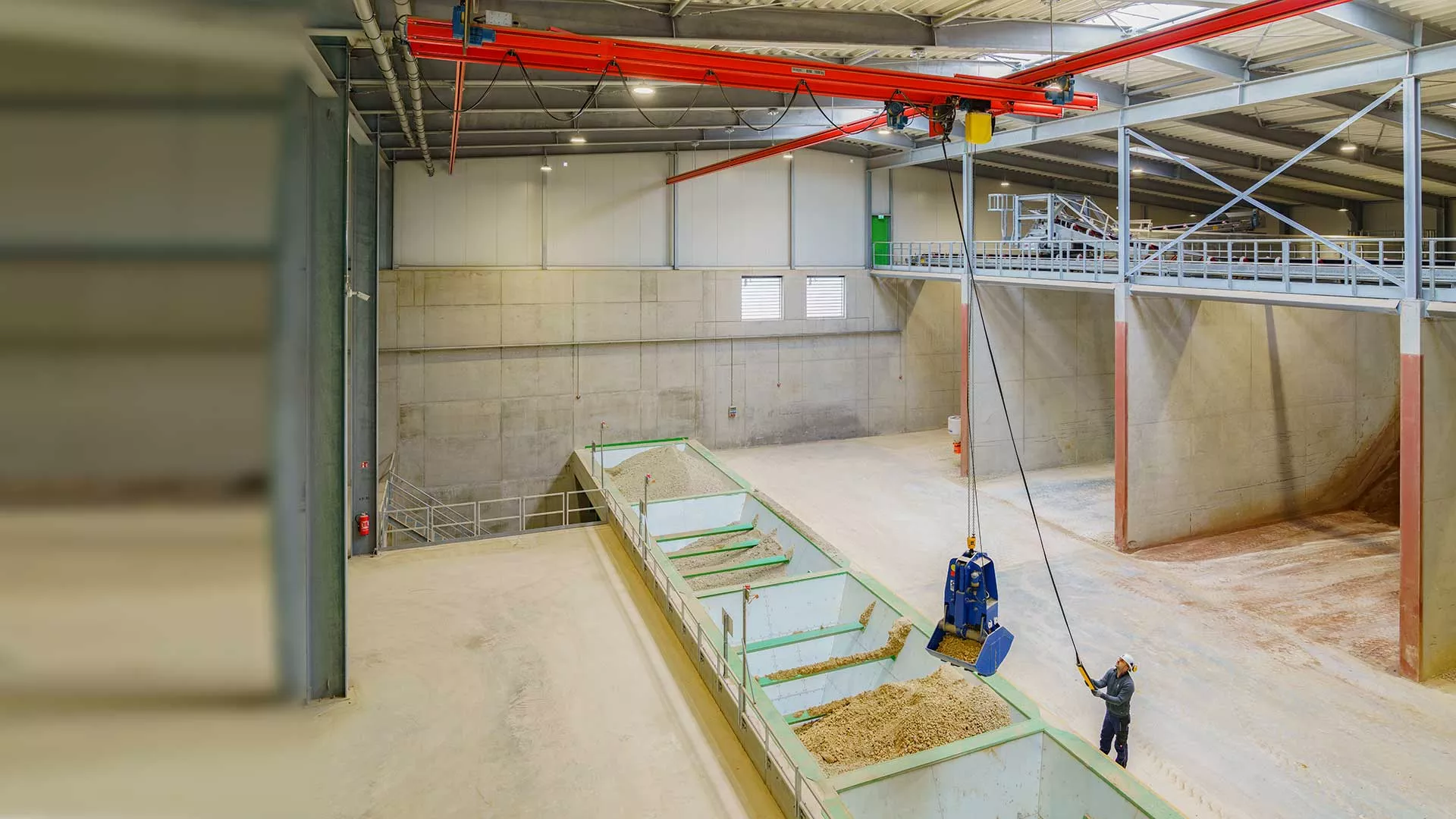 Smooth transportation of raw materials
The perfect blend is what counts
KBK suspension crane transports raw materials for flower pot production
Customer
The south-western Westerwald region is also known as Kannenbäckerland (pot maker country) because ceramics and terracotta products are traditionally produced there – flower pots, for example. The Westerwald flower pot factory Spang GmbH & Co. KG. is a specialist in these products. Based in Ransbach-Baumbach and thus very close to the region's clay deposits, the company, now in its fourth generation of family management, employs 180 people and uses fully automated production facilities to produce a wide range of plant pots that are sold worldwide.
Requirement
As part of a factory expansion, Spang has built a new bay for raw material processing. The clays and aggregates needed for the production of flower pots are stored in several silos, storage boxes and bunkers. Flower pot breakage material that is unavoidable in production is also included. This is stored in a bunker and blended with the raw material batches. Occasionally, the breakage material must also be loosened.
For years, Spang's employees have contributed with their technical expertise to helping the company adapt its production facilities independently and specifically to their needs. It was therefore not surprising that a precise and reliable material handling solution was also sought for the work in raw material processing. Special attention was paid to the integration of a grab and smooth running characteristics in the transport process.
Solution
The decision was thus taken to opt for the modular KBK light crane system. Almost any lifting task can be solved with the Demag KBK crane construction kit – in this case, the transport of bulk material with a clamshell grab at a very high lifting height (16-m hook path). In the harsh environment, the crane and grab are reliably controlled by the integrated DST pendant controller. The employee thus concentrates on the correct blending ratio and does not need to be concerned with transport at all.
A crane made of KBK II profile sections travels on the 31-m-long crane runway – with two double trolleys at each end of the crane side with two travel speeds. The crane has a span of 7.5 m and a load capacity of 1.6 t. The hoist used is the DC-Pro 10 chain hoist with two lifting speeds: 6 m/min for fast lifting and lowering and 1.5 m/min for precise positioning of the grab with the raw materials.
After quick assembly by a local crane service, the installation was put into operation immediately and has since supported the blending and supply of the raw materials required for flower pot production.
Special features
With the KBK modular system, suspension cranes, suspension monorails and pillar and wall-mounted slewing jib cranes can be individually combined to create the right solution. Thanks to the system's high flexibility, the KBK products can be integrated easily into any production infrastructure – and modified at any time.
The wire-connected DST 9-C crane controller is a special design because it is also used to operate the grab bucket provided by Spang. This was easy because the DST 9 pendant controller has two freely assignable buttons and can be expertly programmed for special applications.