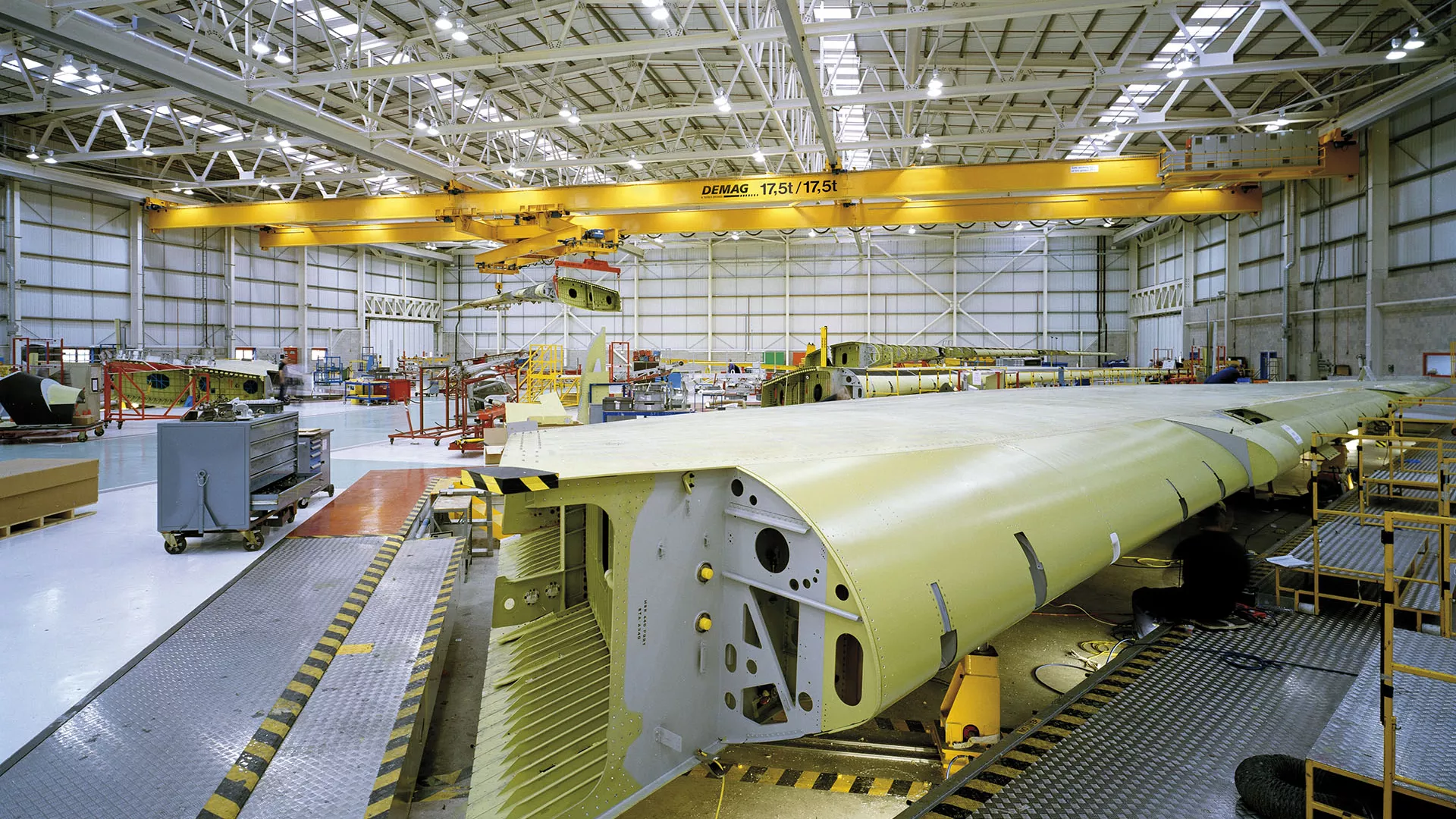 The in-house handling of aircraft components is one of the most demanding applications for cranes.
On the basis of our extensive industry expertise, we provide complete solutions for the safe and reliable transport and precise positioning of sensitive aircraft components. Considerable cost savings can be achieved by interlinking applications and specifying materials handling equipment to meet process requirements.In maintenance operations, we help to minimise downtimes and, therefore, make our customers' business more efficient – since aircraft earn their money in the air.
Fields of application
Aircraft construction
Aircraft maintenance
Painting aircraft
Service
Aircraft construction
In a material flow concept developed for the aircraft industry, crane installations play a major role in transporting the components in the factory. Our suspension cranes are used for the assembly of individual sections as well as for transporting complete aircraft fuselages. For the often large-volume components, overhead transport and handing system, which we supply, are required. For example, our cranes that are fitted with slewing crabs ensure that the components are positioned with millimetre accuracy. Due to interlocking devices that are installed on the crane installations, components can be transported direct from one bay of the factory building to a neighbouring production area.
 
Furthermore, our cranes are also employed for semi-automated motion sequences and fully automated installations in aircraft production operations. This enables process efficiency and safety to be improved even further.
Aircraft maintenance
For aircraft maintenance operations, we supply crane installations which can be used to provide a flexible response to meet changing requirements – from single-girder suspension cranes (e.g. to install engines) to crane systems with telescopic maintenance platforms. For these applications, too, suspension cranes are the first choice, since they bridge the maintenance sections of a hangar with spans measuring 90 metres and more – also with multiple suspensions. And because these cranes can be interlocked with each other, the maintenance platforms can transfer from one part of the building to another.
Paint finish
Our suspension cranes with variable teleplatforms have been tried and tested in aircraft paint application and paint-stripping operations all over the world. These cranes enable workers to reach almost any part of an aircraft – which cuts the time needed for paint stripping and paint application to a minimum. The working platforms are fitted with all necessary media connections; integrated safety systems ensure that they can be manoeuvred without any contact between the aircraft.
Service
The operating cycles that link assembly lines in the aircraft industry are precisely timed to match each other. If production has to run like clockwork, the cranes, hoists and other materials handling equipment must be constantly available. This is guaranteed by highly specialised Demag service engineers, who provide comprehensive lifecycle support on site to ensure reliable operation of the installed materials handling systems.
Interested? Please, contact us. We respond fast and are ready to help you.