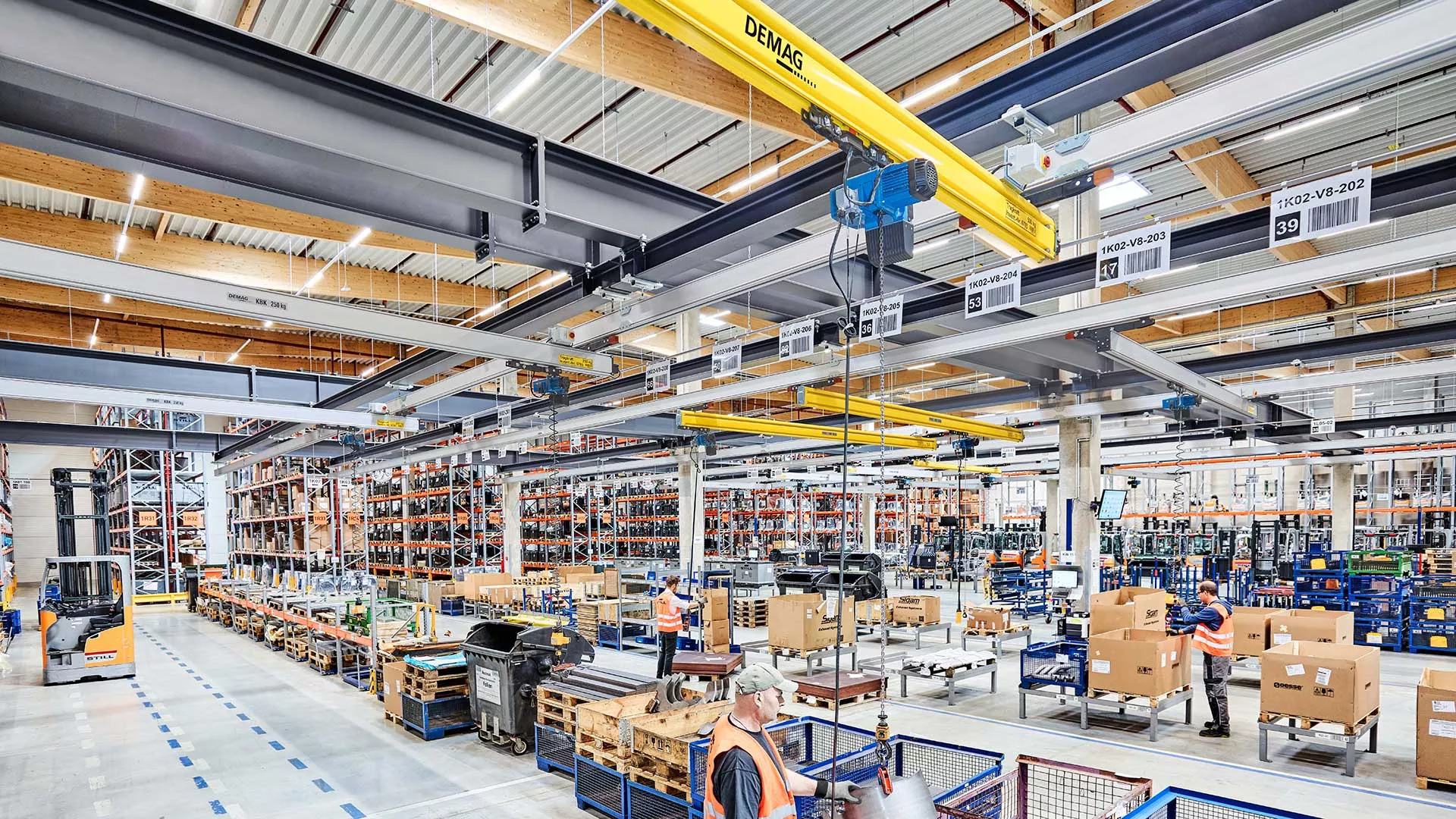 KBK light crane system in Still Logistics Centre
Flexible order picking for forklift production
Light crane system in Still Logistics Centre
Flexible order picking for forklift production
When planning their new logistics centre in Hamburg-Billbrook, the intralogistics experts at Still GmbH were able to draw on all their expertise. The result is an award-winning large-scale project and an exceptionally flexible concept for handling and picking large parts needed to build premium forklift trucks. The workstations are equipped with the Demag KBK light crane system.
Orange and silver are the corporate colours of Still GmbH, and the industrial trucks in this colour scheme belong to the premium segment in every category – from hand-guided controlled pedestrian trucks to electric or diesel forklift trucks with a load capacity of 8 t. In addition, Still has earned its position as a leading provider of smart intralogistics solutions in recent years. In addition to industrial trucks, the product range includes software solutions, for example for fleet management, complete storage systems including automation and associated services.
When this intralogistics specialist plans and commissions a new in-house logistics centre, it can be reliably assumed that a best practice solution will be created. After all, such a task is part of the core competence of Still.
Logistics centre with dual function
What can logistics specialists learn from Still? Firstly, the development (and ownership) of the real estate can easily be left to partners who have their core competence in exactly this area. In this case, it is the Hamburg-based ECE, which invested around 30 million euros and had two halls built on a total area of 27,000 m² Secondly, proximity to the production plant was an important location factor, as was the bundling of the previously decentralised functions of large parts storage and vehicle shipping. Almost every large purchased part used in the forklifts thus passes through the logistics centre twice: before production as a component and after production as part of a finished forklift.
Pick-by-Voice picking of large parts
In the order picking area of the new logistics centre, large parts required by the Hamburg plant for the construction of premium forklifts are re-packed into Still's own containers and picked just in sequence. This is the case for seats, radiators and tyres, for example. Picking is more complex for frame and body parts. "Here, employees assemble all the steel and sheet metal components used to build the industrial truck into a package", explains Timo Koppe, logistics planner at Still. All the parts are then in a special container and are installed piece by piece in production. Pickers receive the information required for picking via Pick-by-Voice. A shuttle truck then brings all the components needed to produce a forklift truck to the plant a few hundred metres away.

Central requirement: flexibility
The logistics experts at Still took a close look at the ergonomic design of the order-picking workstations – and opted for the Demag KBK light crane system. This system was first introduced 55 years ago and has been continuously developed ever since. But the basic principle is still the same today: Light-duty cranes, which the operator can guide with little effort and therefore little physical strain, travel on a carrier system.
Today, users have access to a very extensive modular KBK range that can be adapted to almost any task in assembly, order-picking and shipping areas. First of all, the basic choice has to be made between steel rails and bridges or aluminium rails, although many variations are possible, as the example of the Still Logistics Centre shows. Here both systems are combined. The crane runways and parts of the bridges are made of aluminium whereas the bridges with higher load capacities (250 kg to 2 t) are made of steel.
Still uses profile sections with internal conductors for all KBK installations, which can also be equipped with long crane bridges and then travel over large working areas. In this project, there are up to five cranes on one runway. These handling systems can be realized without overhangs – and not only can options from the extensive construction kit be implemented but special requests can be met, too.
The KBK system has proven itself worldwide in a wide variety of picking, handling and assembly tasks. Demag has fitted installations with more than 10,000 kilometres of KBK profile sections in a wide variety of industries worldwide over a period of more than 50 years. This system is ideal for Still because it allows the greatest possible flexibility.
Timo Koppe: "Not only do we have to deal with a large variety of parts, but we also pick a wide range of components: large-format sheet metal as well as smaller but heavy components – and all at one workstation. The handling system must be flexible, especially since new components are constantly being added."
Handling technology from the construction kit
In addition, although the logistics are similar to those in automotive production, the production quantities are lower and the variance is extremely high. Each individual type of forklift comes in a wide variety of designs and the choices include not only the features, but also the height, length and width of the entire unit.
A total of six KBK installations with two to four crane workstations per runway were installed in the hall, where picking, among other things, also takes place. All are supplied with power and signals via internal conductor lines. At all workstations and regardless of whether fast movers (which are installed in almost every manufactured forklift) or slow movers are handled, the light crane system is proving its worth – not least because Still is making full use of the extensive possibilities offered by the Demag KBK crane construction kit.
Vehicle shipping: finishing with KBK and portal crane
The freshly manufactured units are prepared for delivery in the shipping area of the logistics centre. Here a final inspection takes place, the battery is installed and the forklift is equipped with the forks requested by the customer. In this area, Still works with a KBK system, which is used at five workstations for the assembly of forks and load protection grids, among other things. A total of seven KBK installations with a track length of 192 meters and 18 crane workstations are installed in the two logistics halls.
In addition, a pillar-mounted slewing crane with an impressive outreach of seven metres has been set up in the second hall, which is used for block storage for large components, among other things. This crane also enables parts to be unpacked and repacked as well as the handling of heavy loads such as drive axles, while achieving a large radius of action.
Battery installation with 3.2-t portal crane
For installation of the battery, the planners implemented a special solution from the Demag construction kit. As the batteries are very heavy and have to be positioned precisely, Still opted for a 3.2-t crane arranged as a suspension crane in a gantry covering the compact working area of the battery assembly area. This is possible here without any problems, since no other work needs to be done at this workstation and a long range is not required.

Safe handling of heavy loads – with Manulift
At the workstations for handling heavier or awkward loads, operators work with Demag Manulift. It allows the operator to operate the chain hoist with one hand while guiding the load with the other.
Timo Koppe: "This really makes it easier for the employees when lifting sheet metal panels for frame construction or handling larger welded structures, for example."
Because the Manulift principle has proved so successful, Still has retrofitted several more KBK workstations with it. Here, Demag has developed a special design with an increased load capacity of 500 kg.
Company heavily involved in planning
The Still logistics specialists planned the workstations largely on their own, but were supported by experts from the Demag sales office in Hamburg. The owners of the new logistics centre are completely satisfied with the result. The overall concept also impresses across the board. The planner ECE received the 'Logix Award 2017' for this project, which is awarded every two years for outstanding logistics real estate developments.