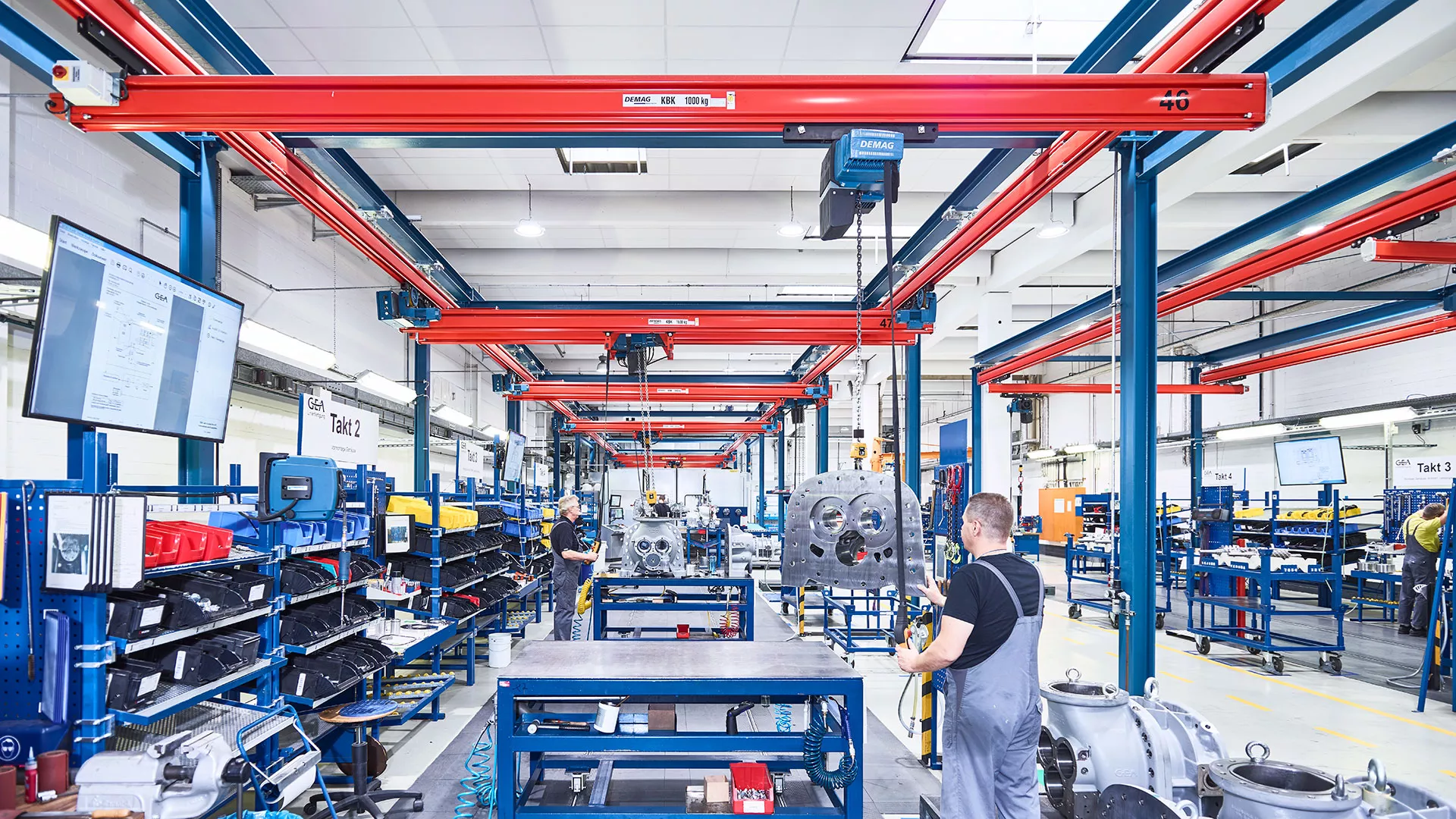 Assembly lines with the KBK light crane system
Extended assembly lines – and the cranes grow with them
Customer
With 18,490 employees and sales of approximately 4.88 billion euros, GEA Group AG is one of the largest suppliers of systems for the food-processing industry. The technology company, which has its head office in Düsseldorf, Germany, focuses on process engineering, components and sustainable solutions for demanding production processes. Cooling systems often feature in such solutions. For this reason, GEA is also a leading supplier of industrial cooling systems.

Requirement
At its factory in Berlin, GEA manufactures cooling compressors and is continuously extending its production facility to meet growing demand.
Until 2012, the compressors were assembled in a production cell that was supplied with parts by forklift trucks. This "box assembly" method was to be changed into a continuous production line – with as little forklift traffic as possible. One of the production planners central criteria at that time was the requirement to create an "open" system, which could be continuously adapted to match changed requirements. The team responsible for the planning paid particular attention to the possibility of subsequent extensions.
Solution
These requirements resulted in a decision in favor of the Demag KBK light crane system. This system can be combined to create individual suspension crane, suspension monorail, pillar and wall-mounted slewing jib crane solutions.
In the first step, material was supplied to the main production line with the KBK system. Two years later, a second assembly line was installed for smaller compressors – again with the KBK system. The same applies for the integration of a new testing station.
Since the first KBK system was installed, GEA has extended the system five times in total – in each case while production continued to operate. The concept has proved to be as flexible as required, and the next extension to the KBK system has already been planned.

Special features
With the KBK system, operators can supply the entire assembly lines without the need to use floor-bound transport equipment. The system is extremely flexible. There is a choice of six steel and two aluminum profile sections available for the girder sections alone. There is a similarly large choice of cranes, handling systems and load handling attachments.