Safe. Efficient. Controlled.
Dedrive Pro 880 frequency inverters
Safe. Efficient. Controlled.
Our new generation of Dedrive Pro 880 frequency inverters offers high-performance components ranging from 0.55 to 560 kW for 380 to 690 V systems. This new range of frequency inverters is the right solution for many crane control requirements.
Developed by a crane manufacturer for crane manufacturers: Dedrive Pro 880 offers completely configured software solutions and minimizes engineering and design costs with its Demag CraneControl system.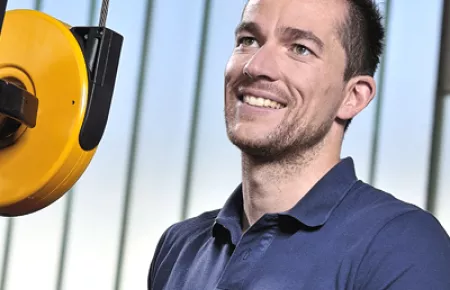 Demag Cranes & Components GmbH
Postfach 67
58286 Wetter
Germany
Product information
Efficient engineering
Dedrive Pro 880 offers completely configured software solutions and minimizes engineering and design costs with its crane control system.
Precise control and monitoring with Direct Torque Control (DTC)
High load handling rates by means of sensor-less load-sway reduction
Precise load handling by synchronized control of several hoist units
Torque shared between mechanically connected geared motors
Mechanical brake control with monitoring system
Reduced power consumption thanks to efficiency calculator
High safety and reliability
STO (Safe Torque Off) is already integrated as standard. Further functions are supported by an optional safety module (available from January 2017):
Safe Stop 1 (SS1)
Safe Stop Emergency (SSE)
Safe Brake Control (SBC)
Safe Limited Speed (SLS)
Safe Maximum Speed (SMS)
Simple commissioning
Drive Composer PC tool for commissioning, configuration and monitoring
Drive Composer Pro: user-defined parameter windows, control diagrams for installation configuration and setting safety functions.
Convenient operation
Intuitive control panel for easy menu navigation for convenient parameter programming and diagnostics
Retrievable settings
Complete software and parameter configurations can be saved on a removable memory unit. This ensures that the system can be quickly returned to service after a unit is replaced.
Direct synchronization
Interlinking several frequency inverters for directly synchronized drive-to-drive communication (D2D) – without the need for additional hardware
Open communication
Data exchange with many automation systems thanks to plug-in field bus adapter
Pro-active service
Comprehensive service functions for preventive maintenance (lifetime counters), e.g.:
Crane elapsed operating time counter
Frequency inverter elapsed operating time counter
Fan operating time counter
Brake starting frequency counter
Hoist load spectrum recorder
Inverter starting frequency counter
Complete transparency
Remote diagnosis tool with integrated web server
Process and drive data are recorded and saved
Processes are monitored by means of integrated warning and fault reporting functions
Hardware
Motor outputs from 0.55 to 560 kW
Rated voltage: 380 – 415 V, 380 – 500 V, 525 – 690 V (+/-10%)
1.5 times overload capability for 1 minute/5 minutes
Short-circuit/earth-fault resistant motor circuit output
CE, CSA and UL listed
IP 55 enclosure up to size R9 (optional)
Master/slave capable
Integrated line filter (optional)
Integrated line reactor
Integrated brake chopper
Evaluation of motor temperature detector
Optional functions
Communication modules for field bus network, e.g. PROFIBUS, PROFINET
Extension modules to add control inputs and outputs as well as speed encoder evaluation
External PTC thermistor evaluation
Keypad terminal for parameter programming and commissioning
Drive Composer (Pro) PC software for convenient parameter programming and diagnosis as well as visualization
Software
Control of cylindrical and conical-rotor motors
Automatic parameter identification
Direct torque control with/without rotary encoder for fast compensation when loads change
Speed and torque monitoring
Special function for smooth acceleration
Load-sway damping
Setpoint memory, setpoint steps (4-stage) and bipolar/unipolar analogue control modes
Load-dependent speed for hoist operation with field weakening (ProHub)
Load spectrum calculation (also depending on the speed)
Speed or torque control freely selectable
Master/slave function, electronic gearbox and closed-loop control
Intelligent braking logic system for brake monitoring by evaluation of the corresponding feedback contacts
Comprehensive diagnosis functions
We would be happy to provide you with extensive product documentation as well as Drive Composer Entry Level for parameterication software package.