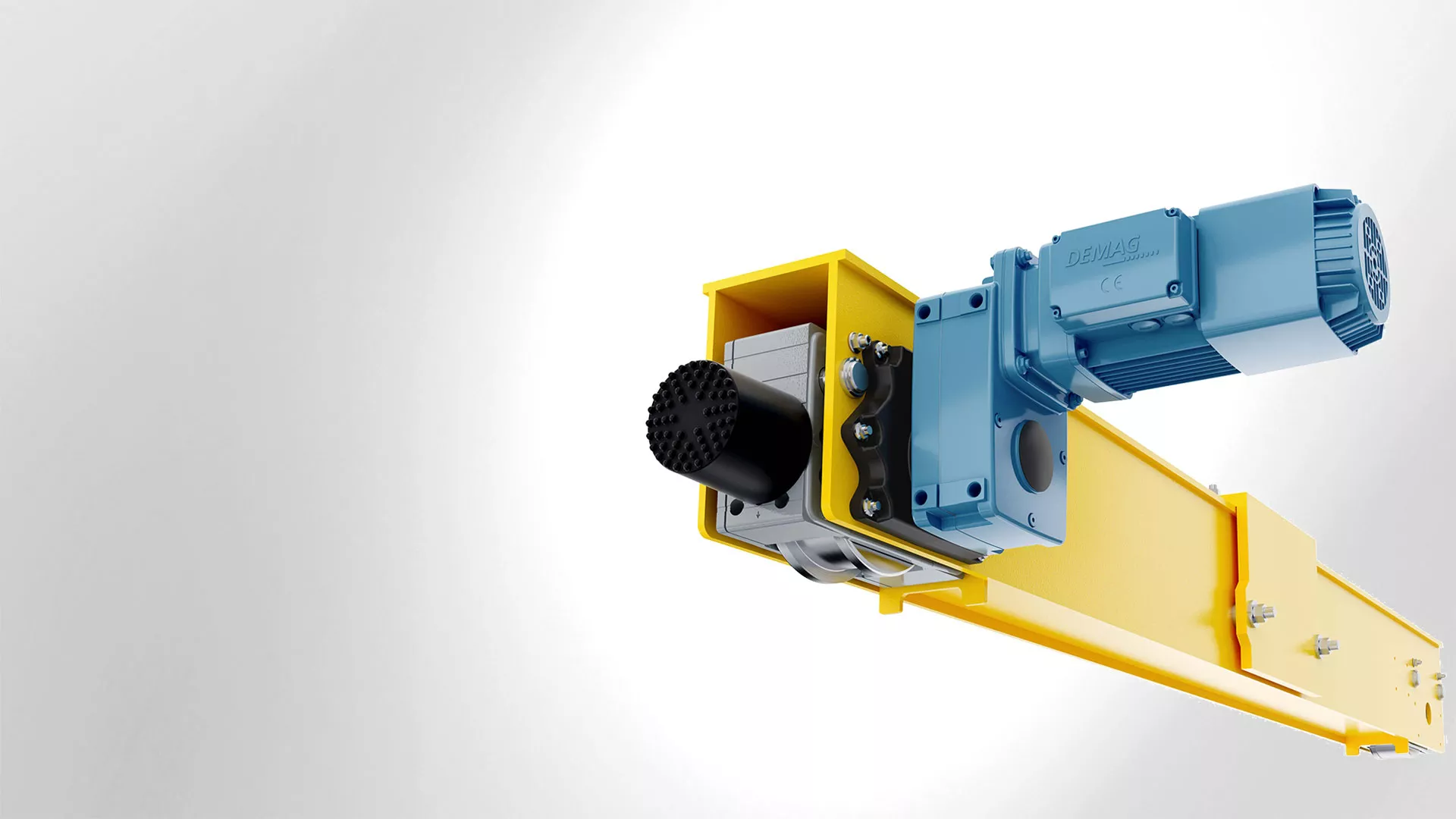 Solutions ready for connection to cranes and other load-bearing structures
Solutions ready for connection with proven Demag quality for cranes and other load-bearing structures
Demag DFW II end carriages are compact rail-mounted travel units with variable options for connection to crane girders and other load-bearing structures. The end carriages consist of a torsionally rigid box-section profile, Demag DRS wheel blocks, and Demag geared motors. DFW II end carriages can be used for all single-girder and double-girder overhead travelling cranes. To meet your specific needs, our two-wheel and four-wheel end carriages can be combined with Demag drives to offer the performance you need to achieve travel speeds up to 40 m/min (380–400 V) or 48 m/min (480 V). New connection possibilities can increase the wheel base and offer more solutions for your needs.
Our high-quality two-stage pole-changing motors not only deliver enough power, but also provide your crane with outstanding travel characteristics – also with heavy loads. The resulting precision when driving the crane is characterized by powerful starting and perfectly accurate stops. More efficiency for your material handling.
A broad variety of options complement the end carriage: anti-jump catch, storm protection, rain covers, buffer extensions and rail sweeps all ensure that the crane will continue to work and can also extend its service life. 
Demag DFW II end carriages – helping you maximize your operating safety and reliability.
Long service life thanks to the globally recognized quality of our drives
Optimum travel characteristics

Powerful starting thanks to matching drive solutions
Two-stage long travel

Larger wheel base for greater flexibility
Suitable for special applications

Extreme ambient conditions
Slow long-travel motion, e.g. 2 m/min
Better solution for ambient temperatures higher than +45°C
Better solution for hazardous environments, e.g. pickling plants, electroplating, heavy dust production

High operating safety and reliability
Easy assembly and good accessibility
For all Demag single-girder and double-girder overhead travelling cranes, as well as for other load-bearing structures – when two-stage pole-changing travel drives are the best solution

For load capacities up to 50 tonnes and spans up to 35 metres

Base standard for the steel structure dimensions: EN 13001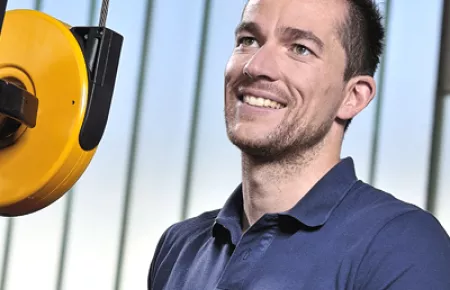 Demag Cranes & Components GmbH
Postfach 67
58286 Wetter
Germany
Cost-effective, safe, and reliable system operation
Ready for installation for a wide range of operating conditions
Torsionally rigid box section with continuous, heavy gauge side plate
Reinforced connection with welded diaphragm plates
Steel structure specified to DIN 15018, lifting class H2, loading group B3
Base standard for the steel structure dimensions: EN 13001
Excellent travel characteristics
Smooth running characteristics thanks to high self-damping effect of travel wheel material
High wheel loads
Long service life
Anti-friction bearings sealed against dust and lubricated for life
Reliable connection between travel wheels and shafts thanks to splined shaft profile
Minimum wear on travel wheels and crane runway rails thanks to self-lubricating effect of spheroidal-graphite cast iron
Easy assembly and good accessibility
Prepared for connection to superstructures such as crane girders and other mobile structures
Precise position of the travel wheel axes in relation to the connecting surfaces thanks to machining in a NC machine tool
Easy replacement thanks to reproducible connection geometry
Simple adjustment of span dimensions by replacing spacer elements
Wear indicator for travel wheels
Tailored drive solutions
Various sizes for all output requirements
Pole-changing cylindrical-rotor brake motors for travel speeds up to 40/10 m/min (380–400 V/50 Hz) or 48/12 m/min (480 V/60 Hz)
Type of enclosure: IP55
Connection type: integrated plug-and-socket connections on motor side (DMR)
GF or GP brake rectifier/switching element included depending on brake size
Conformity with VDE electric standard as standard; CSA optional
Insulation class F
Single-girder cranes, top connection
---
Single-girder cranes, side connection
---
Double-girder cranes, top connection
---
Double-girder cranes, side connection
---
Double-girder crane "bogie"