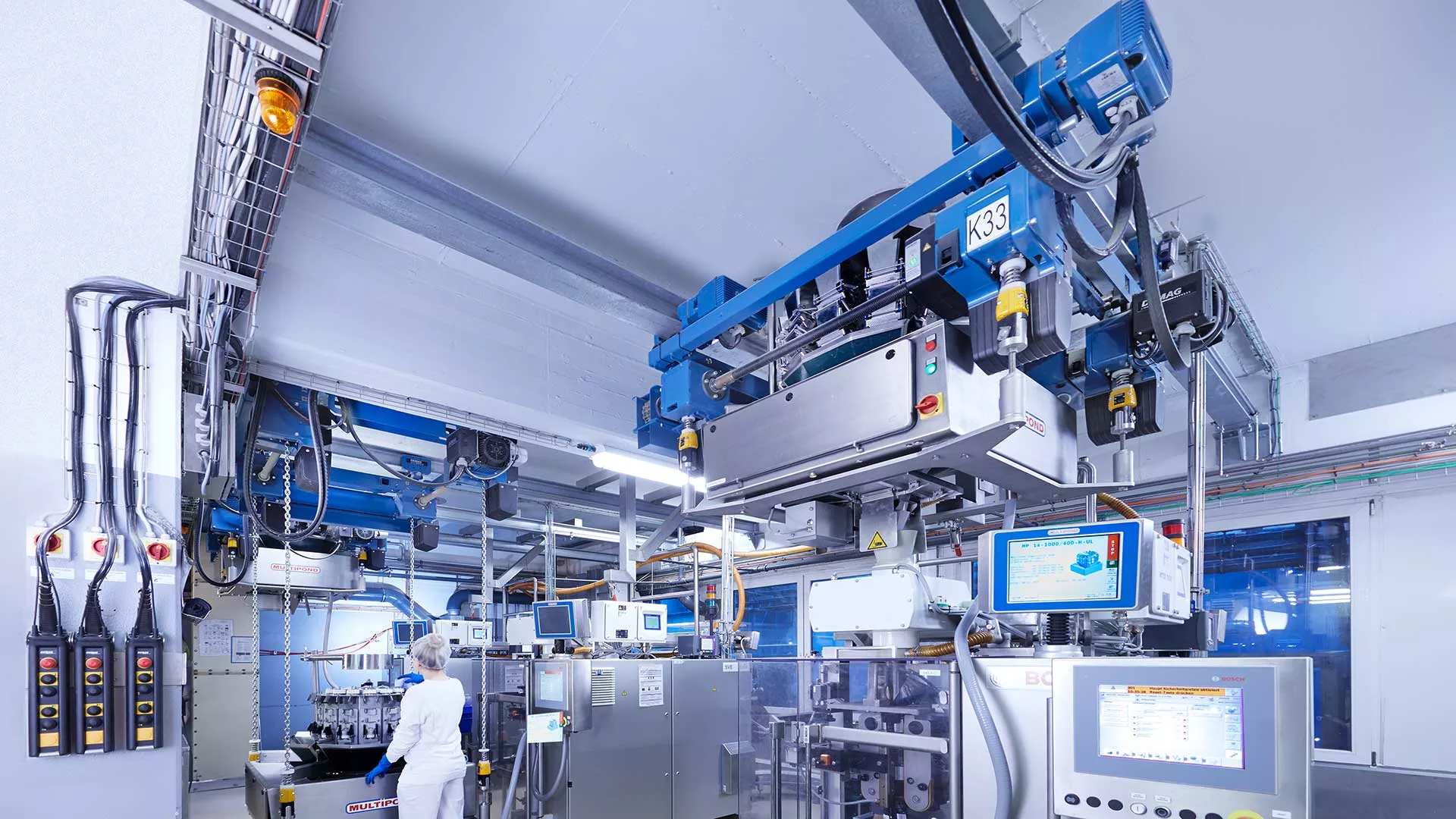 Increase efficiency – anywhere
Quadro chain hoist and weighing device at Multipond
Customer
Multipond in Waldkraiburg, Germany, has specialised in the development and production of multi-head weighing devices. These are weighing devices that weigh different contents in one packaging unit. Typical examples include muesli, confectionary and snack products. Multipond weighing devices perform this task with high precision, reliability and in compliance with the highest standards of hygiene.
Requirement
A Multipond customer in the foodstuffs industry cleans all components of the weighing device after each batch change. To do this, the employees had to climb onto a platform, remove the components by hand, put them into a washing machine installed at floor level and reassemble them after they are clean. This process took about 60 minutes. The customer wanted to reduce the downtime.
Solution
Multipond and Demag developed a solution that fulfils this need. The complete weighing system is suspended on an LDC-Q chain hoist and moved to an aisle area. As a result, the employees have better access to the parts that come into contact with the product, and the cleaning process including setup time can be reduced by around 60%.
The chain hoist ensures precise lifting of the very large head of the weighing device. This is because the central drive arrangement of the LDC-Q unit, which was created by combining two LDC-D double chain hoists, acts equally on four chains. The owner found this increase in the efficiency of the cleaning process to be so compelling that additional weighing devices have since been installed in combination with the quadro chain hoist.
Special features
In the LCD-Q quadro chain hoist, a central chain hoist motor acts on all four chains. At the same time, mechanically synchronized hook lead-offs provide for uniform load handling. This configuration makes it possible to pick up loads with an asymmetrical weight distribution up to a ratio of 70:30 without any problems. The chain hoist is available for loads weighing up to 3.2 t. For its use at Multipond, Demag has developed a special spring assembly that reduces load sway of the sensitive weighing system to a minimum.