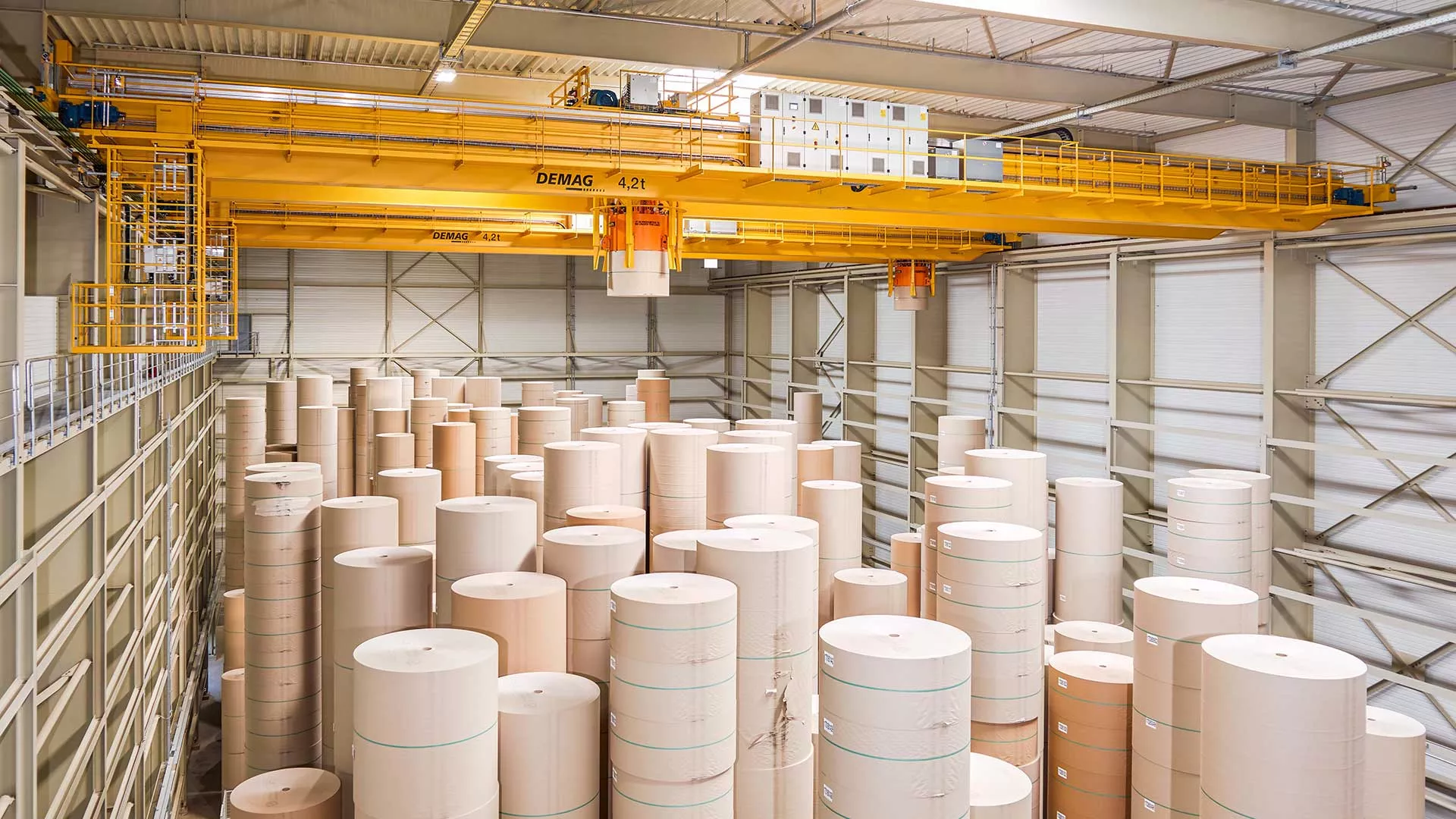 New paper store with optimised processes
Schoellershammer: Automated material flow on a large scale
Customer
The independent Schoellershammer paper factory in Düren, Germany, is one of the world's largest manufacturers of corrugated base paper used for packaging. This market is booming – not least because of online trading. For this reason, Schoellershammer doubled its production capacity to 500,000 t per year with the commissioning of PM 6 and also modernised its inbound and outbound logistics as part of the investment.
Requirement
The finished goods produced by the first paper machine are stored in an automated store by two Demag process cranes. For the new paper machine, which produces base paper with a lower grammage, a new shipping store with a floor space of approx. 66 x 30 metres and a capacity of 12,270 t was to be built. Here too, Schoellershammer wanted a fully automatic storage and retrieval system.
Solution
Two Demag process cranes from the ZKKW range with a load capacity of 4.2 t and a span of 30.42 metres ensure fully automated handling of the paper rolls in the new store. The cranes are equipped with frequency-regulated travel drives. In the long and cross-travel directions they reach speeds of up to 100 m/min, even 120 m/min without load.
System handling performance for AL 6 was rated at 54 rolls per hour for single storage and retrieval operations. Total system performance of 58 rolls can be reached with combined storage and retrieval cycles. Following installation, these theoretically calculated figures were verified in a performance test and proved to be correct.
Special features
In both automatic stores, the Demag warehouse management system (WMS) controls the storage and retrieval processes. It is directly connected to the yard management system used by Schoellershammer. To achieve optimum integration of the two systems, Demag experts simulated the entire forklift and truck plant traffic in advance and tested several variants for double loading, i.e. utilising both stores. As a consequence of these and further optimisation measures, the trucks can now expect to spend only a short time on the premises and can be quickly back on the road to the customer.