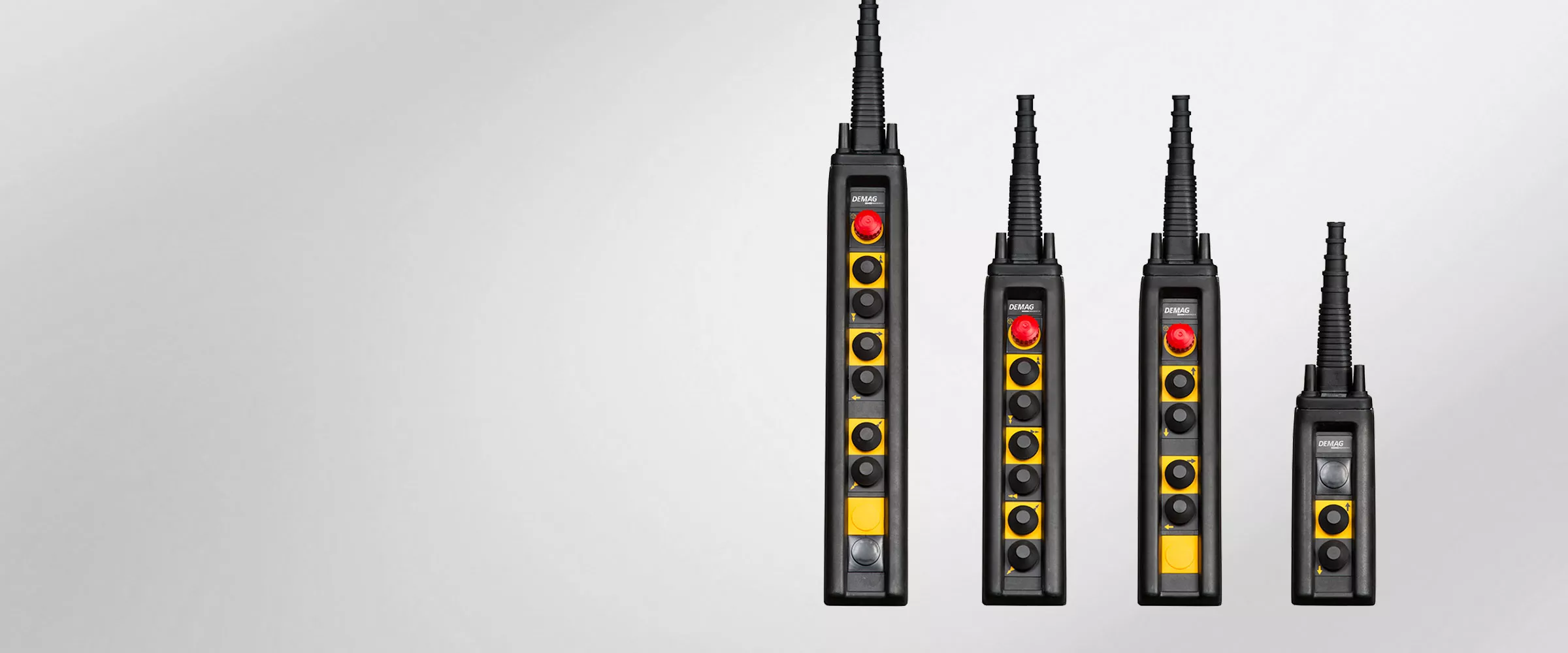 Simple operation – safe and reliable control
Safely control simply everything
DST control pendants are real universal solutions – for universal operation of cranes, hoists and machinery. Their benefits are evident:
three sizes with multiple combinations of operating and switching elements
ergonomic design and operation
switching elements for direct and contactor control
high switching capacity
high operating reliability.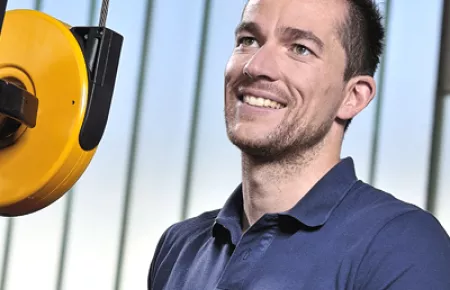 Demag Cranes & Components GmbH
Postfach 67
58286 Wetter
Germany
Individual configuration
User-friendly design in various configurations with 3, 6, 7 or 9 operating elements
Individual configuration and combination of two DST pendants for up to 18 openings
Convenient operation
Fatigue-free operation thanks to ergonomic housing design
Sloping control pendant design permits operators to work in a natural, comfortable posture
High safety and reliability
High operating reliability thanks to additional strain relief elements
DST series control pendants offer the following outstanding technical details:
Permissible ambient temperatures for rubber and thermoplastic parts -25°C to +70°C, housing -40°C to +150°C
Control
3, 7 or 9 openings in a single row (also for special inserts)
Two DST 6, 7 or 9 pendants can be combined for up to 18 openings (in two rows)
Switching elements for single-stage, two-stage or variable control
Simultaneous 2-pole switching for direct control
Housing
Enclosure made of glass fibre-reinforced polyester with high resistance to impacts
Flame-resistant and self-extinguishing
Highly resistant to spirits, ether, petrol, turpentine, benzene, grease, oil, dilute acids or alkaline solutions.
Safety
Switching distances and forces to DIN 33401, holding force < 8 N
Positive opening of interlocking contacts in the switching elements
Movements in opposite directions cannot be simultaneously actuated
Protective insulation to VDE 0100 Part 410
IP 65 enclosure to DIN VDE 0470/EN 60529/IEC 529
Main current switching elements
Type
SES 1 Z
SES 2 Z
SEDN
Type
Single-stage switching element
2 NC + 2 NO
Two-stage switching element
2 NC + 2 NO in the 1st stage
2 changeover contacts in the 2nd stage
Single-stage crane switch
(emergency stop),
3 NC
Utilisation category
to VDE 0660/
EN 60947
AC 3 / AC 4
AC 3 / AC 4
AC 1
Control current switching elements
Type
SES 1
SES 2
SESN
Type
Single-stage switching element
1 NC + 1 NO
Two-stage switching element
1 NC + 1 NO in the 1st stage
1 NO in the 2nd stage
 
Single-stage switching element
(emergency stop),
1 NC + 1 NO
Utilisation category
to VDE 0660/
EN 60947
AC 15
AC 15
 
(Main current) and control current switching elements
Rated operating voltage [V]
230
400
500
230
400
500
Rated operating current [A]
10
(20)
6
(12)
4.5
(9)
Ith 2
25
(for breaking capacity up to 5.5 kW)
Nominal insulation voltage
Ui 500 V~ to VDE 0110, CSA 150Vac