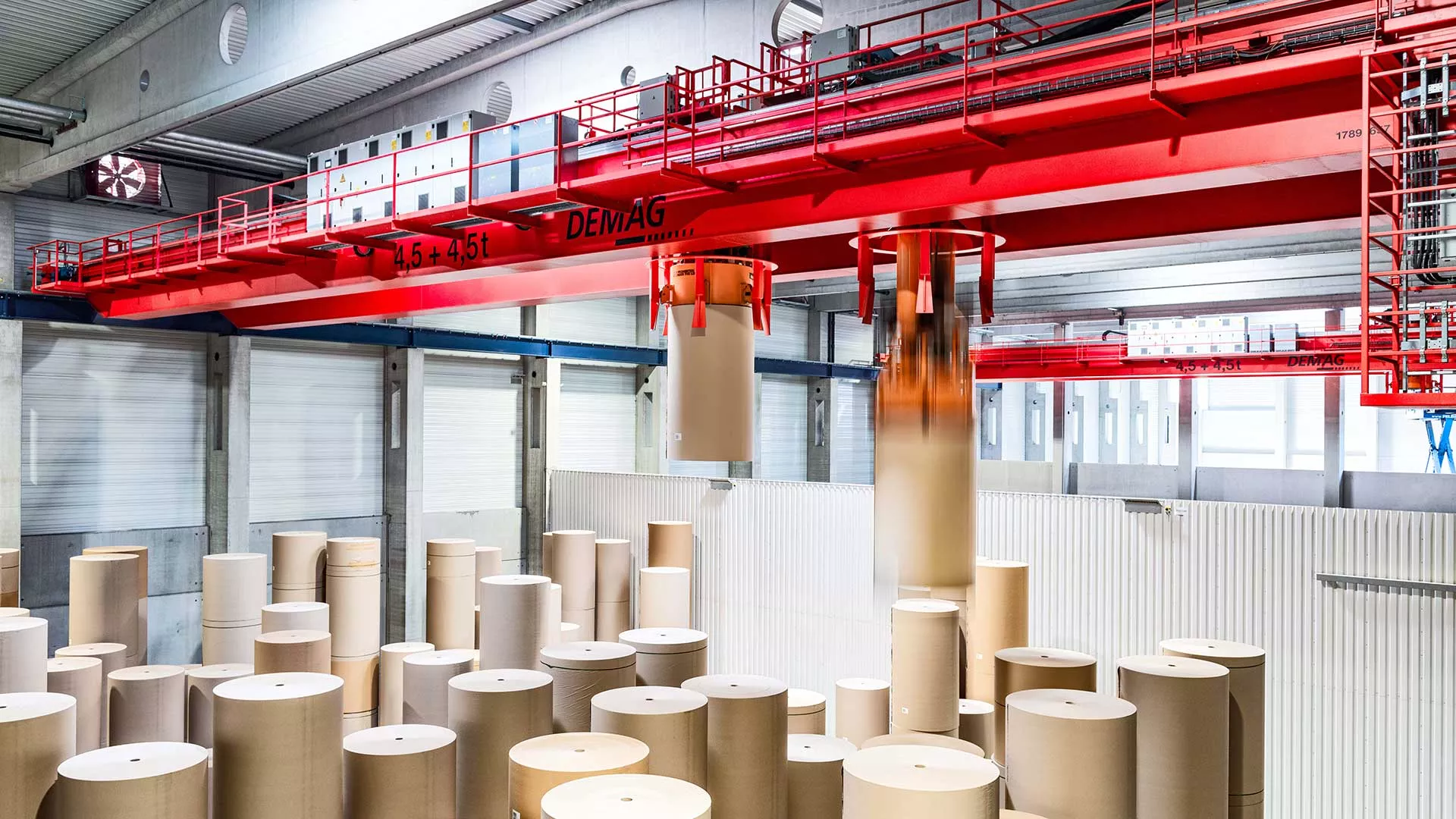 Higher handling rates thanks to double hoist solution
Fully automated paper-roll shipping store for Laakirchen Papier
Customer
As part of the Heinzel Group, the Lower Austrian company Laakirchen Papier AG produces high-quality publication papers as well as lightweight corrugated base papers especially for the European market. Its production capacity is 800,000 t per year. The company has around 460 employees and generated sales of EUR 211.7 million in 2017.
Requirement
Following modernisation and expansion of production, capacity had increased significantly. Therefore a new paper-roll shipping store had to be planned and built. Due to the structural conditions, however, the store dimensions were limited. The store, which occupies an area of 2,700 m², should therefore enable a high turnover rate – especially since the factory produces seven days a week, although the loading time is limited to five days. Particularly at the beginning of the week, when the roll store is filled to a high level, the trucks that collect the product therefore need to be served very quickly.
Solution
Material handling in the paper store is performed by two Demag process cranes with a span of 33 metres and two winch units each that can travel independently of each other. Each crane is designed in such a way that it can store or retrieve single or pairs of rolls measuring up to 1,500 mm in diameter, 3,300 mm in width and weighing up to 4.5 t. This innovative technology enables the system to perform up to 104 roll movements per hour. This means that Laakirchen can load five trucks per hour and saves around 30% loading time compared to a ground-level storage system. And because the Demag warehouse management system is used in the store, the cranes can prepare retrieval orders that have already been registered during periods without loading.