Safeguarding You and Your Employees
Safeguarding you and your employees
Leave nothing to chance in occupational safety. As an owner of cranes and hoists, electrical installations and equipment, you are responsible for the protection of your staff. Our regular safety inspections improve the security of your equipment. They ensure that hazards, such as personal injury or damaged equipment caused by falling loads, are identified and can be prevented in good time – and that statutory accident prevention regulations are satisfied.
Service for any brand
Regardless of whether you operate Demag equipment or products made by other manufacturers – we aim to ensure fully safe operation. Our highly qualified service specialists are authorised to carry out safety inspections on all types of equipment.
All inspections from a single source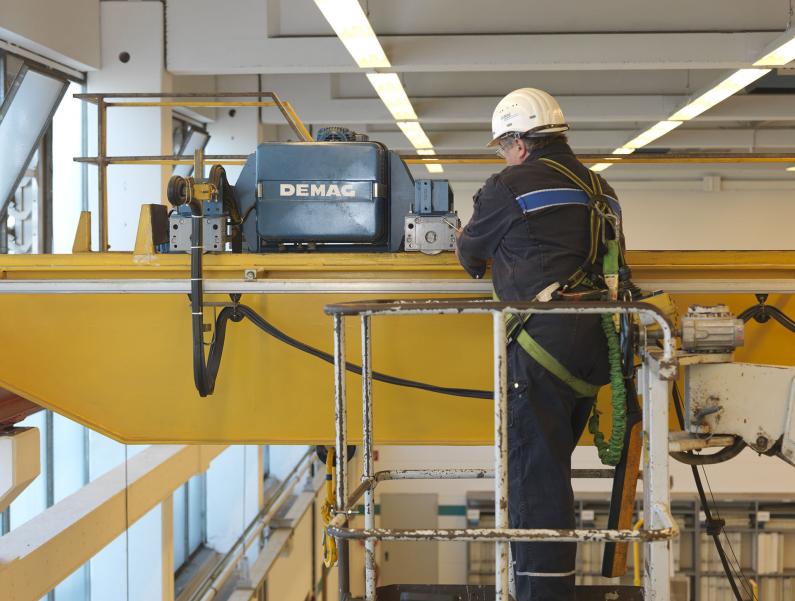 We organise and carry out all of your required lifting equipment safety inspections – with state-of-the-art expertise and a wealth of experience, helping you to meet your legal obligations as an owner and operator of industrial equipment.
Further benefits
Improved occupational safety
Protection against possible claims for damages
Avoidance of consequential damages and high repair costs
Reduction of unnecessary downtimes caused by malfunctions
Compliance with legal requirements
Complete documentation of the results
Safety inspections of crane installations, winches and hoist
Regular safety inspections are not only decisive for the safety of your plant and equipment – they also extend product service life as damage and wear can be detected and rectified in good time.
Legal compliance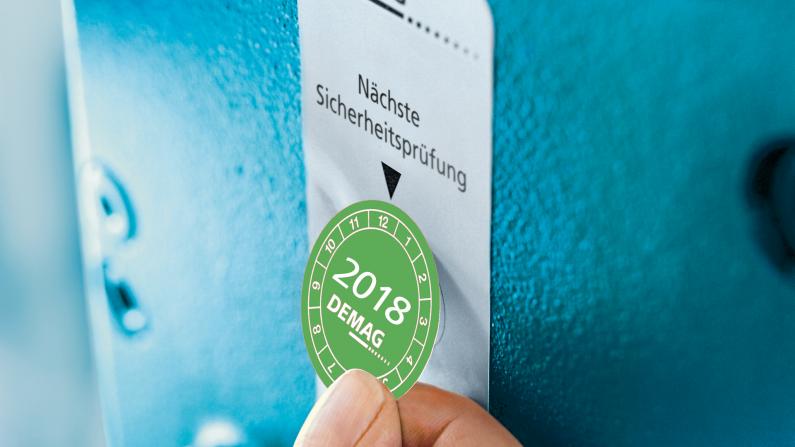 On your behalf, we carry out the regular visual inspections and function checks as required by relevant regulations. At the same time, we check whether your plant and equipment is in a safe operating condition at the time of the inspection.
Further information
Examination of equipment for compliance with the data in the test and inspection booklet
Examination of the condition of components and equipment regarding damage, wear, corrosion or any other changes
Examination of the hoist unit to calculate the elapsed share of its theoretical duration of service (safe working period (SWP) check)
Examination of safety devices and brakes to ensure they are complete and effective
Operating function and brake test with a load for the maximum permissible load capacity
Examination of name plates and signs to ensure they are complete
Documentation of test results
Safety assessment for commissioning or further operation
Decision on follow-up inspection
Application of inspection sticker
Completion summary meeting
Safety inspection of load handling attachment and lifting accessories
Although they are in constant use, load handling attachments and lifting accessories are frequently taken for granted. However, minor or even invisible damage can have a considerable impact on safety. For this reason, this equipment must be in perfect working condition at all times – and regular inspections are essential.
Documented safety and reliability
Our inspection technicians compile a record of your load handling attachments and slings and document the inspection process and any results. When the inspection has been completed, you receive official acknowledgement in the form of inspection tags and an inspection report that your load handling attachments and slings meet the relevant legal requirements.
Further information
State-of-the-art testing technology, experience and expertise right on your site
Maximum safety, reliability and availability of your equipment
Test frames for testing the operating functions of mechanical lifting equipment and magnets
Magnetic fracture testing equipment to detect small cracks
Interested? Please, contact us. We respond fast and are ready to help you.