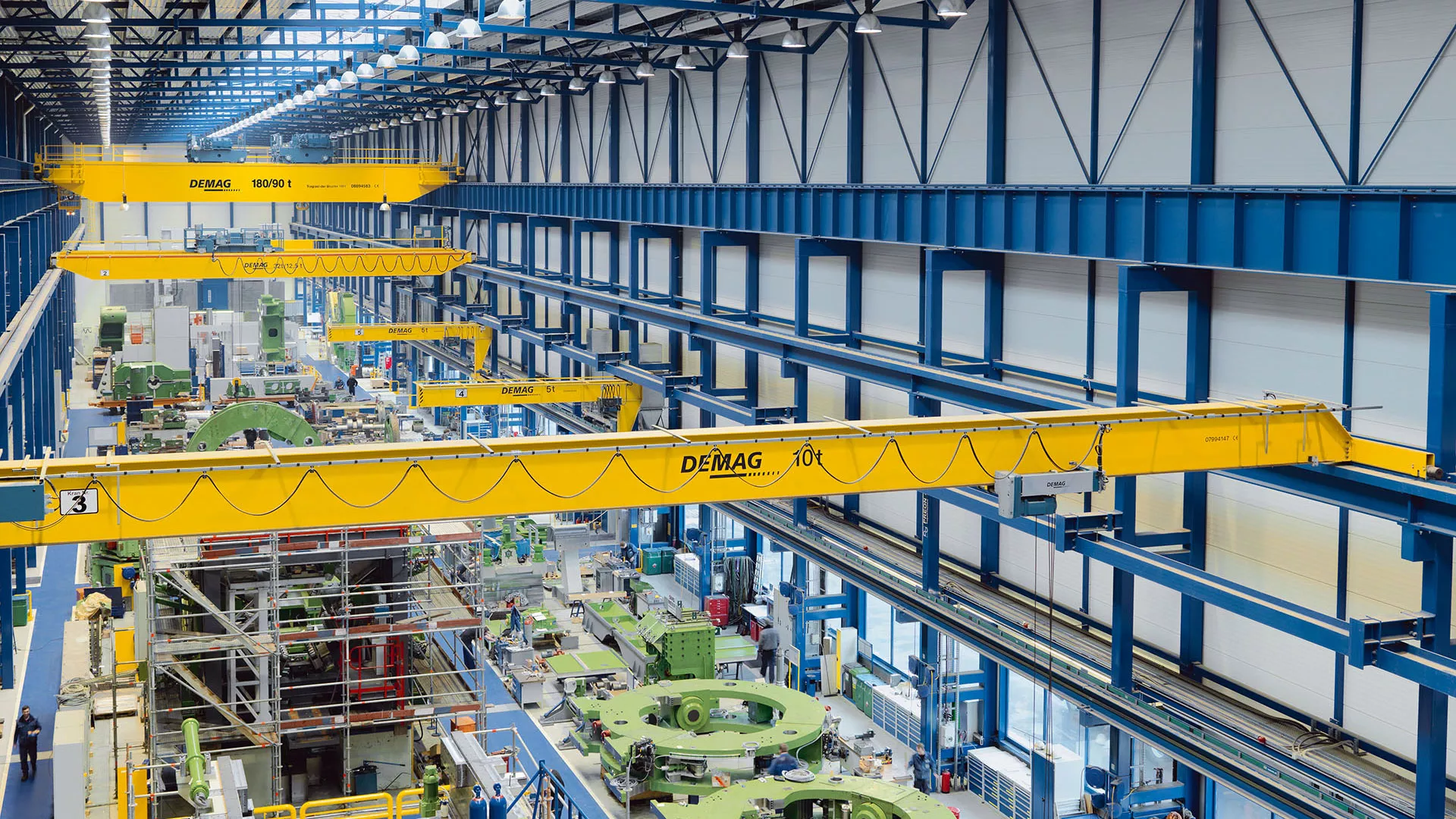 Integrated intralogistics concept on three levels
Strong cranes for heavy loads
For its new heavy-load bay, the plant engineering company SMS Meer developed an intralogistics concept for the handling and in-house transport of components that weigh up to 180 tonnes. To meet these requirements, we supplied five overhead and wall-travelling cranes that were installed on three operating levels.
From goods-in to goods-out
The logistics concept developed for the heavy-load bay includes supply of the unfinished parts and removal of the assembled installation elements by heavy-lift units to the ends of the bay, as well as the in-house material flow with cranes.
Heavy-load level: Demag process crane with open winch units
Transport level: two Demag universal cranes with rope hoists
Assembly workplaces: two wall-mounted travelling cranes operating on a 98 m-long ccrane runway
SMS Meer assembly bay
Integrated planning as the key for success
SMS Meer already involved us in planning the cranes at an early stage. This enabled any optimum design of the interfaces to be defined and achieved. The result is an integrated intralogistics solution on three levels which exactly meets the requirements for handling the different loads during the various steps in the process.
SMS Meer: advanced crane engineering for a leading manufacturer
SMS Meer is a part of the SMS Group, a world market leader in the construction of plant and machinery for the industrial processing of steel, aluminium and non-ferrous metals. SMS Meer was established as a machine factory in 1872 and is now a full-range supplier in the metal forming sector.
Everything under one roof
The new building complex at SMS Meer interfaces direct with the existing buildings. Measuring 181 metres in length and 24 metres wide, the heavy-load bay offers sufficient space for the machining centres and assembly stations.
First crane level: transport of heavy loads
A Demag process crane fitted with two Multi-Purpose Winch (MPW) units is used to transport the heavy loads on a runway installed at a height of 14.15 m. The crane primarily serves a gantry milling centre, where SMS Meer machines unfinished parts. The two open winch units have load capacities of 180 t and 90 t and operate at variable speeds that depend on the load. For handling particularly large components, the two MPW open winch units can also be employed in tandem. The compact design of the crabs enable them to approach each other with a hook centre distance of 3.05 m. 
Convenient handling and precise positioning thanks to frequency inverter-fed drives
Safe distance to the load thanks to radio control
Load-dependent lifting speeds
Workpieces can be turned safely and precisely for machining on both sides
To avoid any collisions between the crane installation and the gantry milling machine, sensors continuously measure the distance between the crane girder and the carriage of the milling machine. At distances of less than six metres, the crane travel speed is automatically reduced and a warning message appears on the operating panel of the milling machine. At a distance of three metres, crane travel is brought to a standstill.
Second crane level: transport of unfinished and assembly parts
On the second crane runway level, two standard overhead travelling cranes operate over the entire length of the bay. The first crane is fitted with an EKDR-Pro monorail travelling hoist and has a load capacity of 10 t. The second one is a double-girder overhead travelling crane which is equipped with a main hoist for loads weighing up to 32.5 tonnes and a 10 t auxiliary hoist unit. A hook centre distance of just 1,288 mm was achieved by installing both hoist units on one crab.
Third crane level: serving workplaces
Two identical wall-mounted travelling cranes fitted with 5-tonne DR-Pro rope hoists operate on a 98 m-long crane runway along one side of the bay. They are used to transport material to the individual workstations. In addition, they are employed for positioning tasks at the assembly stations.
Cranes for mechanical engineering
Crane type
MPW open winch units
DR-Pro rope hoists
Span
 
Load capacity [kg]
[mm]
Level 1: heavy load handling (at a height of 14.5 m)
ZKKW process crane
180
90
 
 
 23,000
Level 2: transporting material (at a height of 10.28 m)
ZKKE standard crane
 
 
32
12.5
20,320
EKKE standard crane
 
 
10
 
20,320
Level 3: for assembly workplaces (at a height of 6.24 m)
2 wall-mounted travelling cranes
 
 
 5
 
7,000*)
*) Jib length