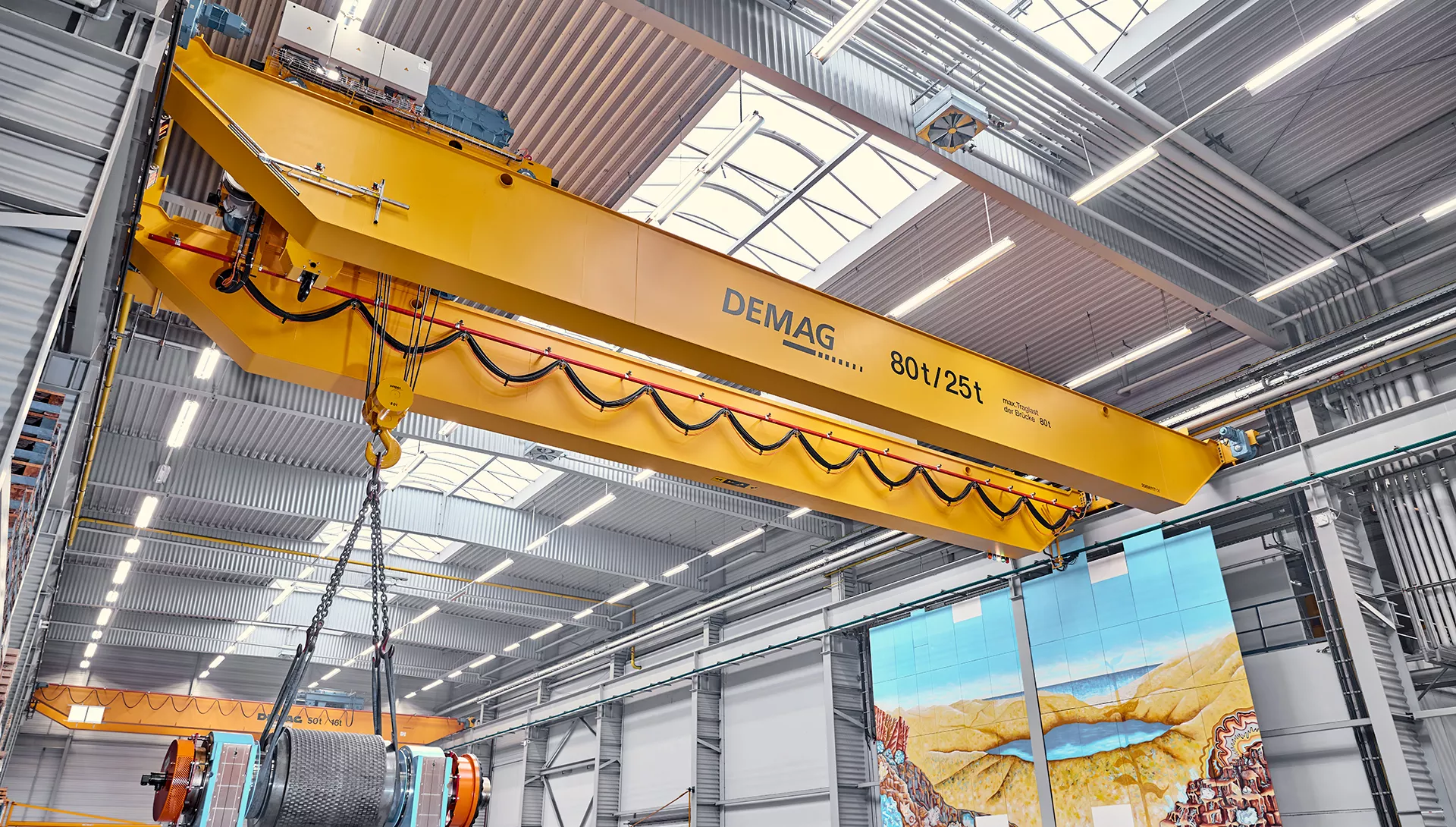 Transport of roller presses weighing up to 80 t
Equipped to meet tomorrow's needs
Demag process crane expands handling options at Maschinenfabrik Köppern GmbH & Co. KG
Customer
Maschinenfabrik Köppern GmbH & Co. KG was founded in 1898 and has been operating close to the Henrichshütte industrial heritage site in Hattingen ever since. Over the past decades, Köppern has written its own company history and is known worldwide as a company that manufactures roller presses and offers the associated service. The company combines innovation and tradition. Maintaining the values of a family business, which have evolved over decades, has been the basis for the company establishing itself as the world's leading specialist in the manufacture and supply of impressive installations for briquetting, compacting and crushing.
Requirement
Assembly of the large-volume and weighty components into ready-for-handover roller presses takes place in hall 3 of the production site. There, a total of five Demag cranes provide support on a common crane runway with a length of 135 metres. During assembly of the roller presses, the cranes are used for transport between the individual production areas. Both the assembly of bearing housings and bearings as well as the completion of the rollers in the frame require extremely precise positioning of the respective components.
For these processes, Köppern needs a crane that has a higher load capacity to meet future needs. The existing Demag cranes will remain on the crane runway and be used at the relevant workplaces.
Solution
A Demag ZKKW double-girder overhead travelling crane with a type MPW winch unit and a DMR rope hoist as an auxiliary hoist unit, offers Köppern the combination of reliable mechanical engineering and precise technology. The frequency inverters allow a dynamic response with high precision and efficiency when operating the crane. In this way, the cranes ensure gentle handling of the load and reduction of load sway thanks to smooth acceleration and deceleration. The crane operator can efficiently and specifically position the individual components during assembly by means of frequency inverter-controlled lifting and lowering motions. The standard ProHub function enables a 50% higher rated speed and promises greater efficiency. A digital and clearly visible display on the end carriage visualises the current rated load on the hook for the crane operator.
The electronic load measuring device protects the supporting structure and the hoist against overloads. Furthermore, the sensor system switches off the hoist in the event of an overload and only allows a lowering motion. The same applies to slack rope formation.
The newly installed process crane is also equipped with an optical distancing system, which prevents any collision with adjacent cranes.
Special features
Precise positioning of heavy loads is the key to safe and efficient production. The MPW open-winch crab therefore combines high load capacity with inverter-controlled precision. Load-dependent lifting speeds enable sensitive and exact positioning, right down to the last millimetre.
Thanks to the holistic safety concept in the hall and the integration of the process crane, potential hazards for man and machine can be proactively avoided.