EKDE suspension cranes with box-section girders
Overhead handling – for loads weighing up to 16 tonnes
Our EKDE suspension cranes are mainly characterised by high torsional rigidity thanks to their welded box-section design. The cranes run on tracks that are simply attached to the existing roof structure – columns to support the crane runway are not needed. This design saves time and money. And it saves space, leaving your entire workshop area available for production. Further benefits?
Computer-optimised box-section profile used for the crane girder for optimum load distribution
Specific sections of the workshop can be served
Lateral overhangs to extend the cross-travel path beyond the runway span
Loads can be handled immediately adjacent to the building wall by means of girder ends tailored to your application requirements
Engineering tolerances for minimum wear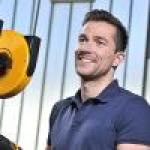 Konecranes and Demag Private Limited
National Realty Pvt. Ltd, Level 3. Survey no. 75/2/3
Baner, Pune
Maharashtra 411045
India
Product information
High stability and design rigidity
Crane girder made of torsionally rigid, enclosed box-section profile with reinforced connection (welded diaphragm plates)
Engineering tolerances in the crane girder connection area
Optimum travel characteristics with minimum wear of crane runway and travel wheels
Travel wheels of highly wear-resistant GGG 70 spheroidal-graphite cast iron with self-lubricating properties
Optimum anti-corrosion protection of all parts thanks to pre-treatment of steel components to industry standard
Efficient handling
Crab of low-headroom design with DR rope hoist offering particularly favourable hook approach dimensions to serve the largest possible area
Power supply to the crab by means of highly flexible flat cable with protective earth conductor
Control pendant suspended for separate travel on the crane girder.
Individual configuration
Optimum adaptation of the crane girder to the building design thanks to computer-optimised box-section profile
Optional radio control with proportional pushbuttons
| | |
| --- | --- |
| Load capacity | up to 16 t |
| Span | up to 25 m |
| Long-travel speed | up to 40 m/min |
| Cross-travel speed | up to 30 m/min |
| Lifting speed | up to 12.5 m/min |
Design variants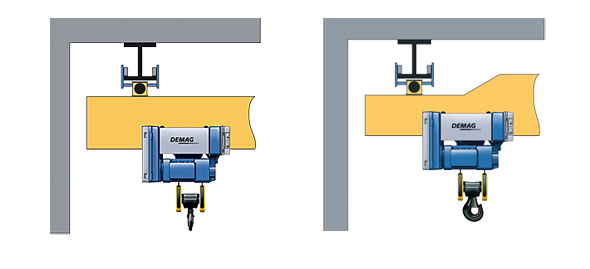 With our wide range of equipment options, we match our standard cranes to the individual requirements of your application:
Automatic height adjustment of the control pendant to facilitate load attachment
Control by pendant switch
Control via bi-directional radio control with proportional pushbuttons
Smooth starting helps to avoid load sway
End carriages with horizontal guide rollers eliminate skewing and thus the lateral forces which otherwise act on the crane runway
Limit switches or slack rope relays protect the hoist and load from damage
Bypass control system prevents collisions with obstacles along the crab travel path
Anti-collision protection and crane distance controls ensure the safe operation of several cranes on one runway
Cranes fitted with two crabs make it easy to handle long and awkward loads