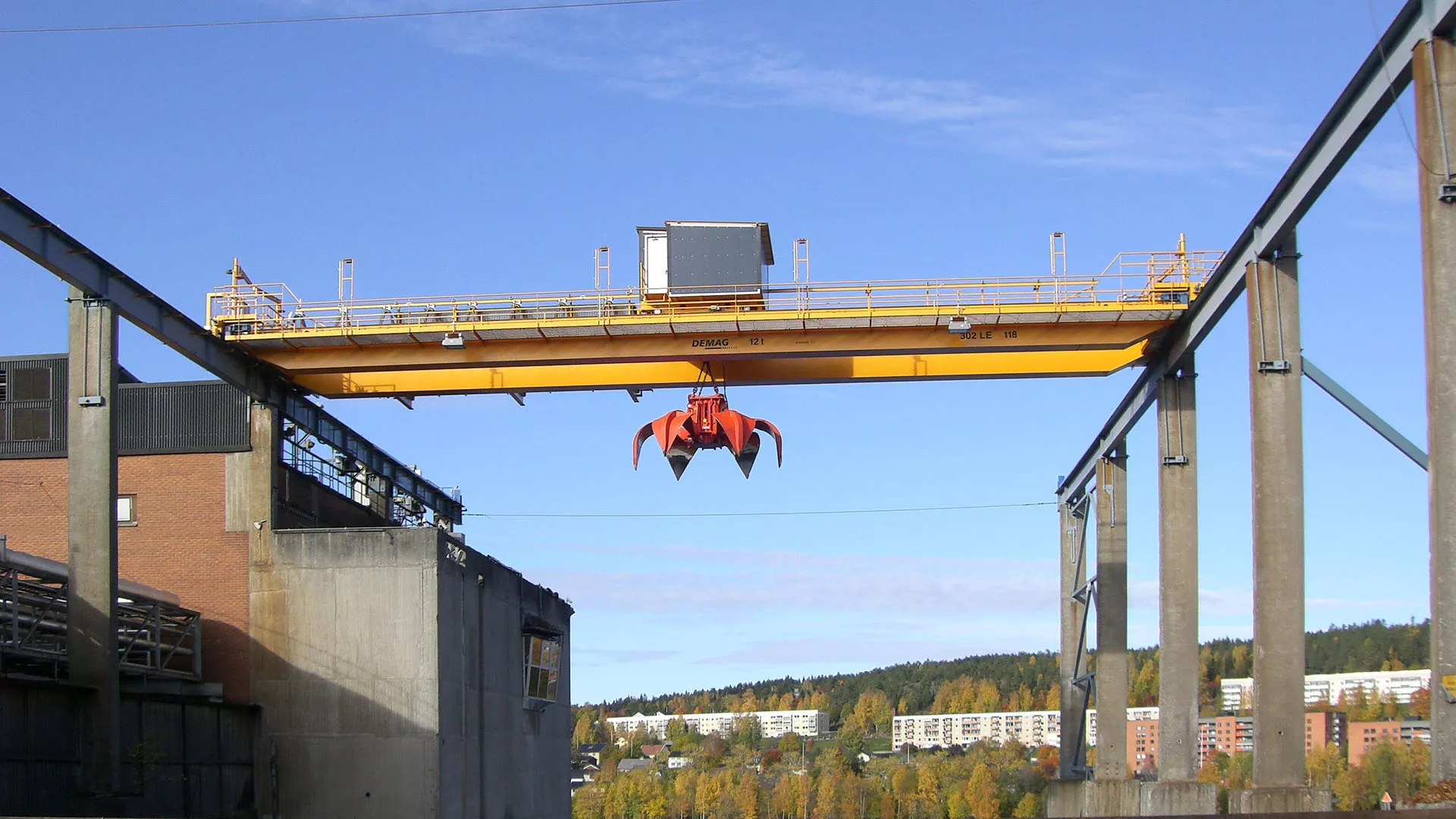 Bulk material handling around the clock – outdoors and in all weathers. These are the operating requirements that have to be met by a Demag overhead travelling crane at a Swedish paper factory for SCA in Sundsvall. The crane operates in automatic mode to blend the incoming materials and to serve the furnaces according to schedule.
Installation features at a glance:
Automated 24-hour operation
Fuel is blended and fed to the furnaces
Full operation even at minus 30 degrees
Sound protection for the neighbouring residential area
The project
Integrated blending
In the Swedish town of Sundsvall, SCA Paper operates a plant with four machines to produce paper for printing newspapers and magazines. Two furnaces are supplied with fuels to generate the steam needed in the production process. This task is performed by an automated Demag process crane.
The double-girder overhead travelling crane has a load capacity of 12 t and travels on a runway at a height of approximately 30 m. It clears shredded wood chips from two tipping positions and first heaps them in the storage area. Using a motor-powered multi-jaw grab, which has a capacity of up to 8 m3thanks to its enclosed design, the crane also picks up deliveries of slurry and distributes it over the entire storage area. The calorific value is homogenised by blending these two materials.
24/7 operation
The crane works around the clock, also operating smoothly down to temperatures of 30 degrees below zero. For this reason, the entire crab is provided with a heated, insulated and sound-proofed enclosure, which protects all components from the weather. The electric equipment is additionally heated. The electric components of the crane installation are installed in an insulated and heated container on the crane bridge. Eight motors for the long-travel motions and four for cross-travel ensure that the crane positions exactly, even in strong wind conditions. Only at wind force 10 is the crane switched off and mechanically locked.
Sound protection to keep the neighbours happy
Noise reduction measures also had to be taken because of a residential area on the opposite shore. A complete package of measures enabled the noise level to be reduced significantly below the specified level of 80 dB. Besides the sound-proofed crab enclosure, this also included speed reduction on the open winch unit and the low-noise grab.