Systematic solutions: LogiMAT Fair | Hall 9 Stand C61
Material flow: Safe. Precise. Smart.
Start
What you can expect
Focus at the fair
Solution Sessions
Book your appointment | eTicket
eTicket
Contact
LogiMAT Fair in Stuttgart – WE WILL BE THERE.
Live and in person in 2022
Learn all about the latest developments and exciting trends at the LogiMAT Fair in Stuttgart from 31 May to 2 June, 2022 – the international trade fair for intralogistics solutions and process management.
What you can expect
Find answers to your questions on all aspects of goods lifting and optimised material flow under the motto: "System solutions | Material flow: Safe. Precise. Smart."
We will present our new products in the industrial drive solutions and hoist sectors, offer you the opportunity to control a crane remotely in real life and provide you with valuable know-how in our daily solutions sessions.
Book your trade fair appointment online.
Have we sparked your interest? We look forward to welcoming you in Hall 9, Stand C61.
Improve to the max. Performance meets modularity.
System variants | fixed alignment | wear measurement | tough housing | strong guide rollers
Simple installation and alignment, compact dimensions and many connection options are key characteristics of our new DRS-M wheel block system. The wheel block range comes with additional new features designed to impress and raise your bottom line.
The DRS-M wheel block range includes four sizes from 112 – 200, and is fully compatible with previous models. Four further wheel blocks round off the DRS product range with load capacities of up to 40 t.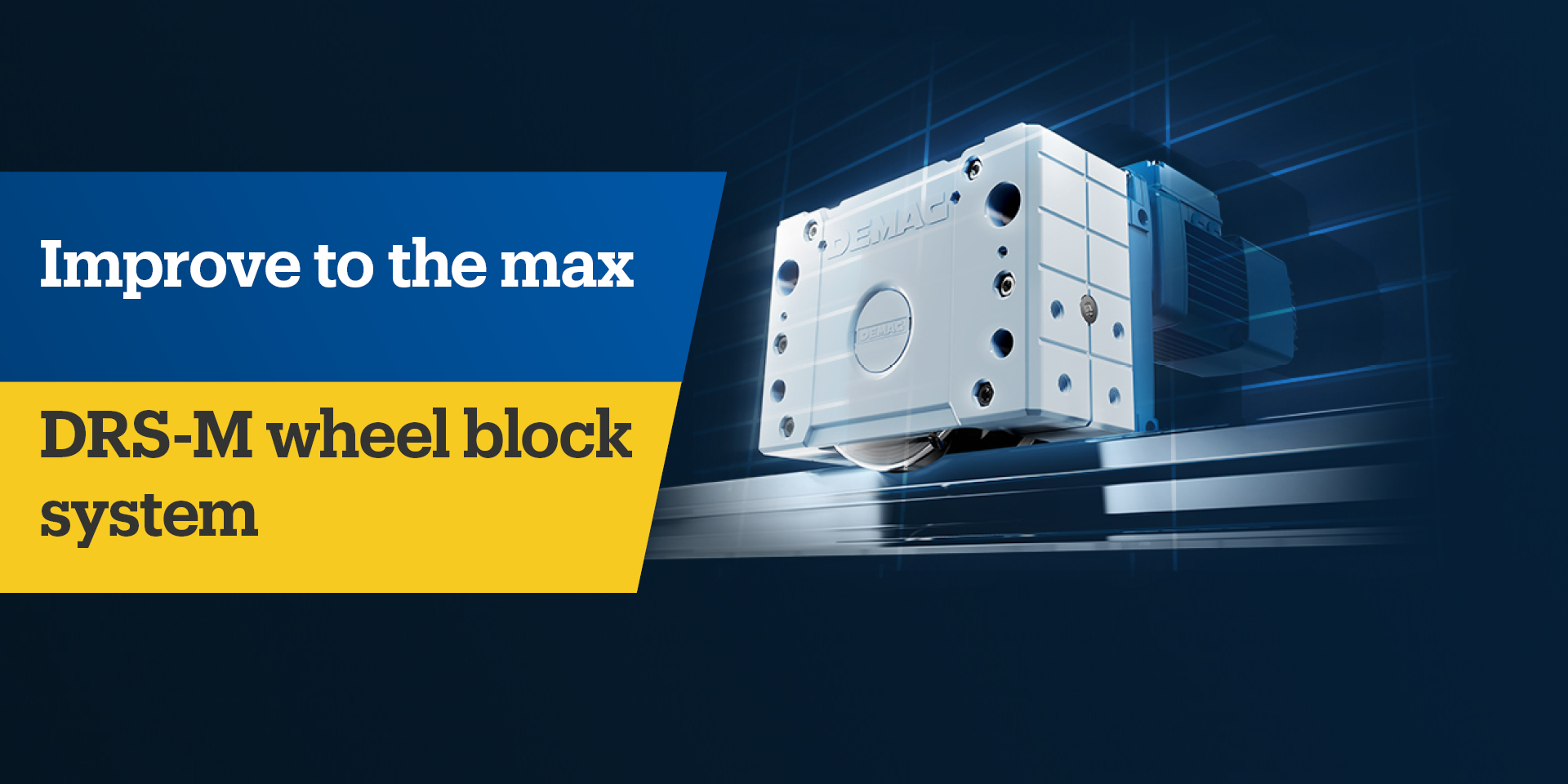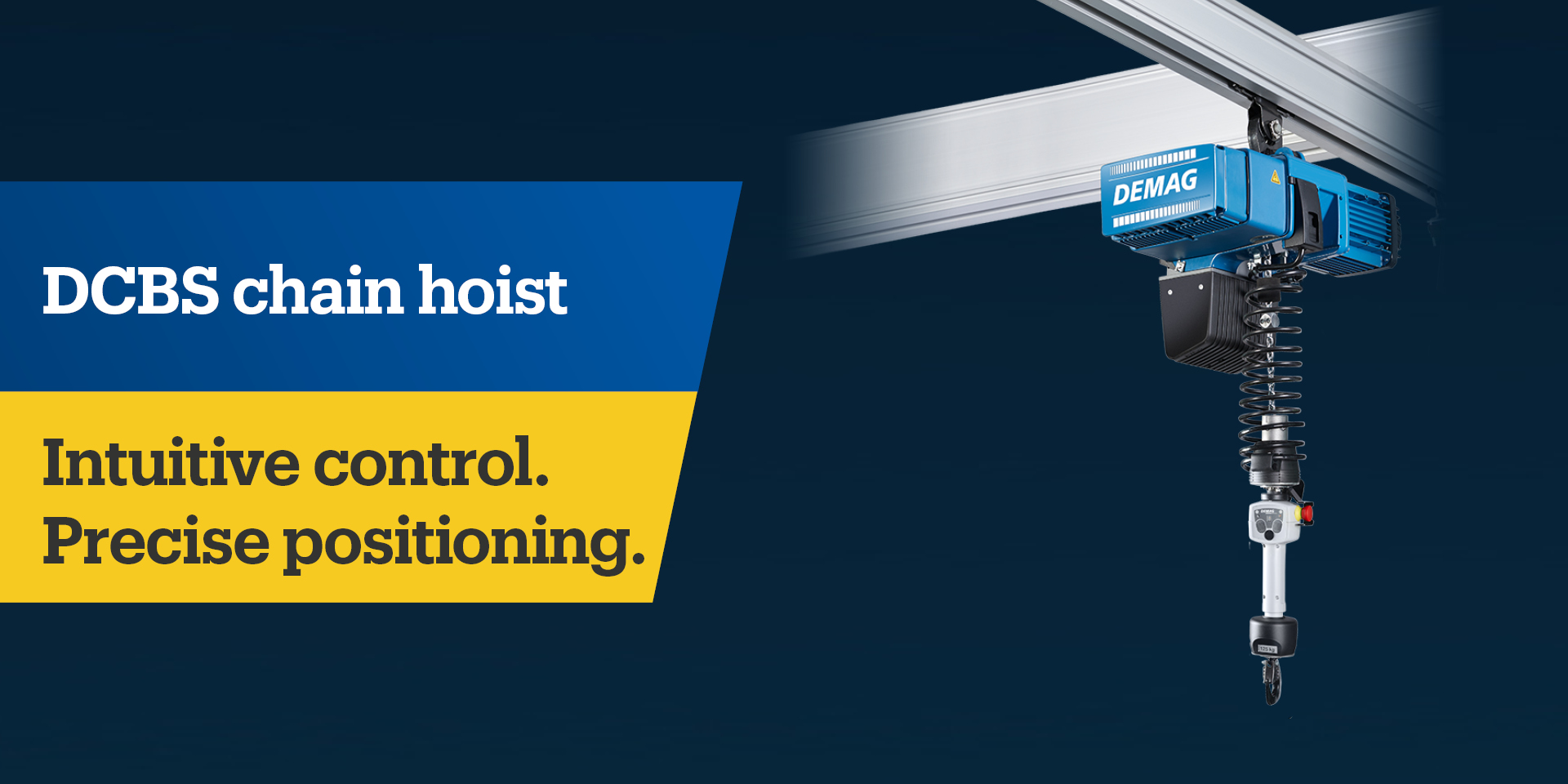 DCBS chain hoist with balancer function
The increase in load capacity to 250 kg is not the only new feature of the DCBS chain hoist with balancer function: Effective immediately, an additional option expands the range of possible applications. While the sensor is still located within the load-bearing arrangement, it sits outside of the control handle. This enables DCBS units to be installed in customized handling systems, such as lifting columns and manipulators.
Even more application options with our external load sensor.
Ideal for use in larger load handling attachment or for lifting larger components. Keeping the sensor separate from the control handle also has advantages when it comes to safe and precise handling for relatively large lifting heights.
Good to know you are in safe hands – SafeControl
The Demag SafeControl system can assist crane operators in specific situations and with defined work steps in their day-to-day work. Assistance and convenience features can make the operator aware of incidents and even intervene in the work process, if necessary. The goal is to improve safety for crane operators while also providing greater convenience.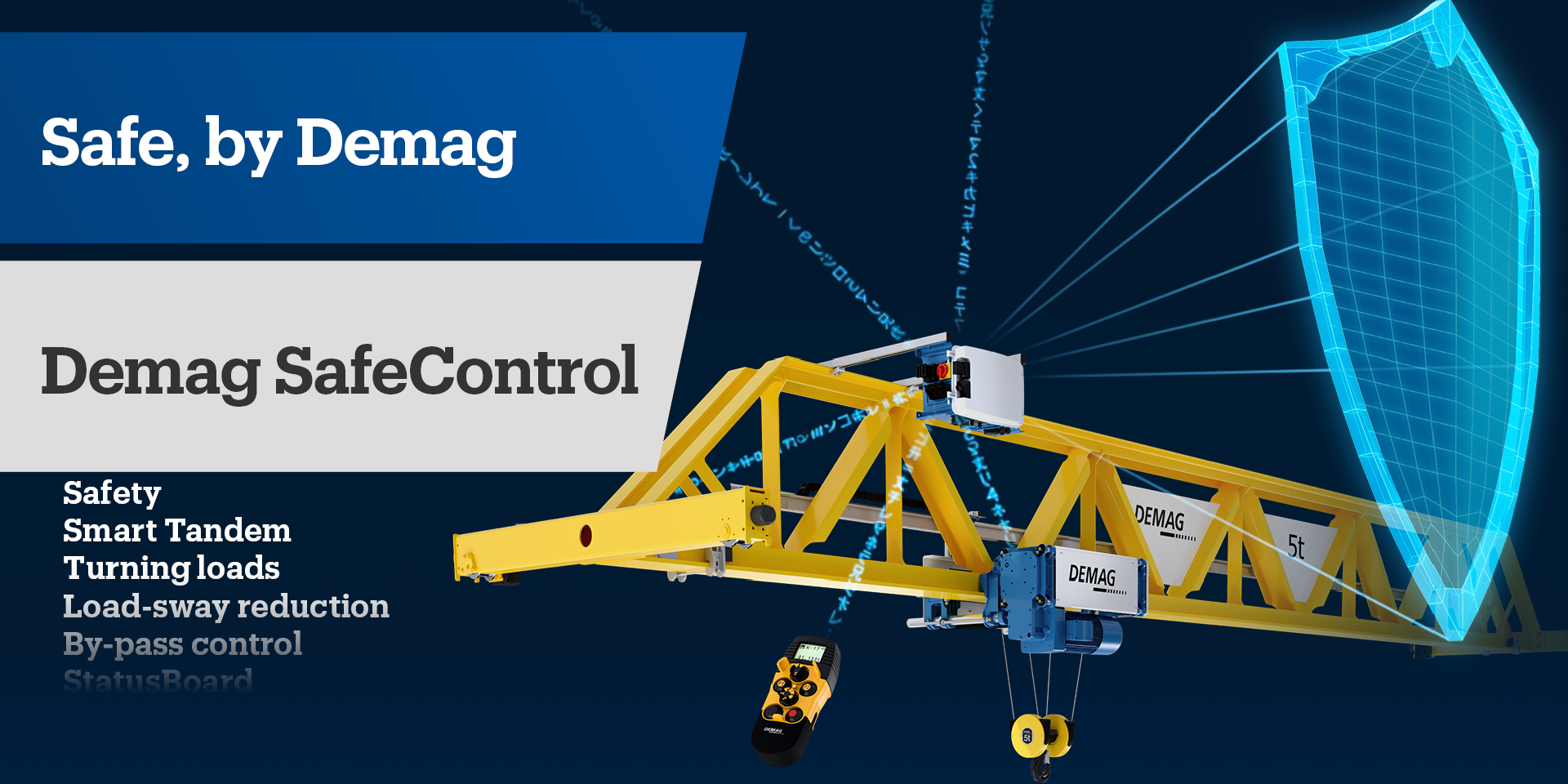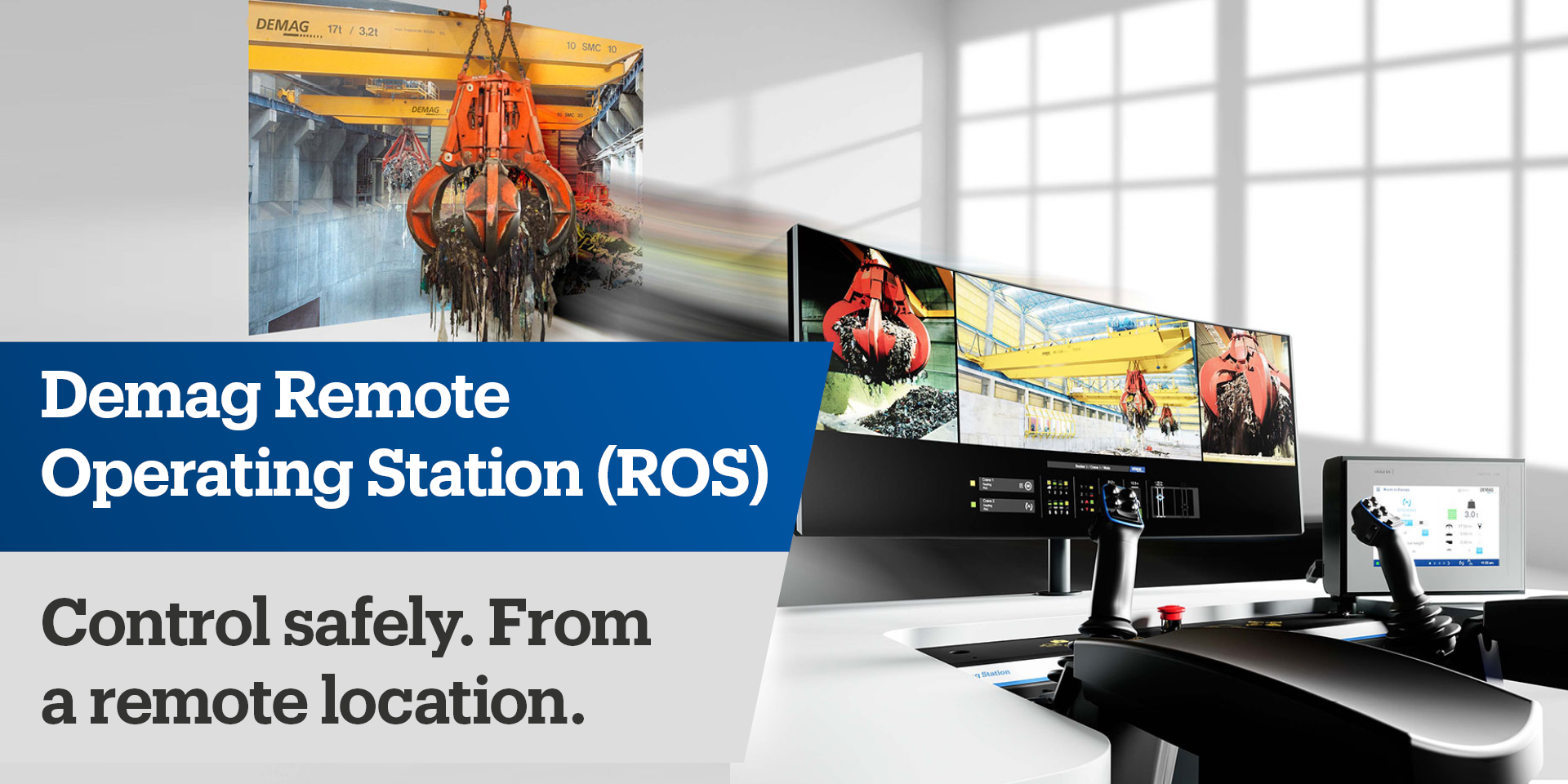 Demag Remote Operating Station (ROS)
Efficient material flow
Operator controlled or automated? You can now control your process crane remotely from a virtual crane cabin based in a control room or even from hundreds of miles away. The operator has access to all the control elements that are normally installed in a crane cab. With the Demag Remote Operating Station (ROS), however, the owner can decide where the "virtual" cab is located.
Test it live at our trade fair stand.
One solution, one innovative idea, one presentation – in just 15 minutes
4 times a day, our 15-minute solutions sessions show you how to meet your daily challenges more effectively. Our experts offer you insights into our broad product range, tips for your day-to-day work, as well as potential solutions and application options. Of course, you can test our solutions yourself on the spot.
Topic 1: "From components to drive systems."
Gain insights into specific examples of applications for moving heavy, valuable loads.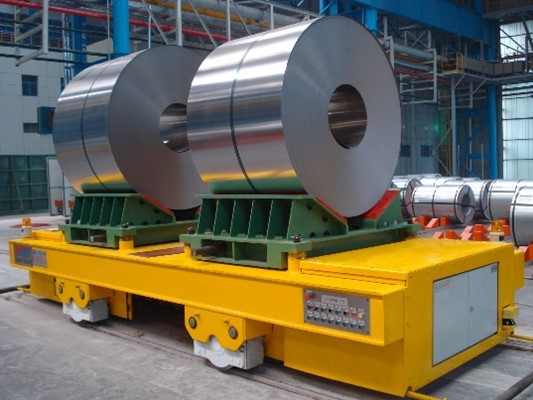 Speakers
Christoph Greger, Product Manager Drives, Modules & Components
Andreas Duhme, Director Sales Drives
Marcel Lissa, Drives Sales Engineer
---
Topic 2: "Move up to 250 kg with your own hands."
Find out how you can save time and money with intuitive and precise load control.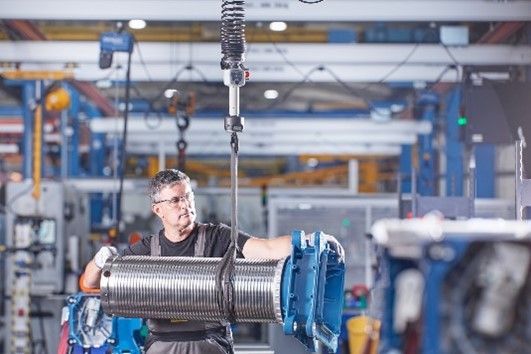 Speakers
Asaf Topkaya, Product Manager ALCS, Handling & Balancer
Carsten Daft, Brand Product Manager
---
Topic 3: "The optimum crane for workshop planners."
We will show you the optimal crane – in terms of reliability, performance, functionality, safety and adaptation to the shape of the building.
Speaker
Harald Marquardt, Cranes Sales Engineer
---
Topic 4: "The automatic warehouse of today."
Discover automated crane solutions for logistics.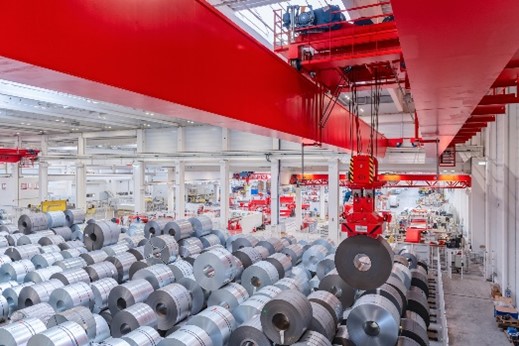 Speaker
Markus Otto, VP Process Cranes Sales EMEA
Book your appointment | eTicket
Secure your free entry to the LogiMAT Fair with our eTicket. Contact us to receive the ticket code for your registration via email. If you are interested in booking an appointment with our experts directly at the both, please let us know.