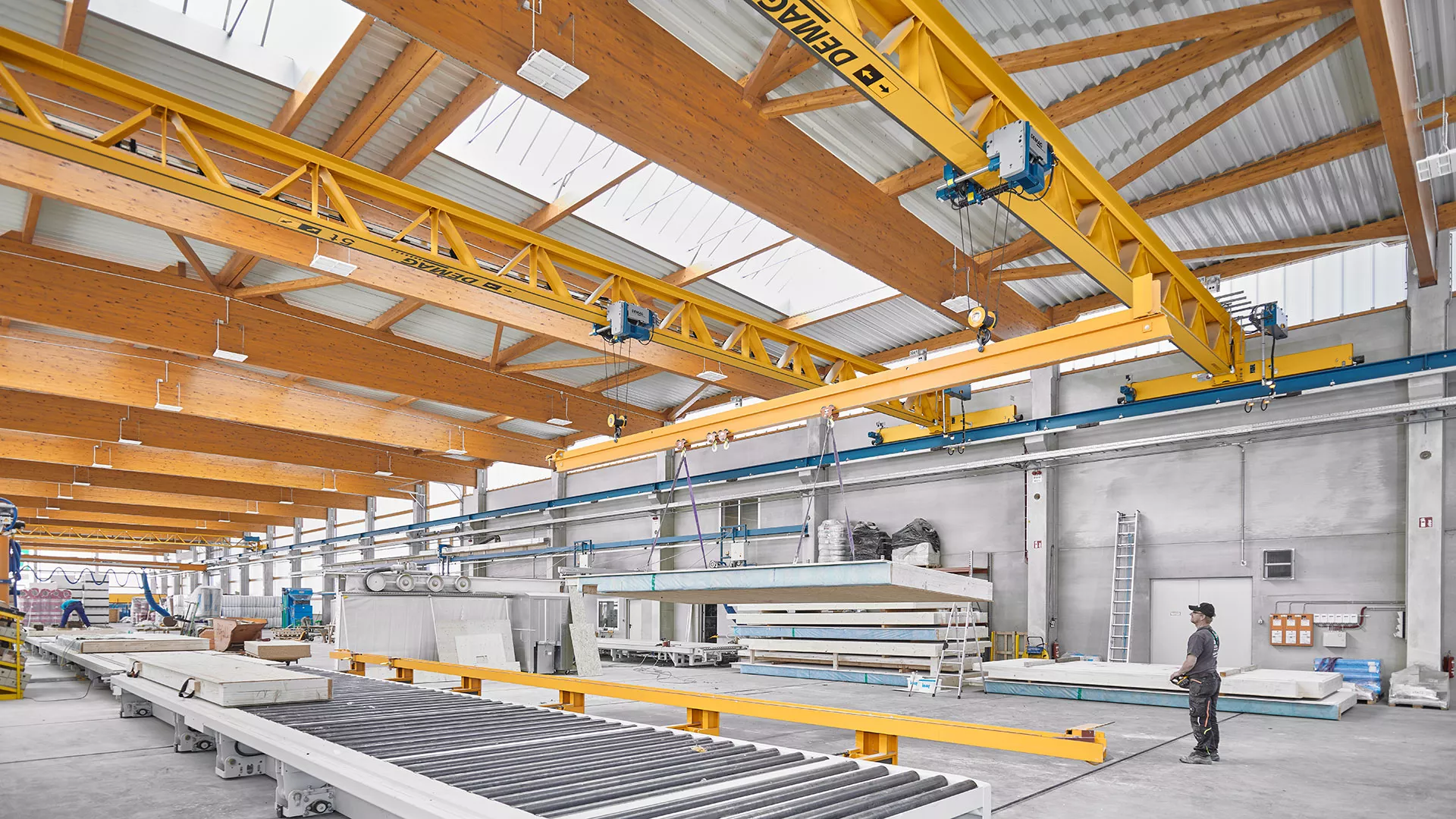 Wood on steel: Demag V-type cranes
Opitz Holzbau GmbH & Co.KG
Smooth handling of large wooden components
Customer
Opitz Holzbau GmbH & Co.KG in Neuruppin has been manufacturing components made of wood for more than 75 years: wall and ceiling elements, roof structures and complete roofs. Opitz covers the entire spectrum of building structures: from passive single-family houses to apartment blocks and commercial buildings to sport facilities. The company operates one of the largest production facilities for industrial wooden structures in Europe and has around 70 employees.
Requirement
The material flow arrangement needed to be planned and structured in a new, 140 metre-long factory bay – called Future Factory II. This project focussed on the handling and loading of large and heavy components made of wood.
Solution
During the planning phase, it quickly became clear that the use of forklift trucks is only the second-best solution for this application. Instead, Opitz opted for crane instal-lations with a span of a good 30 metres and a load capacity of 5 tons.
Three Demag V-type cranes were installed in the factory bay. One of them is used only for handling heavy materials, the other two can be operated in tandem. Among other requirements, this function is used for loading finished products onto trucks. The cranes are then connected by a 10 metre-long steel spreader which is attached to the crane hooks. They travel together as a synchronized unit and are controlled by a tandem radio control system.
With this overhead materials handling solution, Opitz Holzbau can handle large wood-en building elements precisely, safely and efficiently.
Special features
On Demag V-type cranes, a V-shaped profile is used as the supporting structure in-stead of a conventional box-section girder. The result: the cranes can handle heavier loads, are up to 17% lighter, their service life has been doubled and their oscillation characteristics are reduced by up to 30%. In addition, they consume less energy and, compared with box-section profile cranes, they allow more light to pass through. Operation with reduced oscillation is a major benefit for Opitz, because it minimises the sway of the large and heavy loads.