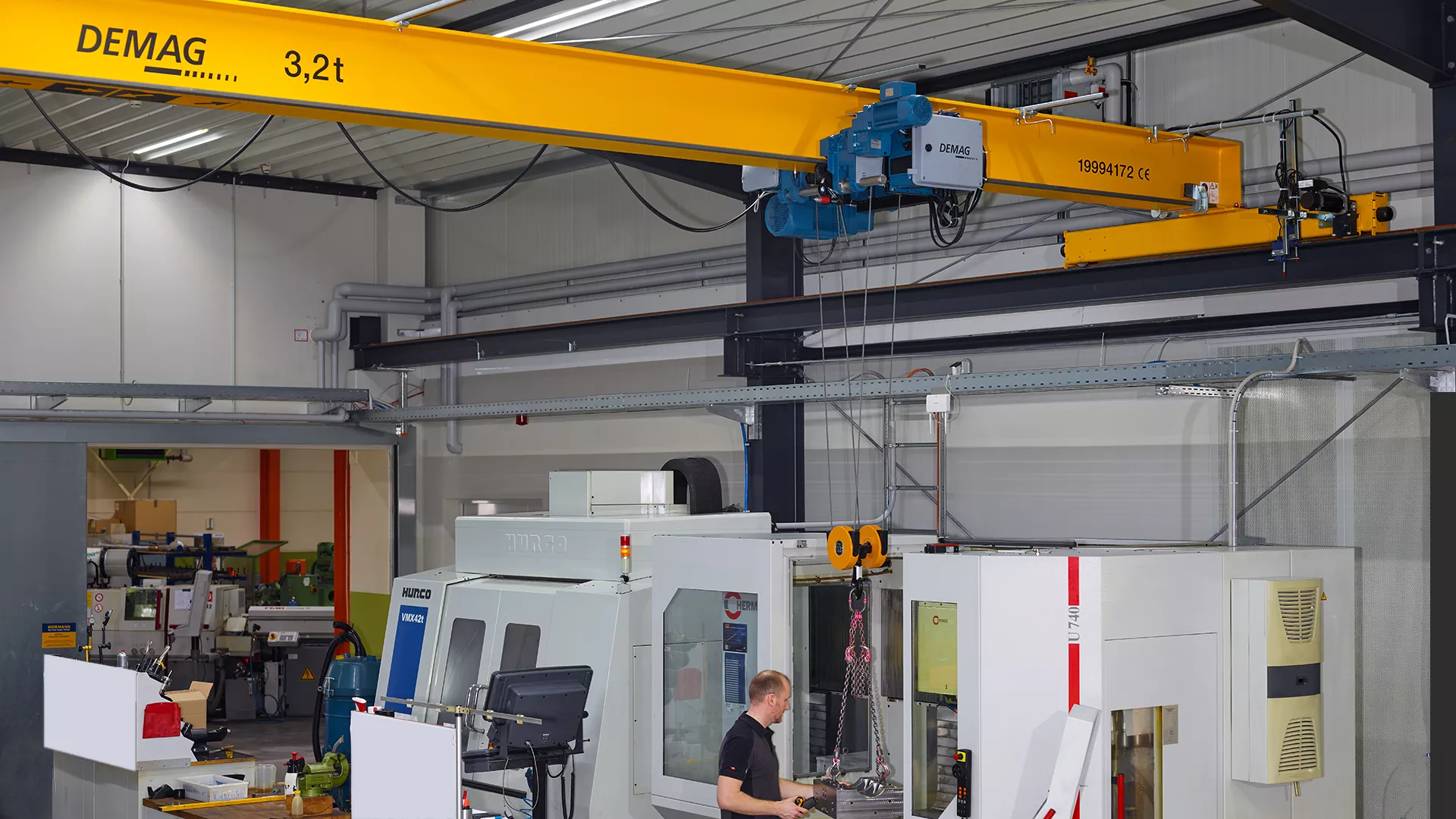 Precision and performance
State-of-the-art crane technology for precision work
EPKE serves processing machines at WIEBROCK PFK GmbH & Co. KG
Customer
At Wiebrock, precision and performance are combined for the manufacture of products for instrumentation and control technology, as well as for toolmaking, plastic injection moulding and wire erosion. Founded in 1957, the company quickly grew and relocated from a residential house to the newly built first company building. Over the decades, the company premises in Herford, Germany have been expanded again and again.
Requirement
The company premises in Herford are home, among other things, to precision mould making, electric discharge machining and plastics technology, referred to as EDM for short. Wiebrock has been manufacturing simple and intricate series parts quickly, precisely and perfectly here for over 60 years. To continue to meet the high market requirements, new premises were built for toolmaking. As part of this production expansion, a crane was needed to assemble injection moulding and stamping tools as well as to serve the processing machines. It would have to meet demanding precision and performance requirements. The maximum possible lifting height and safety in crane operation were equally important for specification of the crane.
Solution
Demag EPKE universal cranes combine efficiency with state-of-the-art crane technology. The operator can move freely at all times and control the crane with absolute precision using the DRC-MJ mini-joystick controller. The accelerator pedal function of the radio control system for infinitely variable long and cross-travel enables work to be performed intuitively. The creep and main lifting motions can precisely position the tools to serve the processing machines at two speeds. The required hook path of 6 metres facilitates load handling of parts and components within the bay.
The smart SafeControl system monitors and ensures safe operation of the crane installation. The two-stage cut-off prevents the crane from colliding with the limit stops. When the first limit switch is reached, the long-travel speed switches to creep speed. Once the second limit switch is reached, the long-travel drive is switched off, gently braking the travel motion. Load sway, which can cause injuries and damage, is prevented electronically.
Special features
SafeControl, the smart safety control system, offers maximum safety in crane operation. The long-travel limit switches and safety control system back up the crane operator electronically, avoiding any accidental damage in the crane's operating environment. The DRC-MJ radio controller allows the operator to move the crane and trolley intuitively and precisely using the joystick.