Experts in metal handling
EuroBLECH 2022 in Hanover
Start
What you can expect
Experience our products
Demag solutions
Your free e-ticket
Contact
We look forward to seeing you
Guided by our slogan, "Experts in metal handling", we will be bringing our expertise in material handling to the global marketplace at EuroBLECH at Hall 17 | Booth F40. We are already looking forward to engaging in shop talk regarding both our product innovations and tried-and-true products, as well as to meeting existing and prospective customers in general. Accordingly, we would like to invite you as our guest so that you can visit the Demag booth with a free day pass. Simply fill out the contact form and we will send you your personal ticket voucher by e-mail.
"Top industry experts from across the globe see EuroBLECH as the marketplace of choice when it comes to comprehensive product and service offerings. The trade show provides a one-of-a-kind marketplace for transferring knowledge, creating custom production solutions, and establishing worldwide business contacts." - EuroBLECH
So what awaits you when you visit? Well, to give you a taster, we have prepared this webpage to provide you with some insights into the broad variety of our products. Come and experience these products at our booth in Hanover from 25 October to 28 October 2022. Demag cordially invites you!
Experience our products first-hand
We will be showcasing Demag's versatility at our booth with a broad range of solutions that visitors will be able to touch, see, and try out. You can drop by and simply take a look or have a conversation with our staff if you have any questions or simply want to talk. We look forward to your visit.
Demag material flow solutions
The possible combinations between our various products are designed to ensure that you will be able to bring your material flow visions to life while we support you with our lifting and handling expertise. Our passion for innovative solutions that make work more efficient and ergonomic keeps driving us forward. Just like it has for over 200 years.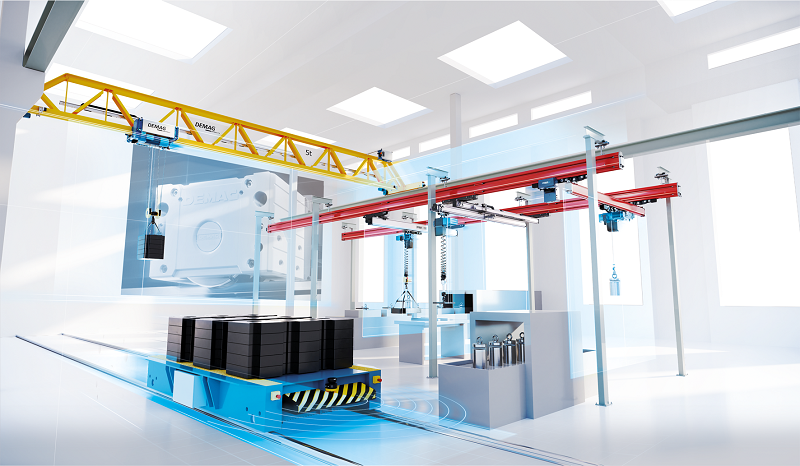 Our crane, light crane, hoist, component and industrial drive product areas offer countless combination options. Visit us at our booth to talk about your projects or see some of our solutions for yourself.
Material flow with Demag process cranes
Demag process cranes can give you the right solutions for your specific needs. They are designed and built to specific requirements. In this way, we ensure the highest efficiency, availability and safety for your installations. Our products are not just integrated into your production environment, but can also be embedded into your production strategy and take care of whole processes. Experience our complete material flow solutions in a virtual environment.
Demag process crane solutions for metal production, metal handling, and mechanical engineering are all represented. In addition, you can also see other industry solutions on our process crane overview page. We will be more than happy to provide you with an explanation of the detailed options available through our cranes and storage systems at EuroBLECH.
Stahlo Stahlservice GmbH & Co. KG
---
Becker Stahl-Service GmbH
---
GOLDBECK Betonelemente GmbH
Product innovation: Demag DBM battery magnet
Demag DBM battery magnets can be used wherever magnetisable loads need to be transported reliably, safely, and cost-effectively independently of a power supply. When combined with radio control, this system helps maximize safety. The DB range also has a lot to offer when it comes to operating convenience: Radio spreader operation makes it possible to implement sound solutions for handling long materials without the need for additional complexity.
A convenient solution – spreader operation with radio control
Individual magnets can be controlled manually with the control panel – but also via radio at a convenient distance from the load. For handling long materials, a magnet spreader in which two magnets are connected together is the perfect solution. One of the magnets acts as a master that sends all commands to the slave magnet.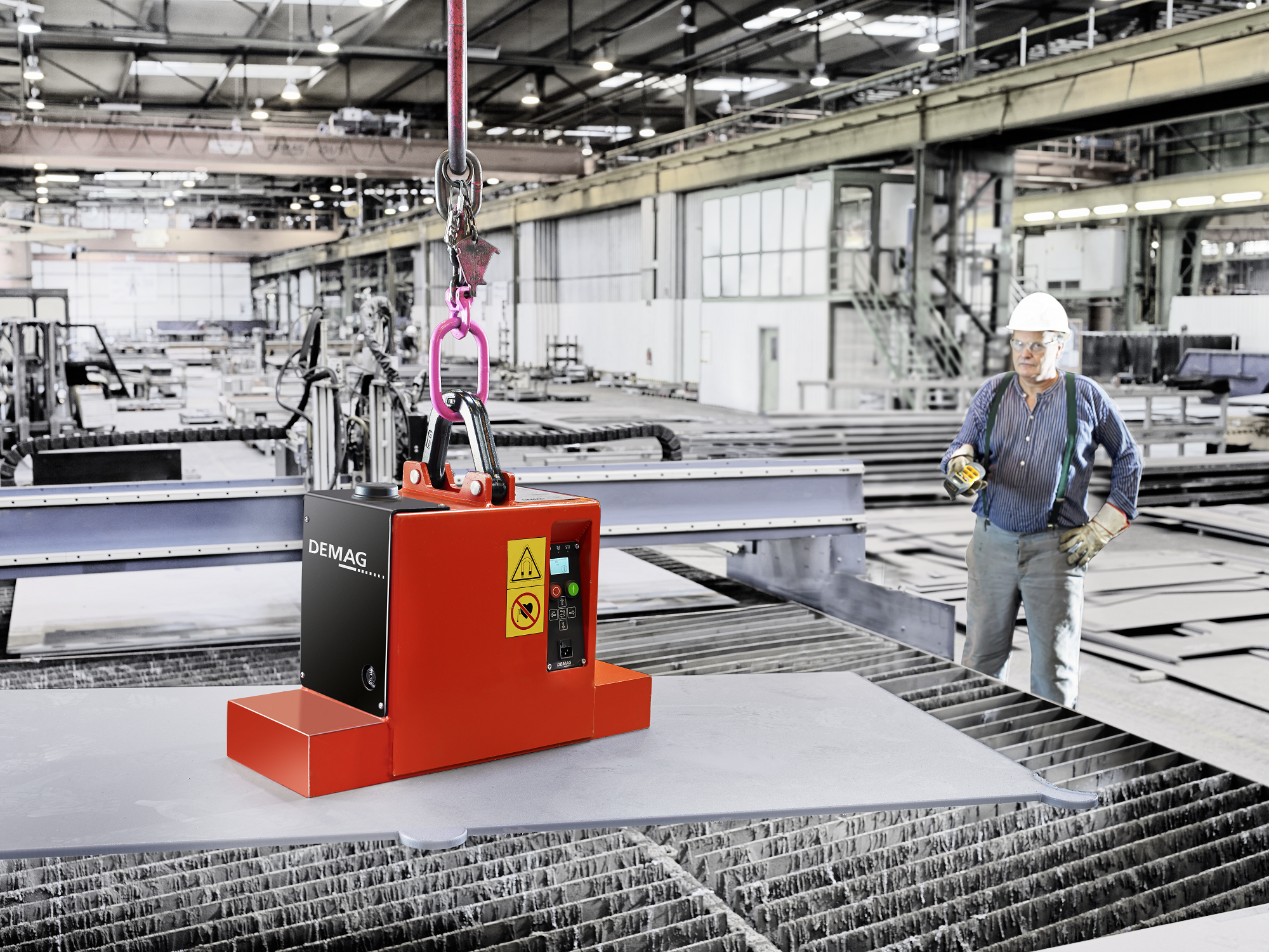 Intuitive controls. Precise positioning.
With our Demag DCBS chain hoist with its balancer function, you can lift and position loads of up to 250 kg smoothly and intuitively. The special balancer function makes light work of handling loads and improves workplace ergonomics even further. All it takes is your fingertips to guide and position loads directly and intuitively with this innovative solution for your load handling needs.
Certified lifting technology
You can rely on our chain hoists to handle your load. Demag DC chain hoists come with a slipping clutch with automatic speed-monitoring-based shutdown as standard, preventing loads from constantly slipping. Together with operating limit switches and a 24-V contactor control system that also come as standard, our DC units make sure that your load will be secure regardless of the application.
Thanks to robust and proven electronic control, DC electric chain hoists offer improved safety compared to conventional controls. Demag electric chain hoists satisfy at least Performance Level c and Category 2 to EN ISO 13849-1 for the safety-related functions specified in DIN EN 14492-2.
External load sensor
The sensor system on the D-Grip Servo can be used as an external load sensor integrated directly into the load-bearing arrangement. The position of the D-Grip Servo control handle can be freely selected, and a variety of load handling attachments can be integrated. This provides an additional option for transporting awkward loads safely, intuitively, and with high precision.
Modular solution combinations
From simple workshop cranes to highly complex material flow systems, our Demag KBK light crane system is perfect for meeting all your needs down to the very last detail. Quickly and efficiently. The components of our modular construction kit system can be combined to create individual suspension monorail, suspension crane, pillar and wall-mounted slewing jib crane solutions. KBK installations can also be easily integrated into any production infrastructure – and modified at any time.
Safe, simple and reliable handling
Rapid handling and, at the same time, precise and effortless positioning of your loads provide for efficient processes and improve your productivity. The KBK system is ideally suited for complex handling equipment as used in series production lines, such as in the automotive industry.
Reliable versatility
With more than 50 years of experience with light crane systems, our KBK crane construction kit provides for safe and reliable material flow in virtually all industries. Made of standardised products manufactured in large series, our components offer high operating reliability and a long service life.
The smart Demag SafeControl system can assist crane operators in specific situations and with defined work steps in their daily work. Assistance and convenience features can make the operator aware of incidents and even intervene in the work process, if necessary. The goal is to improve safety for crane operators while also providing greater convenience. Demag SafeControl can assist crane operators when moving long materials or turning loads.
Safety in complex crane applications
The SafeControl system can reveal its full potential wherever a crane needs to meet complex operating and control requirements. The safety control system provides the technical basis for implementing tandem crane control, smart-tandem crane control, the turning of loads and load-sway reduction as well as for other complex requirements, such as a crane by-pass control. Demag SafeControl enables safety-related control functions up to Performance Level d in accordance with EN ISO 13849 or SIL 2 in accordance with EN 61508.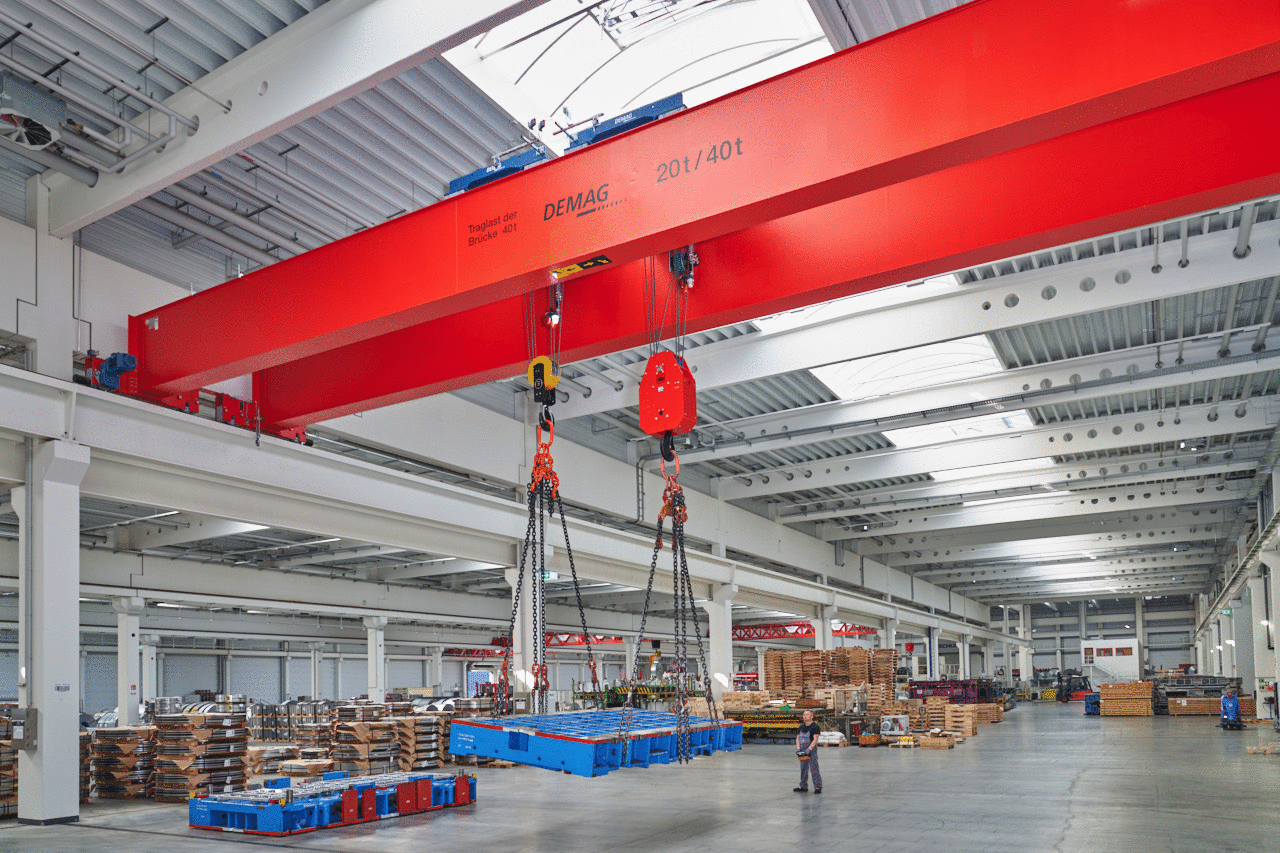 Safe, by Demag: smart tandem
Safe, by Demag: load-sway reduction
Visit us at our booth and use the contact form for your free ticket. If you have any questions, please do not hesitate to contact us with the contact form as well.