Pneumatic control to lift loads
When you want pneumatic control to lift loads up to 350 kg, choose the Demag D-BPII Air Balancer. Designed to complement the manual lifting process, the D-BPII moves with the natural lifting motion of the operator with no jerky movements. Loads feel weightless up to 150 pounds and is available with an automatic load balancing feature. The air balancer is equipped with a safety brake to stop the rope when upward motion is too fast and manages uncontrolled motion with the quick and easy brake reset. Its pneumatic control makes the cost of ownership lower and more economical to maintain. Whether you need fluid, precise lifting in automotive assembly lines, manufacturing, or industrial production, the D-BP II travels smoothly and efficiently on all ceiling hung Demag KBK light crane systems, freestanding workstations and jib cranes.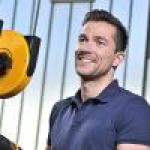 Demag Cranes & Components GmbH
Ruhrstrasse 28
58300 Wetter
Germany
These are the advantages of air balancers compared to electrical rope / chain hoists
 Significantly higher lifting/lowering speeds (up to 2000 mm/sec)  (up to 59 in/sec)
 High speed results in shorter cycle times  More cost efficient operation.
 Very silent operation compared to chain hoists, far below 70 dB(A).
 Wearing-free overload protection.
 Load balancing without the use of buttons with appropriate control circuit
 Load weight compensation standard for all UP/DOWN control systems.
 No jerky movements during lifting/lowering procedures, no shock load.
 No polygon-effect at all.
 No electricity required -> more safety!
 Duty cycle 100%, even with low speeds.
 Simple maintenance – rope exchange in less than 15 minutes.
 Almost unlimited life time, if regular maintenance is done.
 Market leading range of options allows excellent application based support.
| | | | |
| --- | --- | --- | --- |
|   | Lifting capacity* | Lifting stroke | Weight ** |
| ATB 70-2000B | 70 kg (150 lbs) | 2000 mm (80 in.) | 27 kg (60 lbs) |
| ATB 120-2000B | 120 kg (265 lbs) | 2000 mm (80 in.) | 35 kg (77 lbs) |
| ATB 120-3000B | 120 kg (265 lbs) | 3000 mm (118 in.) | 40 kg (88 lbs) |
| ATB 160-2000B | 160 kg (350 lbs) | 2000 mm (80 in.) | 40 kg (88 lbs) |
| ATB 225-1800B | 225 kg (495 lbs) | 1800 mm (72 in.) | 42 kg (92 lbs) |
| ATB 350-1200B | 350 kg (770 lbs) | 1200 mm (47 in.) | 40 kg (88 lbs) |
| ATB 350-2000B | 350 kg (770 lbs) | 2000 mm (80 in.) | 45 kg (99 lbs) |
* Lifting capacity depending on supply pressure. Shown values require 7 bar (102 psi) pressure at balancer piston
**     Weight without control circuit & carriage