EHPE, ZHPE semi-portal cranes up to 50 tonnes
For versatile and cost-effective handling
Our semi-portal cranes are not only a cost-effective alternative wherever the installation of bridge cranes would be too complicated or impossible due to structural reasons. They are also the ideal supplement to in-house logistics solutions. What do they offer?
Available as single or double-girder semi-portal cranes
For indoor and outdoor operation
Load capacities up to 50 tonnes
Wire-connected or radio control
Can also be equipped with 2 hoists or 2 crabs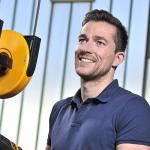 Demag Cranes and Components Corp.
6675 Parkland Blvd., Suite 200
Cleveland, Ohio 44139
United States
Product information
High efficiency
Efficient solution at operating level
High performance, also in a small space
Installation to meet specific customer needs
As single-girder semi-portal cranes with load capacities up to 12.5 tonnes (spans up to 30 m)
As double-girder semi-portal cranes with load capacities up to 50 tonnes (spans up to 35 m)
Indoor or outdoor operation
Ideal supplement to in-house logistics solutions
Optional cable-connected control pendants or radio controls
Can also be equipped with 2 hoists or 2 crabs
Semi-portal cranes
|   | EHPE | ZHPE |
| --- | --- | --- |
| Max. load capacity F [t] | 12.5 | 50 |
| Span dimension lkr [ft] | up to 98.4' | up to 114.8' |
| Height [ft] | 13', 19.7', 26', 32.8' | 19.7', 26', 32.8', 39.4', 45.9', 52.5' |
|   |   |   |
| Speeds |   |   |
| Long travel   [ft/min] | up to 131.2' | up to 131.2' |
| Cross travel  [ft/min] | up to 98.43' | up to 98.43' |
| Lifting/lowering [ft/min] | up to 41' | up to 41' |
| Stepless motions | possible in 3 axes | possible in 3 axes |


EHPE single-girder and ZHPE double-girder semi-portal cranes