Increasing productivity and efficiency
Process cranes for the paper industry
Reliable solutions for reliable processes
In the paper industry, the wet and dry ends of paper machines need to be supplied with a high level of reliability and be equipped for any required maintenance work. In addition, rolls of paper have to be stored and retrieved gently, precisely and efficiently. To meet these diverse requirements, we have developed special solutions that deliver reliable processes in paper mills:
cranes for paper machines
cranes for roller cutters
automated process cranes for roll storage and retrieval
warehouse management systems
Contact our process crane experts in Germany to start your project today!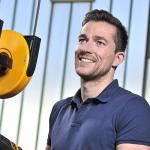 Demag Cranes & Components GmbH
Postfach 67
58286 Wetter
Germany
Product information
Cranes for paper machines/roller cutters
Reliable lifting solutions for operation and maintenance (dry and wet end)
Safe and reliable handling of full rolls
Return of empty cores to inventory
Precise handling for installation and removal of machine rollers
Innovative trolley design for maximum hook approach
Express load dependent lifting speed
Smart design enables lifting at variable speeds
Improved throughput with semiautomatic crane positioning system thanks to semi-automated operating sequences with destination positioning
Automated roll storage and retrieval
Customized solutions for your inventory levels
Improved safety due to fully automated operating sequences
Optimum plant floor space utilitization
Smooth transport of rolls using vacuum grippers for single rolls
Mechanical grippers for simultaneously lifting up to four packaged rolls
Process flexibility with interface to host computer system
Quick access for just-in-time staging
No operating costs for forklifts on plant floor
Reduced personnel costs with semiautomated operation
Warehouse management system
Warehouse management systems developed in-house with customer-specific options
Easily controlled with advanced human machine interface system
Direct technical support with remote diagnostics