High safety, reliability and precision
Process cranes for the aviation industry
Maximum precision, safety and reliability for handling sensitive parts
Large parts have to be regularly lifted, turned and positioned on assembly lines in the aviation industry. Process cranes and hoist units that are used in these applications are required to provide correspondingly high performance. Our innovative solutions are listed below:
Multiple runway suspension cranes to bridge large building spans
Cranes with latching devices for trolley transfer to link various working areas
Cranes with rotating trolleys for optimum use of the available space
Telescoping platforms for maintaining, overhauling and applying the paint finish to aircraft
Workshop cranes for turbine maintenance.
Contact our process crane experts in Germany to start your project today!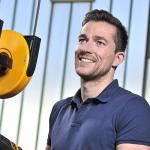 Demag Cranes & Components GmbH
Postfach 67
58286 Wetter
Germany
Product information
Customer-specific solutions with great flexibility
Optimum flexibility for handling bulky and heavy components and for safe and reliable transport  along the assembly lines
Individual solutions for transporting entire aircraft fuselages, fuselage sections, tail units or wings
Optimum configuration of crane systems to meet process requirements
Designs adapted to the available space or architecture – to save costs from the very beginning

High safety, reliability and precision
Monitoring of synchronised lifting, long and cross-travel motions
Area-serving, overhead transport and handling system created by linking individual crane installations – for the safe and reliable transport and precise positioning of sensitive components
Exactly synchronised operation of several hoist units
The outstanding benefits of our tailored solutions are found in a wide range of applications:
Aircraft production and maintenance
Efficient solutions thanks to suspension cranes featuring multiple suspensions also with total spans of more than 90 metres
low loads on the roof superstructure thanks to optimised deadweight
Favourable hook dimension thanks to low headroom dimension
maximum utilisation of the available space thanks to overhead handling and inherent girder overhang design
Improved safety and faster transport operations thanks to semi-automated process sequences
Various working areas can be interlinked by means of interlocking crane systems

Teleplatform for maintenance, overhauls and painting
Shorter aircraft downtimes thanks to overhead materials handling
All parts of the aircraft can be accessed
Platform can be transferred to other parts of the building by latching the crane systems
Complete supply of all media needed on the working platform
Integrated safety systems to avoid collisions