Installation analysis in real time
Full control over your system status information – diagnostics in real time
Demag StatusControl provides you with remote access in real time – for all current and relevant operating data and their analysis at a glance. Reduce the risk of downtimes, optimise your operating processes and plan the strategic and cost-effective maintenance of your crane installations.
Higher safety and reliability
Demag StatusControl is an effective early warning system. It also keeps you informed about operating errors – just as if you were on site at all times. Demag StatusControl helps you to master the situation with confidence – before sudden risks force you to respond.
Improved efficiency
If you have several cranes, various production bays, distant workshops: until now, only a fixed, long-term maintenance schedule made it possible to keep the necessary overview. However, cranes can quickly come to a standstill due to different levels of utilisation. Only optimised scheduling of inspection and maintenance intervals can ensure the maximum availability of your crane installations.
Higher availability
You can identify potential downtimes through data analysis with Demag StatusControl long before they become a risk, so that you can schedule the replacement of spare parts in good time. Preventive maintenance can be planned thanks to Demag StatusControl. And you can be sure that your installations will be available exactly when you need them.
Intuitive user interface
Full control over your system status information – via the intuitive user interface.
Your interface to the system: Demag StatusControl shows you all necessary information on your installations – and gives you access to real-time diagnostics:
clearly structured
easy to understand
simple to use
The advantages at a glance
Full control over your system status information – with features to boost crane performance
Real-time crane analysis 
View current data – anywhere and in real time
Wireless remote access 
Data transmission from the crane via WLAN or GSM – access and evaluate data via the Internet
For all brands 
Suitable for all cranes and hoists – with contactor or processor controls
Can be added to the system at any time 
Flexible integration with existing cranes and hoists
Interpret operating data 
Easily legible status display on the traffic light principle
Intuitive user interface 
User-specific information architecture and user-oriented software design
Push message when status changes 
As soon as a change occurs: receive a call or text message, as required, sent direct to you or a service engineer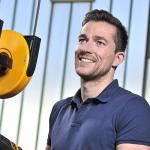 Unit 1 Charter Point, Coalfield Way, Ashby Business Park,
Ashby De La Zouch, LE65 1NF,
United Kingdom