Inspection and maintenance
Smooth and reliable. To ensure your equipment delivers performance.
With our tailored solutions for inspection and maintenance, we help you to ensure that your equipment offers the performance you need: regular and reliable performance for optimum equipment availability and a high level of safety for owners and operators. We only work with qualified specialists who have a wealth of experience – and who are not only familiar with our own products. We offer inspection and maintenance work for cranes, hoists, load handling attachments or other related equipment from Demag or any other brand.
Maintenance and inspection is carried out according to our specifications, which are based on relevant local regulations.
Prevent malfunctions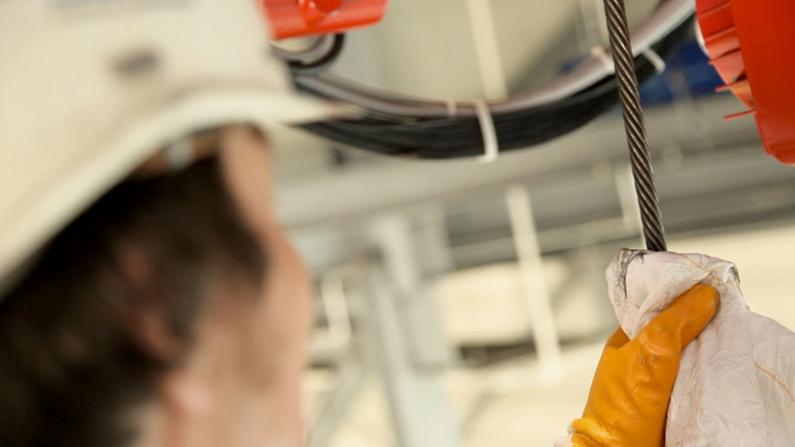 Normal use of any equipment will result in wear of components, which may cause malfunctions. We can carry out inspections of your equipment to prevent any potential malfunctions as early as possible – to enable damage or wear to be identified and eliminated in good time.
Scheduled maintenance
In addition to inspections, equipment must be maintained regularly and appropriately by trained personnel in line with the specified deadlines and checked according to their maintenance schedule. We can also take care of that for you. Wearing parts are replaced in good time, any dirt accumulation is removed, oil and grease can be refilled – to ensure that everything runs smoothly and as a matter of course, we only use genuine spare parts.
Short response times
Thanks to the wide coverage provided by our network of skilled service teams, we can quickly reach your site – for regular inspections and also in an emergency.
Deadline management
In the scope of our service agreements, we can help you to meet prescribed deadlines. We will contact you to confirm an appointment for the next inspection deadline.
For more demanding requirements: extended liability for defects on Universal Cranes. We can offer you continuous, reliable operation of your equipment and, at the same time, predictable costs with our revolving warranty – which goes beyond our normal terms and conditions. The agreement ends when the theoretical duration of service elapses, however, no later than after ten years.
Reliable liability arrangement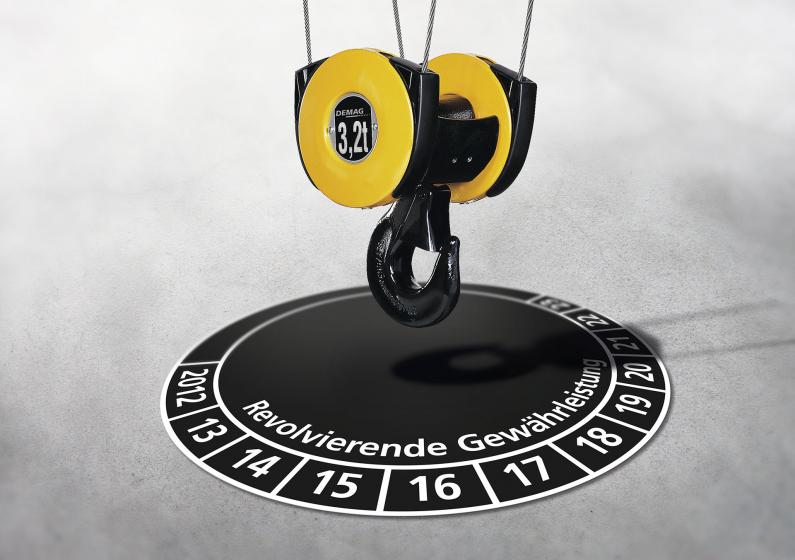 As part of our revolving warranty, liability for defects for a crane is renewed under precisely defined conditions – until the next safety check is due after every service inspection. This protects you from any new costs that might be incurred as a result of unforeseen defects. The intervals between the inspections are specified together with you depending on the crane operating conditions and reviewed after the first year of operation.
Further benefits
Reliable planning based on known costs
Annual reminder of legally required inspection
Service provided by the manufacturer
Reduced hourly rates for repairs
Requirements
Owner must use products as intended
Professional maintenance by Demag service technicians as part of a service agreement
Immediate, proper elimination by the owner of any defects on parts reported during the service that are not covered by the revolving guarantee
Period of 10 years
Extension of liability for defects after every service inspection (until the next service inspection is due)
Repair at no cost or replacement of defective parts
In the tenth year of the service agreement we assess the general condition of your equipment and decide, based on the results of the assessment, whether the requirements for an extension of the revolving warranty are fulfilled.
After a positive assessment, we offer you an extension to our agreement for two years with a price increase of 10%.
Service agreements offer optimum care throughout the entire life cycle of your equipment – for optimum safety, reliability and availability. Cranes, hoists and load handling attachments of all types perform tasks in a wide variety of industries every day. If equipment breaks down, the flow of material is interrupted, handling cycles cannot be maintained and production processes are disrupted or brought to a standstill. That costs money. For this reason, we ensure that failures are minimised.
Tailored service packages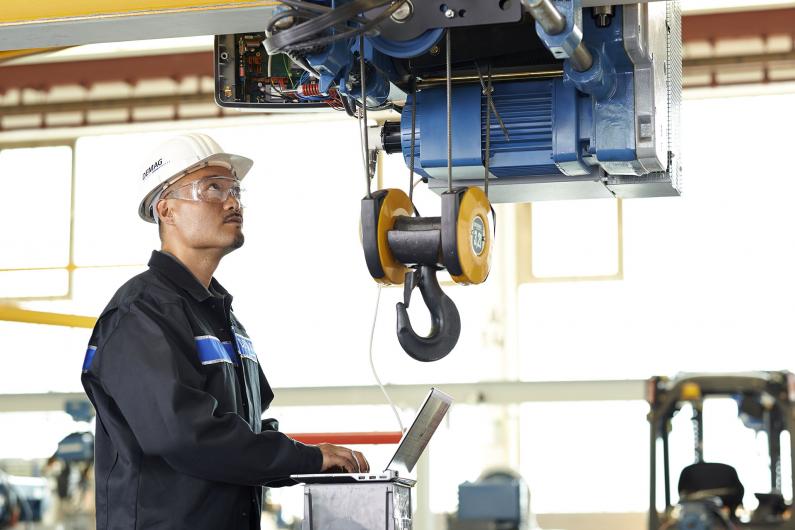 Demag service agreements enable you to meet your specific maintenance requirements with ease for sustained reliability. Working together, our service consultants clarify all service requirements to be met by your materials handing plant and equipment – any make – and offer you recommendations for appropriate services and intervals to fit your needs.
Attractive cost advantages
You also benefit in terms of maintenance costs too. By arranging a service agreement with us we will provide you with Demag quality at preferential prices.
Further benefits
Optimum safety, reliability and equipment availability
Maintain the value of your equipment
Effective budget planning over the agreed duration
Costs benefits compared to individual orders
Less effort required for commercial management
Always the same survey method? Compare it for yourself.
Demag Laser Measuring System (LMS) is the only laser-based measuring system for crane runways on the market that can also be used for suspension crane runways. The measured values are recorded direct at the point of measurement, allowing for any specifications of the relevant standards (1,000 mm required measuring distance). Any necessary corrections, such as the angle of the measuring trolley on the rail, are taken into consideration.
Safety all along the line
The condition of a crane runway and the crane geometry have a decisive impact on the service life of a crane and its components Smooth travel motions can only be ensured by a perfectly aligned crane runway and crane geometry. They prevent premature wear of the travel wheels as well as sudden or abrupt changes in the travel speed and unexpected load sway.
Crane runway survey with LMS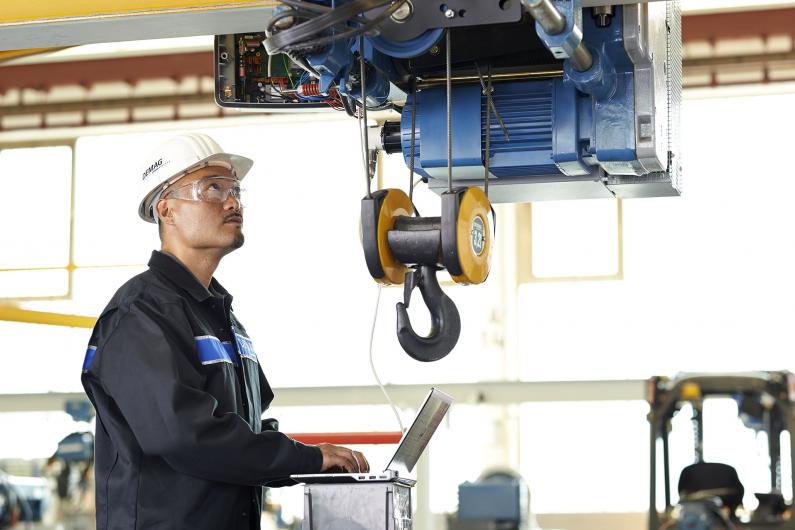 We perform automatic, three-dimensional surveys of crane runways with our internationally patented Demag laser measuring system (LMS) – which takes each measurement multiple times, resulting in accuracy better than 0.5 mm. Smart sensors help to achieve this high survey accuracy.
Everything from a single source
If required, we can use the results of the survey to give you a comparison of the actual situation with the theoretical design and develop a concept to eliminate any defects that are found. We also check the exact alignment of the rails and can give you technical details, such as:
Rail head wear
Condition of the rail joints
Rail fastening method and type
IDAPSY Inspection, Diagnosis and Application System
IDAPSY offers you comprehensive opportunities for equipment management, diagnosis and optimisation in one system. IDAPSY enables you to read out and analyse error messages and operating data such as the remaining service life (load spectrum), contactor switching operations or error statistics. At the same time, IDAPSY manages data using software and hardware. We have developed this new integrated service tool specifically for our DR rope hoist and DC chain hoist.
Lasting efficiency
Any data recorded using IDAPSY offers you outstanding opportunities for analysis and optimisation, both on site and at a later date.
The capture and evaluation of operating data, for example, make it possible to schedule a service inspection in good time – to ensure that your equipment is in optimum condition at all times. Error messages and statistics can also be called up in the same way when maintenance or repair work is carried out.
All of the data saved by the software can be transmitted via the Internet to a central server, where they can be called up again at a later date. As a result , IDAPSY enables service work to be scheduled in advance and helps to avoid any downtime – providing the basis for many years of reliable and efficient utilisation.
Equipment versatility
Using IDAPSY software, the parameter data sets for DR rope hoists can be modified on site – for example, if limit switches need to be added at a later date, the load detector is optimised or, if the system is converted to inverter-fed operation or synchronised control.
Service intelligence for peace of mind
IDAPSY also guarantees access to product history data (default settings, previous service work) at any time. Besides the ability to save all data on a PC (notebook), data and parameter data sets can also be saved on a central server by means of export and import functions, ensuring that your equipment data is continuously backed up and saved.
Further benefits
Equipment transparency
Equipment versatility
Efficiency
Availability
Analysis opportunities
Scope of services
IDAPSY software
CPC USB CAN Interface (communication module)
Regular software updates
24-hour availability of the IDAPSY server
Access to our support website
Other analysis and diagnosis tools
Demag Laser measuring system LMS
Safety all along the line
Interested? Please, contact us. We respond fast and are ready to help you.